Top 5 Mechanics Gloves 2021
Thursday, 10 December 2020 | Sean
In mechanics, workers come across metal components, heavy tools and oily, slippery machinery that can put the worker at a high risk of injury. Protecting from cuts, tears, abrasion and punctures is vital, but with such as wide selection of mechanics' gloves available, we know finding the correct glove can be tricky. It's important to match the glove to the application, considering aspects such as dexterity, mechanical protection, oil and grease, grip and whether you need a disposable glove or a reusable glove.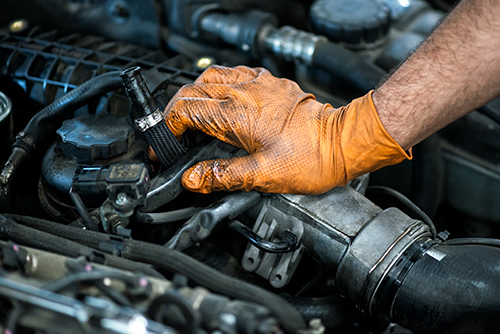 Mechanics' gloves provide you with comfort, protection and grip in the garage
There are plenty of mechanics' gloves available, we even have a number of different categories that range from mechanics' grip gloves to mechanics' disposable gloves. So how do you know where to start? At WorkGloves.co.uk, we've got our experts on the case, and decided to compile this list of the Top 5 Mechanics' Gloves available. All five on our list have different qualities, but promise to provide excellent performance in mechanical applications.
MaxiFlex Ultimate AD-APT Palm-Coated Handling 42-874 Gloves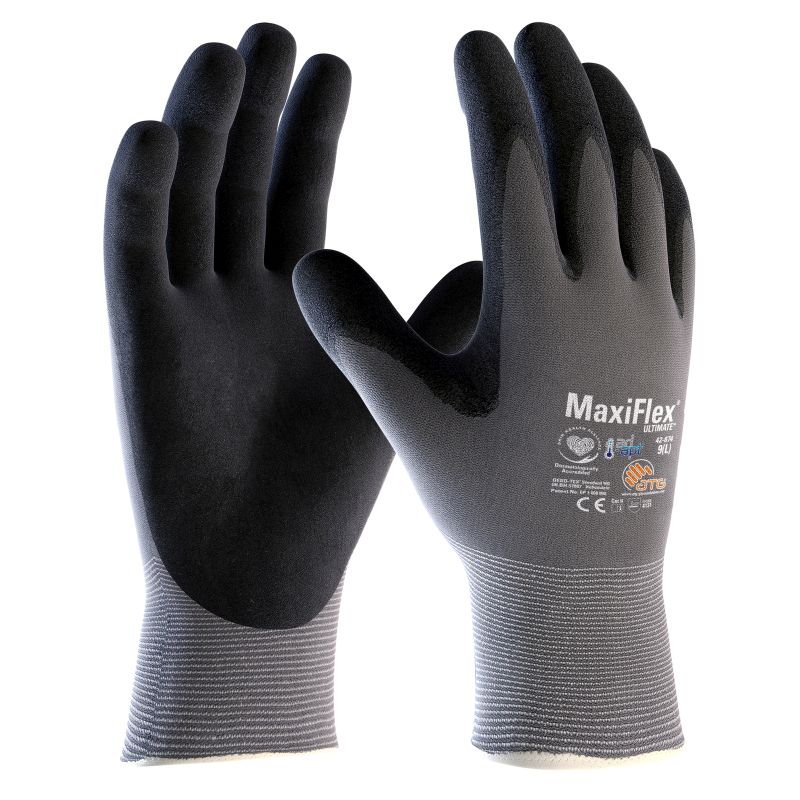 Most things that are required in mechanics are provided by the MaxiFlex Ultimate AD-APT Palm-Coated Handling 42-874 Gloves. They are designed with state-of-the-art technology that works to provide both exceptional abrasion resistance and keep hands cool during use. Ideal for extended periods of work, these gloves ensure sensitivity while helping to reduce the risk of hand fatigue. Their comfortable and dexterous fit and mechanically strong nature, make them ideal for handling the small components that are found in mechanics.
Key Features: Level 4 abrasion resistance; seamless design reduces hand fatigue; tactile and dexterous fit; highly sensitive.
HexArmor Chrome Series 4026 Hi-Vis Cut Resistant Mechanics' Gloves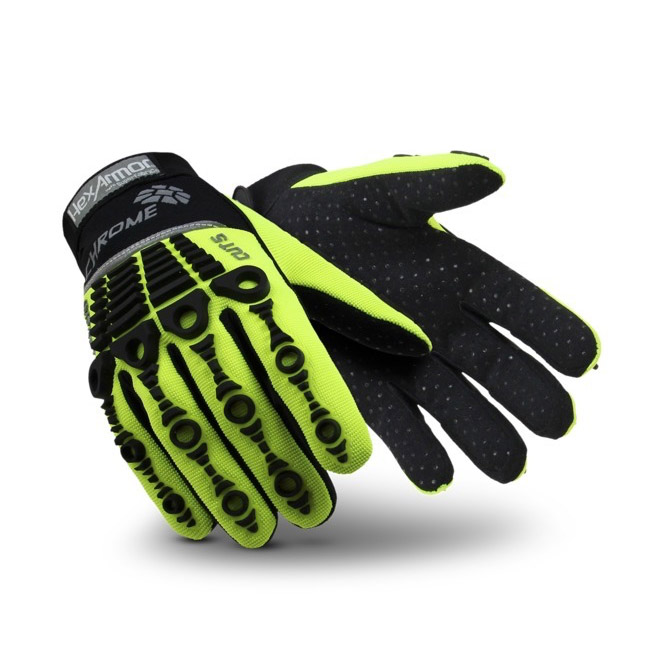 In mechanics, greasy conditions are common place, with oil being part of the job. Designed to meet these slippery conditions are the HexArmor Chrome Series 4026 Hi-Vis Cut Resistant Mechanics Gloves that use a special mud grip to ensure safe handling in wet and oily conditions. When it comes to mechanical protection, the HexArmor Gloves have your back. SuperFabric provides level 5 cut resistance, while special impact absorbing back-of-the-hand protection dissipates forceful blows over a large area. Finally, their dexterity, comfort and long-lasting design ensure their usefulness in the tricky, tactile situations that you find yourself in in mechanical tasks.
Key Features: Superfabric offers exceptional cut resistance; mud grip palm offer high grip; strong mechanical protection; hi-vis colour scheme; dexterity and sensitivity.
Black Mamba Torque Grip Tough Disposable Nitrile Gloves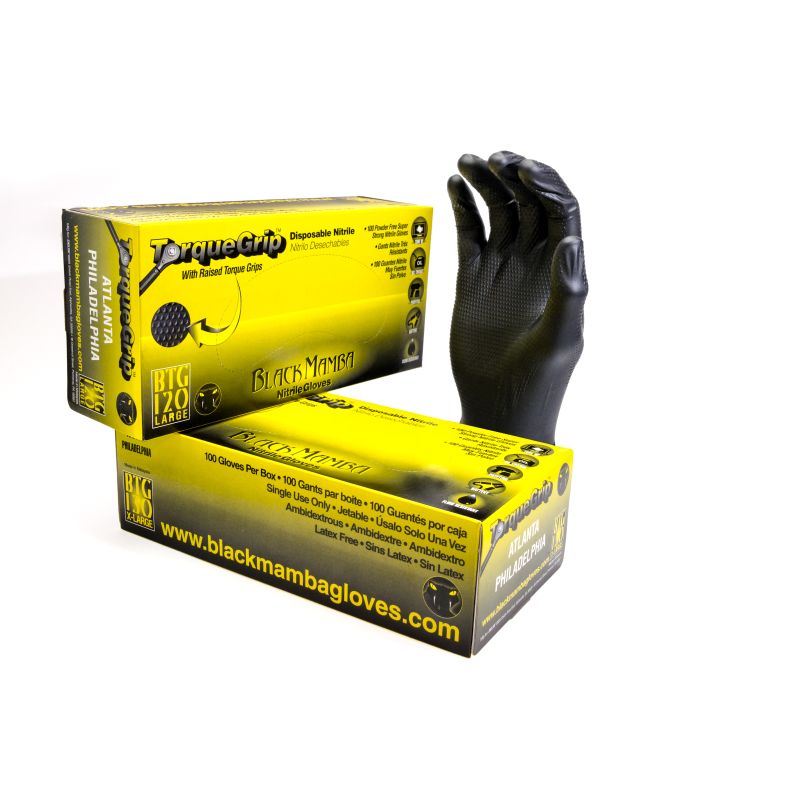 The first gloves on our list that aren't reusable come from a highly respected brand. Black Mamba Torque Grip Tough Disposable Nitrile Gloves are stand-alone disposable gloves because of their exceptional tensile strength. This makes them highly useful in tactile applications with sharp and coarse materials such as those within mechanics. The entire surface of the glove is covered in a unique torque pattern that provides excellent grip, while their powder-free design and beaded cuff prevent irritation and stop the glove from rolling back on the hand.
Key Features: Impressive tensile strength; torque pattern provides grip; highly dexterous and flexible; beaded cuff provides secure fit; powder free reduces irritation.
MaxiDry Plus Oil Resistant 56-530 Gauntlets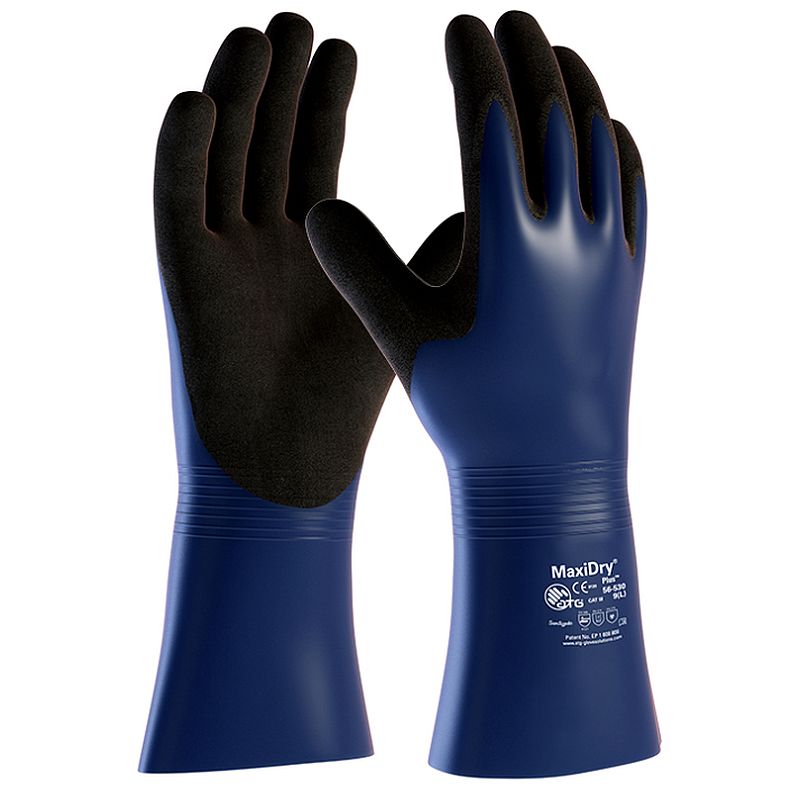 Sometimes in mechanics you need a sturdier and longer glove that provides more than just dexterity. To suit these needs, the MaxiDry Plus Oil Resistant 56-530 Gauntlets offer oil resistance, a low level of chemical resistance, and liquid repelling technology. Despite offering outstanding abrasion resistance, the gloves still manage to be lightweight, meaning that hand fatigue is greatly reduced. This also means that despite their gauntlet style, their offer a high amount of dexterity, meaning that the user is protected from chemicals while dealing with small, tricky components.
Key Features: Extra long design protects forearm; strong mechanical protection; liquidproof design; resists a wide range of liquids; oils and chemicals; non slip coating offers grip.
Polyco Matrix Nitrile Grip Work Gloves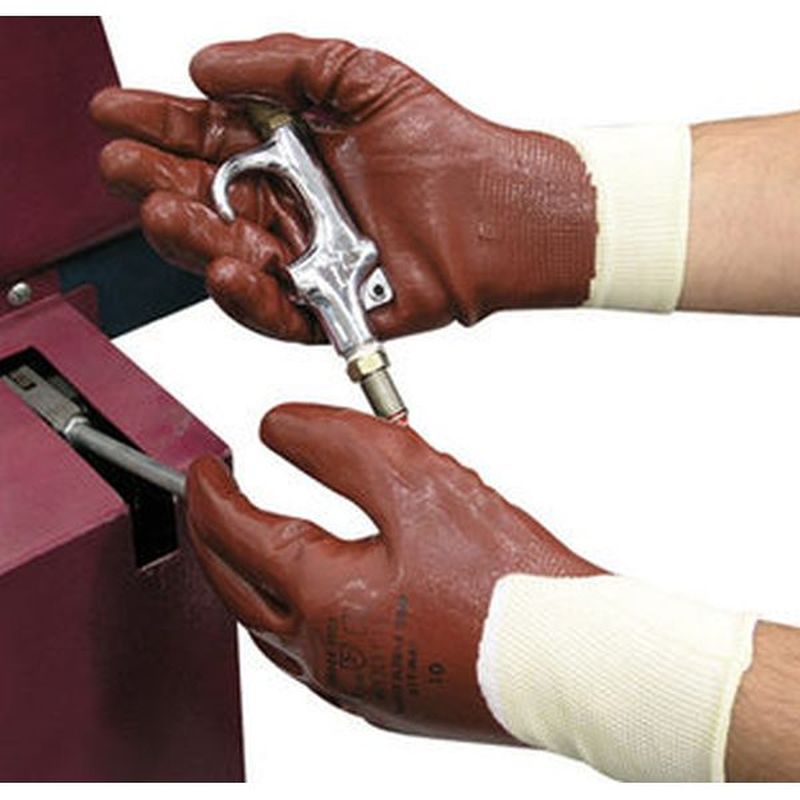 Our penultimate option are the Polyco Matrix Nitrile Grip Work Gloves that are designed for handling small components in intricate tasks. A snug fit, excellent abrasion and cut resistance and exceptional grip ensure that these gloves perform well in mechanical tasks. Coming at an affordable price, these gloves offer a high amount of protection for the price, while their knitwrist ensures a secure but tight fit. Seamless and grippy, these gloves excel during applications where the user has to carry components for extended periods of time as they are designed to reduce hand fatigue.
Key Features: Excellent abrasion resistance provided by nitrile liner; seamless liner ensures comfort; outstanding grip ideal for handling.
Uvex 60070 Phynomic XG Oil Grip Grip Safety Gloves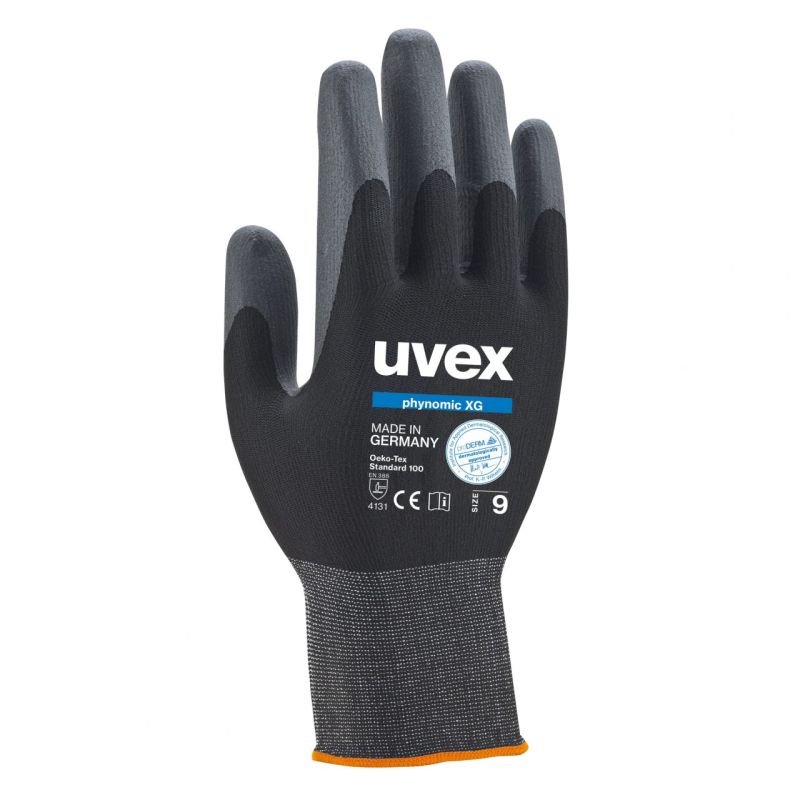 Our last pair of gloves are the Uvex 60070 Phynomic XG Oil Grip Safety Gloves use a special Xtra-Grip aqua polymer coating to provide a superb level of grip even in oily and wet conditions. The gloves are breathable to ensure coolness and comfort while you work, while their super dexterous design ensures control even during precision handling tasks. The gloves offer abrasion resistance, offering good mechanical protection as well.
Key Features: Xtra-Grip coating provides superb grip with oil, aqua-polymer coating ensures oil resistance, high dexterity for precision work.
If our selection of best mechanics' gloves hasn't satisfied your appetite, then why not browse our wider selection of Mechanics' Gloves where we have our wide selection at your disposal? Or, if you know what is that you're after, but can't seem to find it, try one of our ranges of Disposable Gloves, Grip Gloves or Cut Resistant Gloves. Lastly, if you're really still struggling, please don't hesitate to call 020 7501 0597 or leave a comment below, where one of our experts will be delighted to help.