Best Disposable Gloves 2023
17 October 2023 | Sharman
For jobs that require a greater level of dexterity, but pose less of a mechanical risk, disposable gloves are brilliant option. Their thin build increases touch sensitivity to make fiddly and precise work much easier. Also, as they're thrown away after use, they make it much easier to maintain hygiene standards in fields like medicine or food prep and never need to be cleaned.
So whether you're working in a hospital, handling food or just working with extremely small parts, we're sure there's something for you in this guide to the Best Disposable Gloves 2023.
What Does This Guide Cover?
Best Nitrile Disposable Gloves:
Best Nitrile Disposable Gloves
Best Black Nitrile Disposable Gloves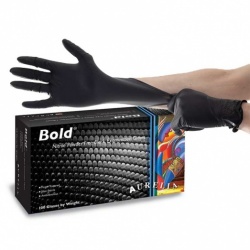 Nitrile constructed gloves for added protection and strength
A top pick for care orientated applications
Black design with micro-texture for secure grip
Price shown is per box of 100 gloves
| | | |
| --- | --- | --- |
| | | In stock now |
Customer's Verdict: "Used these gloves in servicing our motor home, from engine to bodywork, in the garden, planting and transplanting, also harvesting from fruit trees...the out come ...they did not rip! I will be reordering the same brand again!" ★★★★★ David. J
Editor's Verdict: The Aurelia Bold Medical Grade Nitrile Gloves are incredibly thin, measuring 0.1mm at the palms, offering incredible touch sensitivity. Despite this, they still offer a higher level of protection and tensile than latex and vinyl. With a microtextured surface, they provide a fantastic grip too, even in lightly wet conditions.
Best Blue Nitrile Disposable Gloves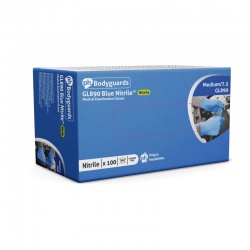 High quality nitrile protects against a range of chemicals
Material is soft and flexible, ideal for inspection work
Gloves are resilient making them long-lasting and durable
Price shown is box containing 100 gloves
| | | |
| --- | --- | --- |
| | | In stock now |
Customer's Verdict: "The Polyco Bodyguard GL890 nitrile gloves fit perfectly well and comfortable with my hands. My order arrived in two days. Well done! Highly recommend this product. I would love to purchase again from you. You are the best!" ★★★★★ Ronald
Editor's Verdict: Tested against the EN 374 chemical standard, it would take 120 minutes for 32% hydrochloric acid to break through the Polyco Bodyguard GL890 Nitrile Gloves. That's protection you can rely on. They're not just tough though, they fit close to the skin and feature grippy, textured fingertips, both of which make them a great choice for precise work. With beaded cuffs, they wont let liquids roll back into your hands either.
Best Latex Disposable Gloves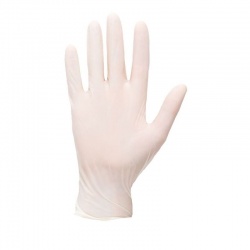 Natural latex ensures high strength
Well suited to use in the kitchen with food
Offers high dexterity and sensitivity
Price shown is per box containing 100 gloves
| | | |
| --- | --- | --- |
| | | In stock now |
Customer's Verdict: "I like these, they fit perfect and dont split when you pull them on (unlike some I've bought) Great product and excellent all round service. Thank you." ★★★★★ Jonathan
Editor's Verdict: Latex gloves offer an incredibly high level of dexterity and the Portwest Powdered Latex Disposable Gloves A910 exemplify that brilliantly. They're close-fitting but extremely stretchy, for reliable strength, hand freedom and long-lasting comfort. They're also non-textured for a more natural touch and higher level sensitivity, while the cuffs are beaded to added safety.
Best Vinyl Disposable Gloves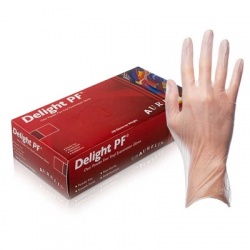 Extremely soft and thin vinyl construction
Highly sensitive and suitable for a range of applications
Clear and transparent for a subtle design
Price shown is per box of 100 gloves
| | | |
| --- | --- | --- |
| | | In stock now |
Editor's Verdict: For jobs without much of a physical or chemical risk, vinyl gloves are an excellent and really economical choice. The Aurelia 3822 Delight Powder-Free Vinyl Medical Gloves are really thin and flexible, but much easier to put on than other gloves in this guide because of their straight fingers and wide fit.
Best Heavy-Duty Disposable Gloves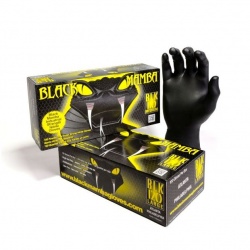 Extra-strong disposable nitrile gloves
Up to three times the chemical resistance of standard disposables
Ideal for automotive, plumbing and maintenance work
Price shown is per box of 100 gloves
| | | |
| --- | --- | --- |
| | | In stock now |
Customer's Verdict: "FANTASTIC WORK GLOVES - I bought these for my brother who drives HGV Class 1 vehicles. He messaged me to tell me how good the Black Mamba gloves are; that they're so much thicker than anything else he's tried. He uses them while hooking up and dropping trailers and other jobs and he noted that other gloves he's used "just rip." Thanks Work Gloves for a great product and great service too." ★★★★★ Anna
Editor's Verdict: 0.6mm Thick, with incredibly robust puncture- and abrasion-resistance, the Black Mamba Tough Disposable Nitrile Gloves might well be the toughest disposables on market. They also offer resistance to chemicals, oil and water for versatility, while the textured finish offers a safe, secure grip. If you're a mechanic or another profession that works with small, sharp parts, the Black Mambas offer unrivalled protection while maintaining dexterity.
Best Disposable Gloves for Food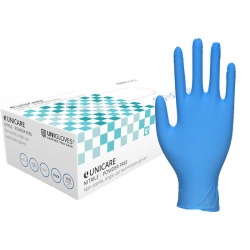 Ideal for medical and food examination
Textured design enhances grip for tactile applications
Powder-free design reduces risk of contamination
Price shown is per box of 100 gloves
| | | |
| --- | --- | --- |
| | | In stock now |
Customer's Verdict: "Good quality gloves - Wouldn't shop anywhere else for glove" ★★★★★ Joy
Editor's Verdict: If you work in kitchens, catering, or in another food prep role, you need disposable gloves that aren't to restrictive or bulky, while still offering a good grip. The Unigloves Blue Textured Nitrile Gloves GS003 are made of textured and formfitting nitrile, giving a comfortable fit, as well as resistance to common kitchen hazards like oil and water. They're also latex-free, powder-free and graded against EN standards for food safety for hygiene and to reduce chances of contamination.
You're in Safe Hands
We've highlighted some super disposable gloves here, made by industry leaders and trusted by our customers. But, if you haven't found the right gloves yet, why not have a look at our full Disposable Gloves range, we're sure we have the pair for you.
Have any more questions about disposable gloves or just something to add? Let us know in the comments below!