Best Kevlar Work Gloves 2022
Wednesday, 4 April 2018 | Admin
Developed by DuPont in 1965, Kevlar Aramid fibre has quickly become known as an affordable but incredibly tough and resilient material. Kevlar is used in a wide range of products, from bulletproof vests to racing sails, and when used in the construction of work gloves this high-quality material ensures exceptional cut protection.
Kevlar is a highly versatile material. Flexibility, heat resistance and cut protection mean that these gloves are suitable in industries ranging from welding and glass handling to construction. With such a wide variety of Kevlar work gloves available, we have decided to compile a short selection of what we believe are the best Kevlar gloves on the market.
Ejendals Tegera 666 Palm Coated Cut Resistant Work Gloves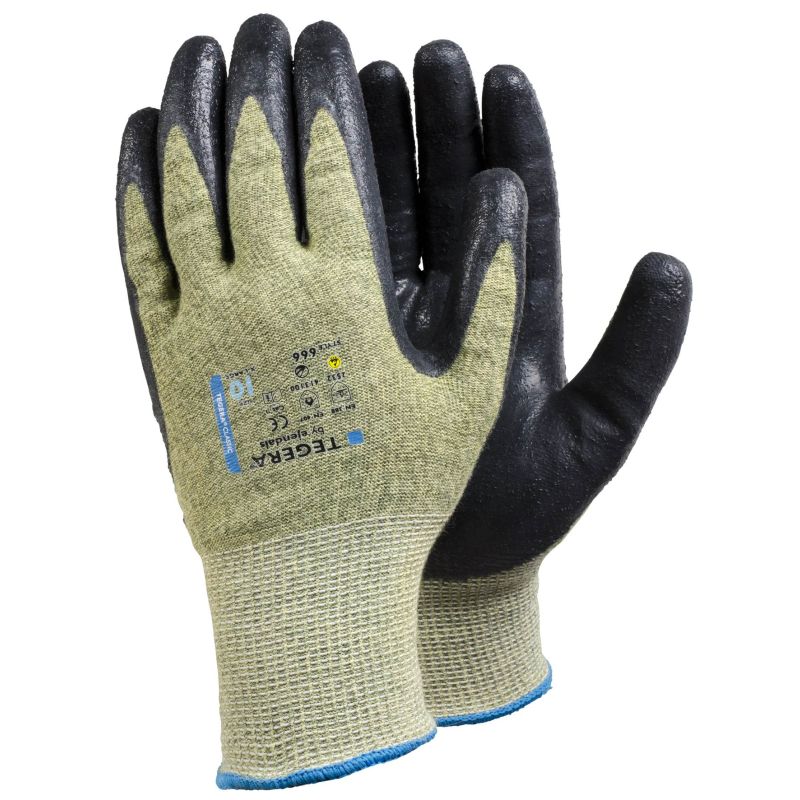 The Ejendals Tegera 666 Palm Coated Cut Resistant Work Gloves offer exceptional protection in high risk, extreme industrial environments. There's a reason why we mention these first, and that's because of their wide ranging qualities. This includes 100°C heat resistance, level 5 cut protection, and a neoprene palm coating that allows gloves to grip items in wet and slippery conditions. Breathable, comfortable and secure, these palm-coated Kevlar gloves ensure exceptional protection in industries ranging from assembly and construction to sheet metal work.
Key Features: 100°C heat resistance, level 5 cut protection, flexibility, grippy palm coating, economical, highly durable, 5 sizes available
Predator Signature Goat Leather Tig Welding Gauntlets PRED6-G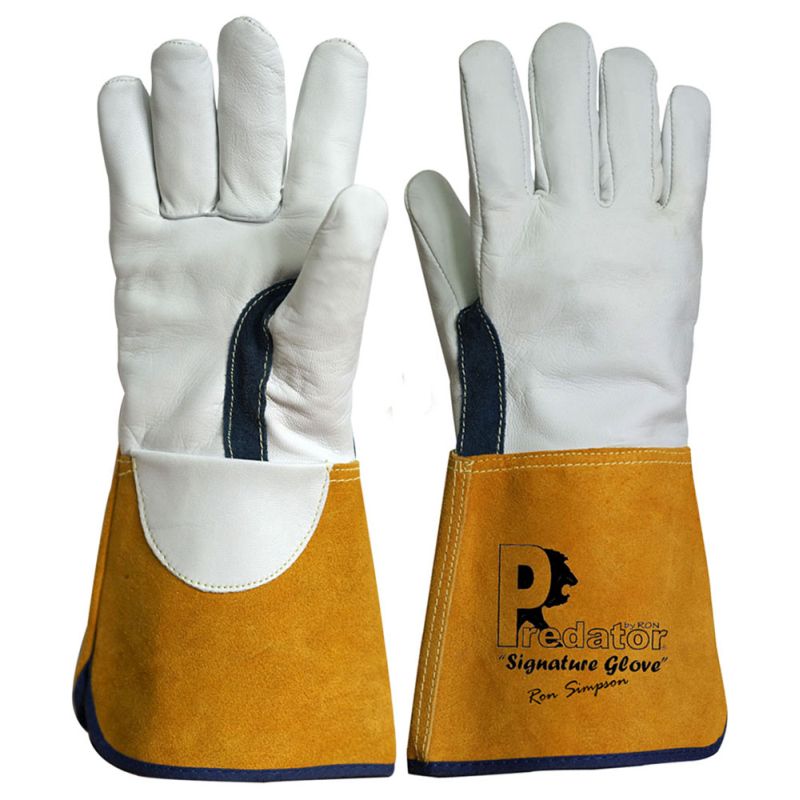 Kevlar is highly versatile and suitable for wide ranging but specific tasks, as demonstrated by the Predator Signature Goat Leather Tig Welding Gauntlets PRED6-G. Ideal for use in welding, these Kevlar stitched Predator gauntlets ensure non-flammable heat protection of up to 100°C. Despite their heavy duty design they offer surprising dexterity and sensitivity, something that sets them apart from other welding gloves. Furthermore, all-round excellent mechanical protection makes these a favourite among welding gloves, as they are suitable for other applications such as agriculture, gardening and metal handling.
Key Features: 100°C heat resistance, dexterity, heavy duty protection, gauntlet long cuff style, versatile, split leather cuff, reinforced thumb crotch
Ansell PGK10BL Tropique Kevlar Work Gloves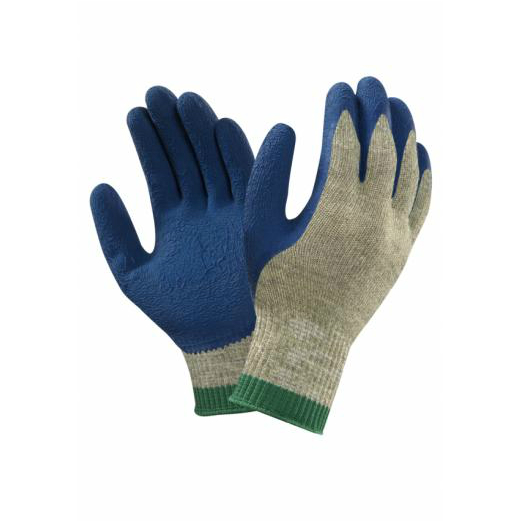 Moving away from the heavy duty gloves, Kevlar can offer the unique quality of a lightweight, thin glove that performs excellently in harsh environments. The Ansell PGK10BL Tropique Kevlar Work Gloves do exactly that, with their lightweight Techcor knitting technology that enables exceptional level 5 cut protection combined with 250°C heat resistance. Seamless to enhance comfort, these Kevlar gloves promise excellent performance in dry, wet and oily conditions, and prevent hand injury in some of the more high risk environments. Unique and versatile, the lightweight nature of the Tropique Work Gloves makes them a stand out product in our range of Kevlar work gloves.
Key Features: Level 5 cut resistance, lightweight, 250°C heat resistance, durable, Techcor knitting technology, comfort, flexibility and dexterity, versatility
Armasafe Nitrile Coated Kevlar Gloves A827K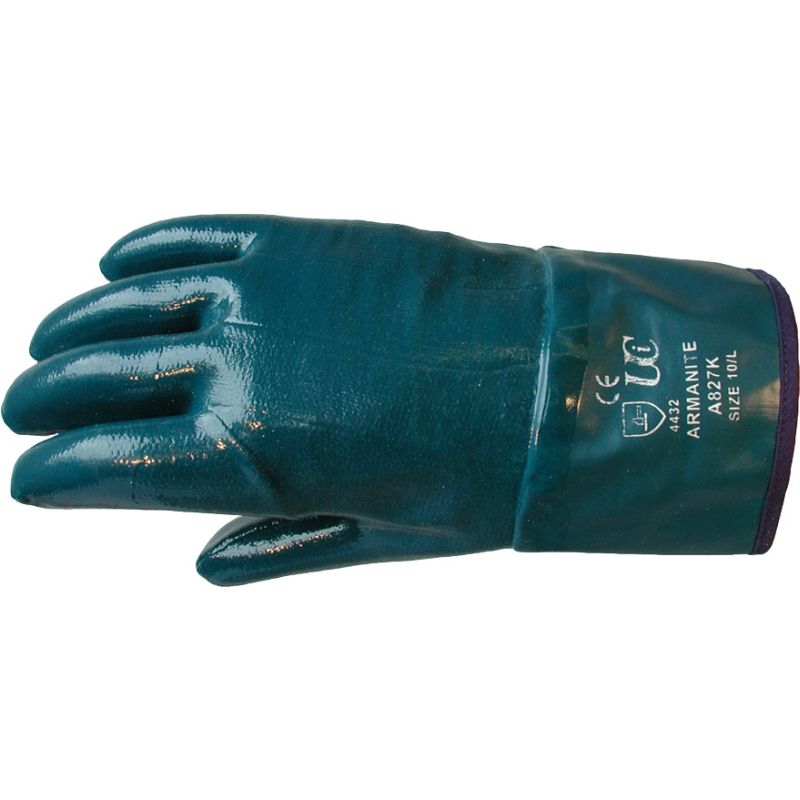 Kevlar can provide a glove with heat resistance and cut resistance, while helping them to maintain dexterity. The Armasafe Nitrile Coated Kevlar Gloves A827K also offer oil and water resistance, making it a top pick among our wide range of Kevlar gloves. Complete with a full nitrile coating, the gloves work to repel oils and greases, making them highly useful in industries such as engineering, machinery use and oil refinery. Tese gloves retain excellent cut and heat resistance, giving the user the confidence to handle rough and hot materials without worrying about injury.
Key Features: Oil and grease resistance, contact heat resistance, extra grip design, resistance to cuts and punctures, high abrasion resistance
Mediumweight PVC Dotted Kevlar Gloves KKM10DD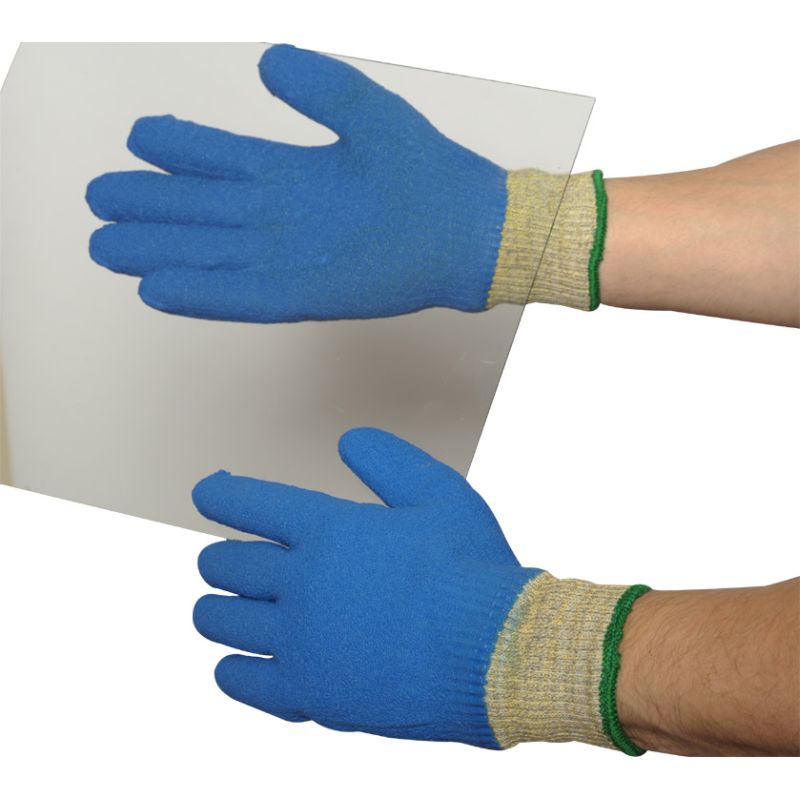 Kevlar fibres can offer great cut resistance and mechanical protection without adding too much bulk, while staying much more cost-effective than some other cut resistant fibres. The Sumo X5-FC Fully Coated Maximum Protection Gloves exemplify the utility of kevlar, these gloves offer high levels of protection across all EN 388 mechanical resistance categories, providing versatile protection suitable for a wide range of applications. These gloves are made with tough, textured latex, providing a great grip on tools and surfaces.
Key Features: Versatile and affordable; high levels of all categories of mechanical protection
We have compiled this list because we believe that Kevlar is among the best of materials available. Highly resilient and strong, Kevlar allows a glove to combine both lightweight dexterity, heat resistance and cut protection. We are aware that finding the correct glove for you can take time, so if you have not found the glove you are looking for in our list, don't hesitate to check out our full range of Kevlar Gloves.