Best Dog Walking Gloves 2022
Saturday, 3 April 2021 | Admin
Let's face it - the reasons that great dexterity, excellent fingertip sensitivity and abrasion resistance are needed in any good pair of dog walking gloves are unknown to most people out there who have never owned a dog. If, however, you tend to spend even the chilliest winter mornings chasing your furry friend around the park, you know just what we're talking about.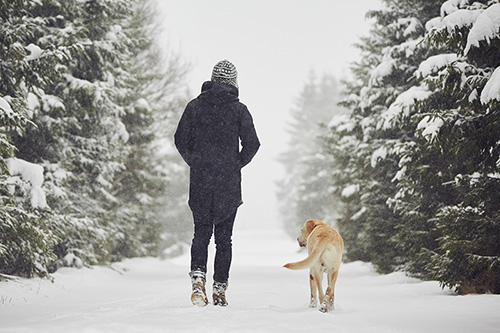 Dog walking gloves need to provide more than thermal protection, because they are in fact used for much more than regular winter gloves. Walking a dog requires keeping a firm grip on their lead, as well as excellent dexterity that allows you to quickly clip or unclip the leash to let them run wild, or perform the most dreadful of all your morning walk tasks - bagging, tying and binning the poop.
Tornado TH1 Thermo-Tech Thermal Work Gloves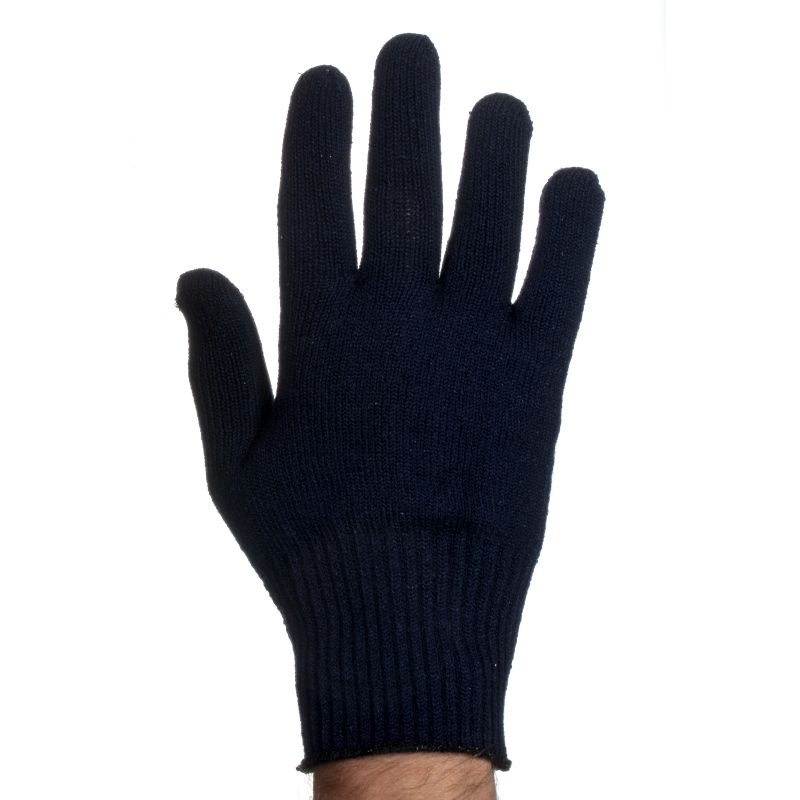 In case you are looking for nothing more than basic protection against cold, it's best to start at the beginning. The Tornado TH1 Thermo-Tech Thermal Work Gloves are effective and versatile outdoor gloves that provide warmth and comfort in dry and chilly conditions. They are supplied in a universal size, which means you don't have to worry about getting the right size, and a very basic black design that is suitable for both men and women.
Key Features: Protection against cold, universal size, budget-friendly, unisex design, good abrasion resistance
Ejendals Tegera 790 Fingerless Outdoor Work Gloves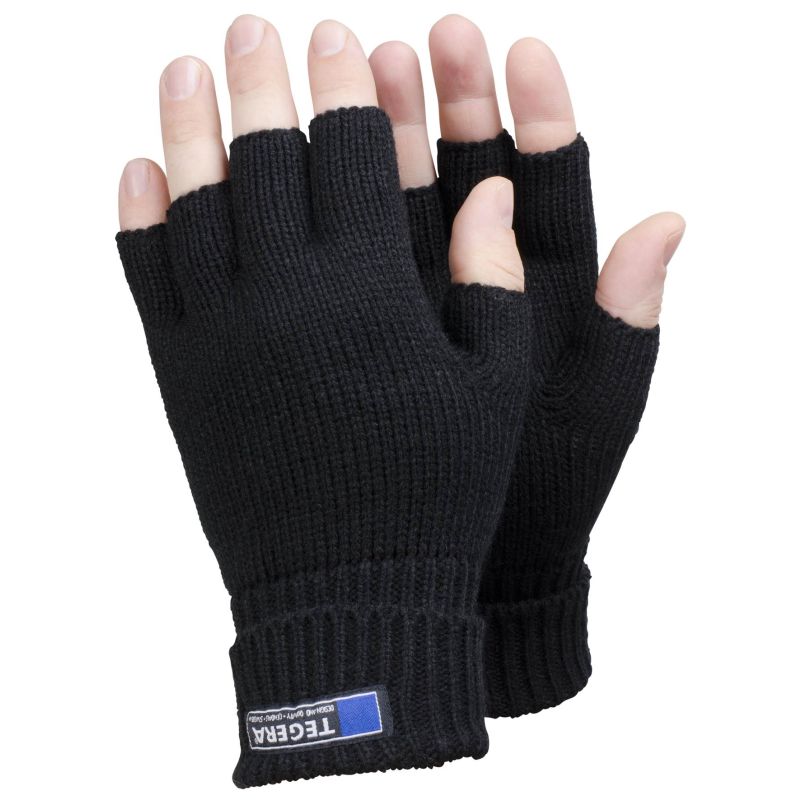 Still very basic, but with a very useful additional feature, the Ejendals Tegera 790 Fingerless Outdoor Work Gloves give your fingers optimal freedom of movement, allowing you to handle all tasks without having to take off your gloves. While regular textile gloves are warm and close-fitting, the soft, comfy material is usually not the best option when it comes to tying those small plastic bags. With a fingerless design, you get the comfort and warmth of regular winter gloves, combined with optimum fingertip sensitivity, which is convenient for everything from clipping the collar to answering your phone.
Key Features: Fingerless design ensures maximum fingertip sensitivity, made of acrylic for flexibility and dexterity, protect against cold, budget-friendly, universal size and unisex design
Ejendals Tegera 901 Fingerless Precision Work Gloves
If you love the idea of getting a nice pair of fingerless gloves, but would prefer to see them in a slightly more resilient design, these Ejendals Tegera 901 Fingerless Precision Work Gloves are just what you've had in mind. The five-finger fingerless design makes these gloves just as practical as the ones mentioned above, while the padded leather palms, Velcro fastening and neoprene back give them superb abrasion and tear resistance as well. This is particularly useful if you're dealing with a larger, stronger dog who might require a tighter grip on the leash.
Key Features: Fingerless design, padded leather palms, six sizes available, protection against blisters and abrasions
Polyco Multi-Task 3 and Multi-Task 5 Work Gloves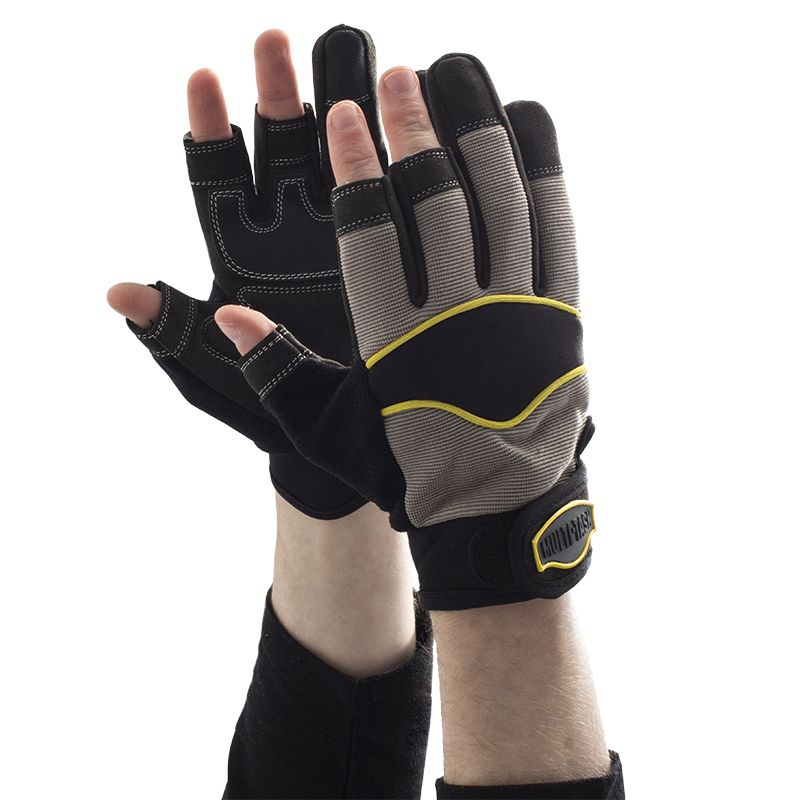 While the Tegera 901 Fingerless Precision Work Gloves offer the perfect combination of dexterity and abrasion resistance, they might not be your first choice if you're trying to stay away from products made with leather. These Polyco Multi-Task 3 and Multi-Task 5 Work Gloves are made with a blend of synthetic leathers and PVC reinforced fingertips that offer increased protection against abrasions, scratches and tears. What's more, you can choose from a full finger option and a three open topped fingers option for superb sensitivity for thumbs, index fingers and middle fingers.
Key Features: Optional fingerless design, synthetic leather, maximum dexterity, Velcro wrist strap, high abrasion, scratch and tear resistance
Ejendals Tegera 8255 Kevlar-Lined Police Gloves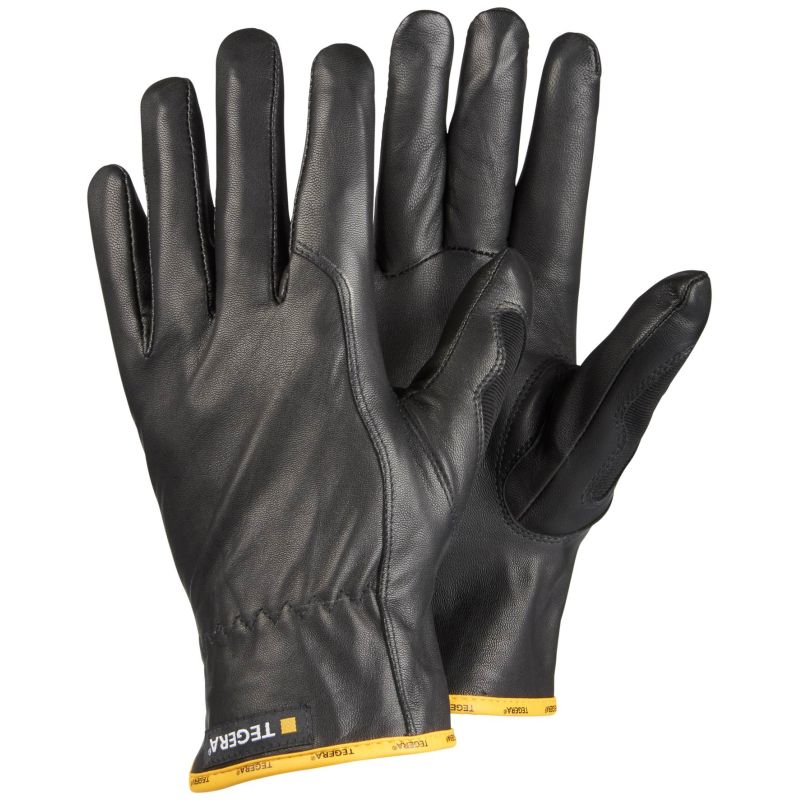 Classic leather gloves are one of the few accessories that go great with any outfit and are practical during virtually any activity. The Ejendals Tegera 8255 Kevlar-Lined Police Gloves feature a very traditional black leather design and full Kevlar lining for extra protection, flexibility and comfortable fit. Their leather exterior makes them water-repellent and durable, ensuring this is a pair of gloves you will be using for years to come.
Key Features: Full grain goatskin leather, water-repellent and warm, protect against abrasions, blisters and tears, dexterous and comfortable
We've come up with this list of recommendations because we are aware of the fact that dog walking gloves call for a very specific combination of features that might take some time and patience to find. If, however, you are unable to find just the right pair for your needs and have a clear idea of what you are looking for, don't hesitate to check out some of our other ranges as well, including Winter Gloves, Fingerless Gloves and Outdoor Gloves.