Best Dog Walking Gloves 2023
16 October 2023 | Sharman
From muddy trails to slobbery dog toys and (of course) picking up waste, dog walking can be seriously messy business, so gloves are a must! Dogs also have to be walked all year round, whether it's a sweltering summer day or the dead of winter, so you need a pair that are tough, comfortable and suited to the right conditions.
The gloves in this Best Dog Walking Gloves 2023 have been specifically mentioned by customers as great for dog walking – we've included a review beneath each pair – so we know you'll love them. Whether you're a professional dog walker or just love getting out there with your furry friend, we've got the right gloves for you.
What Does this Guide Cover?
Best Waterproof Dog Walking Gloves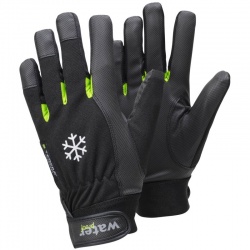 Waterproof, windproof thermal work gloves
Ideal for work in outdoor environments
Velcro wrist strap for a secure and easy fit
Price shown is per pair of gloves
| | | |
| --- | --- | --- |
| | | In stock now |
Customer Verdict: "Best Gloves Ever - Bought these for dog walking after having spent FAR more on supposedly industry-best gloves which were a poor fit and so unergonomic. Ejendals Tegera 517 are SO much better - so tactile, flexible, light, comfortable, yet warm and waterproof. VERY pleased." ★★★★★ Paul
Editor's Verdict: Despite their thin and flexible design, the Tegera 517 Waterproof Gloves are extremely waterproof and windproof. They also offer a fantastic grip, so you can hold onto a lead with no trouble, as well as the dexterity needed for unclipping the lead or tying up waste bags. Featuring hi-vis highlights, they're perfect for walks in the early mornings and evenings too.
Best Winter Dog Walking Gloves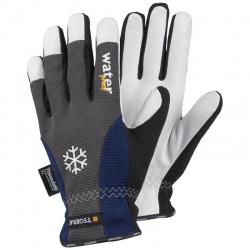 Fully waterproof and thermal gloves for outdoor, wintry and cold conditions
Flexible, sensitive and dexterous design enables handling and gripping
Tough and durable design protects you and withstands cold environments
Price is per pair of gloves
| | | |
| --- | --- | --- |
| | | In stock now |
Customer Verdict: "Just Perfect - Having had a pair of cloth thermal gloves, I elected to upgrade to a kid leather finish for winter dog walking. They are just perfect and the advice to increase the glove size from my regular size 9 to a 10 was spot on." ★★★★★ Brian
Editor's Verdict: For those snowy and icy winter walks, the Ejendals 295 Thermal Waterproof Gloves are your best bet. Lined with Thinsulate (a material named because it is thin and insulating), they offer brilliant heat retention without being too bulky. They're also waterproof and graded for the extreme cold, so you won't have to worry about snowy dogs or the soaking wet sticks they bring you to throw.
Best Fingerless Dog Walking Gloves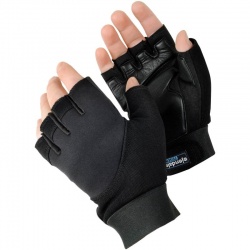 Offer exceptional dexterity for fine handling tasks
Feature a palm dot grip pattern for outstanding grip
Supplied in a high-visibility design for improved safety
Price shown is per pair of gloves
| | | |
| --- | --- | --- |
| | | In stock now |
Customer Verdict: "Excellent for dog walking - Whilst searching for fingerless gloves for dog walking these came up. They are perfect, hands stay warm. Very robust." ★★★★★ Caroline
Editor's Verdict: If you're a dogwalker handling multiples leads at once, or you're just looking for less restrictive gloves, these Tegera 901 Fingerless Precision Gloves keep your fingers sensitive and flexible. Combining goatskin leather and neoprene, they're also hardwearing, flexible and breathable. Also, despite the fingerless design, they're extremely abrasion resistant, perfect for pulling leads and more dealing with more boisterous dogs.
Best Leather Dog Walking Gloves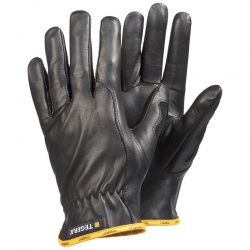 Made from top-quality full-grain goatskin leather
Great protection and excellent flexibility for the perfect fit
Water-repellent exterior for use in the winter
Price shown is per pair of gloves
| | | |
| --- | --- | --- |
| | | In stock now |
Customer Verdict: "I purchased a pair of Ejendals Tegera 8155 Leather Police Gloves - size 9. The service was excellent and delivery was on time . The gloves were bought as a light weight, waterproof glove for dog handling purposes. The gloves are idea for this purpose, the leather and grip provided allow the handler to let the dog run when tracking without any abrasion to the palm or fingers. Great product and will be used all year round." ★★★★★ Paul
Editor's Verdict: If you're not a fan of synthetic materials and would prefer a more natural feel and look, the Ejendals Tegera 8155 Leather Gloves are a great option. They're made of 99% full-grain goatskin leather which is tough, supple and warm. The remaining 1% is natural latex, to keep your hands flexible and comfortable. The combination makes them excellent, versatile dog walking gloves.
Gloves to Go Barking Mad For
These are some of are favourite dog walking gloves, loved by our customers, and we're sure there's a great pair for you. But if you're not sure yet, why not have a look at our full dog walking gloves range.
Have any questions about our dog walking gloves, or just something to add? Let us know in the comments below!