Top 5 Antiviral Work Gloves 2022
Friday, 11 June 2021 | Admin
Many industries are now facing an additional workplace challenge: virus protection! Following is a selection of the best virus protection gloves available. You'll be dying to get your hands on (and in!) our great selection of dexterous, comfortable and practical virus protection gloves.
Looking for Something In Particular?
If you have a particular task or industry in mind have a look through the list below to see if you spot anything suitable:
Ansell TouchNTuff 92-600 Chemical-Resistant Disposable Nitrile Gloves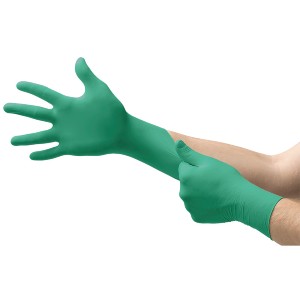 Why We Love Them...
Unique, thin nitrile construction for sensitivity
Durable protection against chemicals and microorganisms
High level of puncture resistance
Textured fingertips for fantastic grip in wet, slippery conditions
Multi-hazard protection, including chemical-resistance, anti-static protection and food safety
Ideal For...
Fantastic 'all-round' virus protection gloves, for use in industries from catering to laboratory work
Editors Verdict: The thin nitrile construction of the Ansell Touch N Tuff 92-600 Chemical-resistant Disposable Nitrile Gloves does not compromise the high level of resistance to both microorganisms and chemicals. These durable gloves offer an excellent grip in both wet and dry conditions, and due to their nitrile formulation are four times as puncture-resistant than natural rubber latex gloves.
Ansell TouchNTuff 92-500 Disposable Chemical-Resistant Nitrile Gloves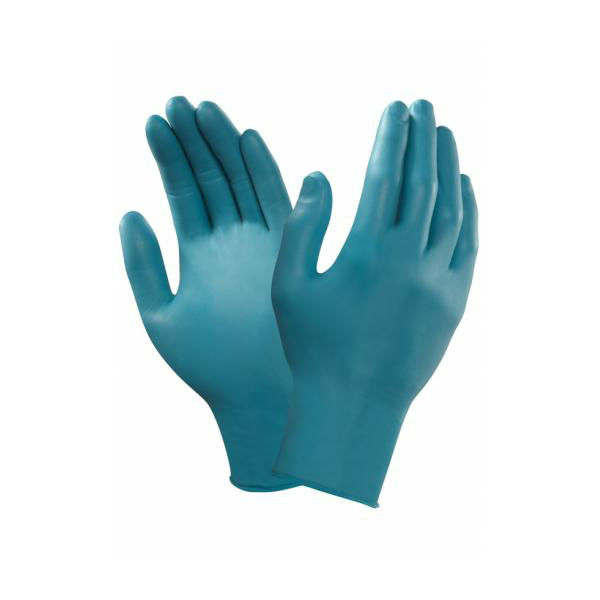 Why We Love Them...
Rolled cuff for increased tear-resistance in wet conditions
Splash-resistant against hazardous chemicals
Rolled, beaded cuff for secure wear
Anti-static and food-safe construction for broad range of applications
Latex-free for reduced risk of skin-allergy
Ideal For....
Work in transport industries or wet conditions
Editors Verdict: Thin disposable gloves are ideal for clinical tasks requiring dexterity, however many suitable gloves will rip or tear in the rain or wet. The Ansell TouchNTuff 92-500 Disposable Chemical-Resistant Nitrile Gloves are designed to withstand wet handling and maintain a high level of protection throughout.
Ansell AlphaTec Solvex 37-675 Nitrile Chemical-Resistant Gauntlets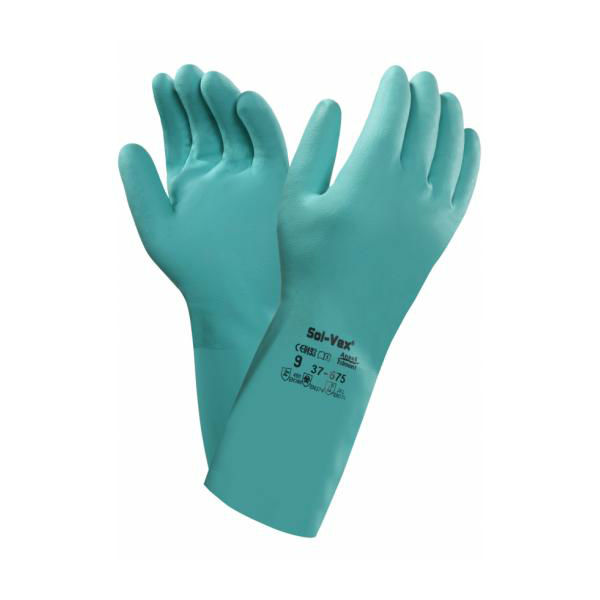 Why We Love Them...
Gauntlet design protects wrists as well as hands from potential chemical or viral risks
Flexible nitrile film exterior for maximum dexterity
Protects against the harshest chemicals, including fuel oil and hydrochloric acid
Reversed lozenge finish improves the level of grip provided
Ideal For...
Suitable for a range of hands-on applications, from agriculture and construction to chemical processing and printing
Editors Verdict: The heavy duty Ansell AlphaTec Solvex 37-675 Nitrile Chemical-Resistant Gauntlets are designed for multi-hazard environments, where protection from viruses and potentially dangerous chemicals are required. The gauntlet design of the gloves ensures a comprehensive approach, leaving no cracks for microbes to slip through.
Ansell TouchNTuff 69-318 Disposable Latex Gloves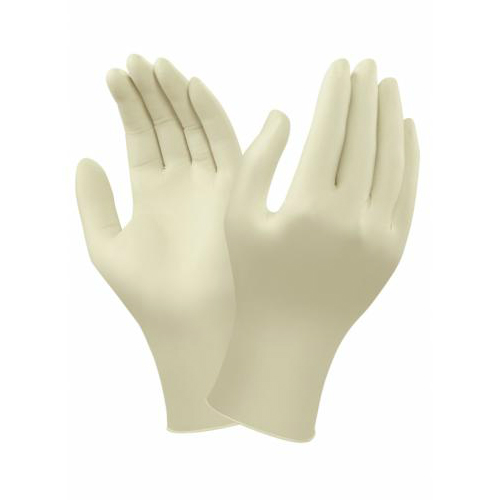 Why We Love Them...
Practical, rolled, beaded cuff for speedy donning and removal
Flexible design for high-dexterity work
Cooler than vinyl but with a superior grip
Designated category III gloves, suitable for irreversible or mortal risks
Ideal For...
These gloves are perfect as single-use examination gloves used in medical care and pharmaceutical industries
Editors Verdict: Virus-protection gloves are obviously in high demand in medical settings, and require both a high level of protection against pathogens and an ergonomic and practical design. The Ansell TouchNTuff 69-318 Disposable Latex Gloves offer protection against viruses, and feature a rolled beaded cuff for quick and easy donning and removal of the gloves.
PowerForm S6 Industrial Nitrile Gloves (Box of 100)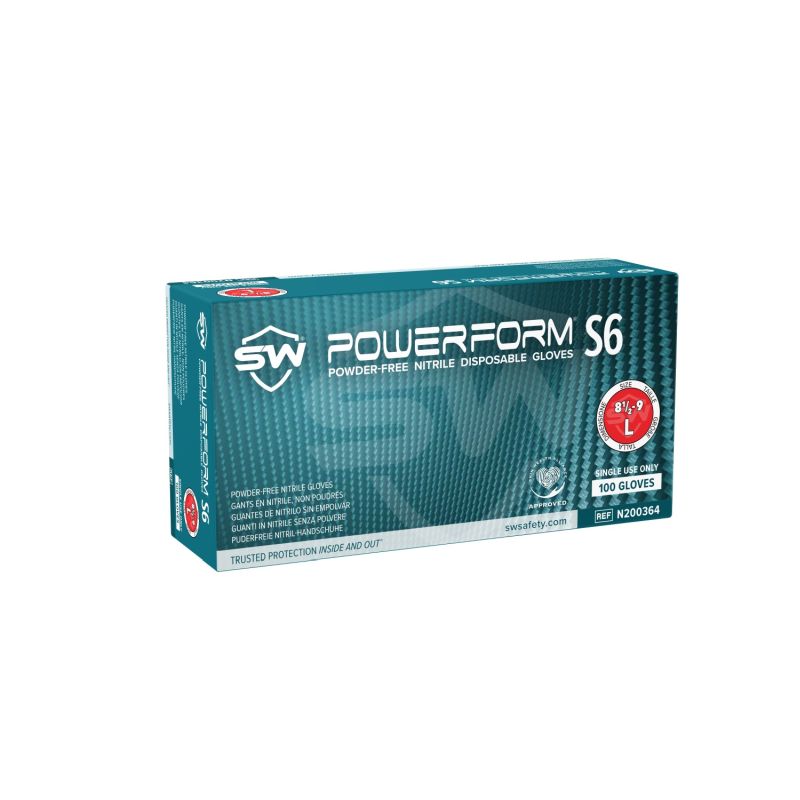 Why We Love Them...
Biodegradable EcoTek construction reduces wastage for an eco-conscious choice
The smooth and powder-free interior is skin-friendly
TouchTek shields the skin and prevents contamination
MilTek nitrile construction allows for strong and tactile performance
Certified by the Skin Health Alliance for those with sensitive skin
Ideal For...
Environmentally conscious choice of versatile anti-viral gloves, suitable for anything from pharmaceuticals to the oil and gas industry
Editors Verdict: It might surprise you to learn that the PowerForm S6 Industrial Nitrile Gloves (Box of 100) are in fact the only disposable gloves on the market certified by the Skin Health Alliance. These gloves offer a range of appealing features, from smooth, non-powdered interior for comfort, to a biodegradable construction which reduces your impact on the planet.
Will These Gloves Help Me Protect Myself Against Viruses?
It's important to remember that not every pair of hygiene gloves can actually be relied upon to protect you from viruses. Viruses are so microscopic that they can easily pass through the material of ordinary disposable gloves. Luckily, all of the gloves featured on this list are guaranteed to provide suitable protection from the following:
Coronavirus
Influenza
H1N1
MRSA
SARS
EN 374 - 5
There's only one way to be sure that a pair of gloves will protect your hands from viruses, and that is if they have been tested and approved by the EN 374-5 gloves' protective standard. During testing these gloves are exposed to a nutrient broth containing virus particles, and then checked for indications of penetration. Any gloves certified under EN 374-5 allowed for no penetration whatsoever, helping to ensure your safety!
If our selection of Best Virus Protection Gloves aren't what you're looking for, then why not browse our wider selection of EN 374-5 Work Gloves or Antiviral Work Gloves. Or, if you're looking for something more general try our Disposable Gloves category, or our Chemical Resistant Gloves. Lastly, if you're still struggling, please don't hesitate to call 020 7501 0597 or leave a comment below, where one of our experts will be delighted to help.