Which TraffiGlove Gloves Should I Buy?
13 March 2020 | Admin
If you've spent any time here on WorkGloves.co.uk, you may have come across a pair of TraffiGloves. Their useful colour-coded system allows customers to quickly discern the glove's cut resistance based on EN 388 tests. On-site this becomes even more radical, as forepersons and workers can quickly identify and designate the correct gloves for the tasks at hand.


Choosing The Right Pair of TraffiGloves
At WorkGloves.co.uk, our mission is simple: to provide you with the right gloves for your task, no matter what task that is. While TraffiGlove have made a headstart in colour-coding their gloves according to cut levels, we wanted to go a step further. This blog is designed to help you find the right pair of TraffiGlove gloves for the job. We've selected our favourite gloves across multiple industries so you can find the exact glove for the exact industrial task.
Jump To Your Glove:
The TraffiSystem – Cut Safety At a Glance
| Colour | Rate of Cut Protection | Description of Protection |
| --- | --- | --- |
| RED | Low | Suitable for lower cut risk tasks only, such as general product handling, warehouse and assembly line work and some low risk construction jobs. |
| AMBER | Medium | Ideal for second fix construction, mechanical and electrical trades, steel fixing and handling materials with sharp edges. |
| GREEN | High | The best choice for higher cut risk tasks like applying cladding, demolition, steel fabrication and handling glass or sheet metal with cut edges. |
TraffiGlove Best Cut-Resistant Gloves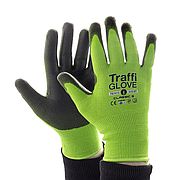 We know this category isn't industry specific, but we wanted to be clear about TraffiGlove's best cut-resistant gloves, as cut-resistance is the underlying standard throughout all of TraffiGlove's gloves. The TraffiGlove TG5010 Classic Cut Level 5 Safety Gloves are an outstanding lightweight pair of gloves designed to provide affordable, quality protection against cuts. Constructed from a refined blend of nylon and HPPE and coated with an X-Dura PU coating, these gloves are durable and highly resistant to sharp materials (Level 5 in Cut Protection) and score highly in both Abrasion and Tear tests (Level 4). We've chosen these gloves because they provide first-rate protection using quality materials whilst remaining easily affordable.
Key Benefits: Classic cut, level 5 cut protection, lightweight, nylon, hppe, x-dura pu coating, affordable

TraffiGlove Best Chemical Handling Gloves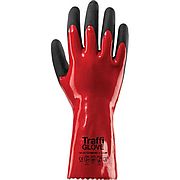 Handling chemicals is a frequent activity in the pharmaceutical and agricultural industries, and one which requires high levels of chemical resistance and grip. The TraffiGlove TG1080 Chemic Cut Level 1 Chemical Resistant Gloves are classified as quality protection against chemicals according to EN374-1:2003, scoring a Level 2 in solutions of 96% Sulphuric Acid, a Level 5 in 45% Sodium Hydroxide, a Level 2 in n-Heptane and a Level 1 in Methanol. Moreover, the TG1080 feature a anti-skid grip, providing a superb grip in wet conditions, and allowing for greater protection when handling chemicals.
Key Benefits: EN 374, anti-skid grip, superb grip wet conditions, breathable, Level 2 in 96% Sulphuric Acid
TraffiGlove Best Mechanics Gloves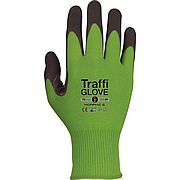 Well suited to tough mechanical environments, the TraffiGlove TG5140 Morphic Cut Level 5 Gloves constitute as fantastic protection against cuts, abrasions, tears and punctures. Utilising a sensitive MicroDex coating, the TG5140 are constructed for close-fitting comfort with maximum flexibility in manual handling tasks. To compensate for wet conditions, the gloves are coated with a layer of nitrile, a compound which ensures greater grip in oil and liquids. These gloves allow for total control, keeping your wits ready under the bonnet.
Key Benefits: Sensitive MicroDex coating, maximum flexibility, wet conditions, nitrile layer, greater grip in oil and liquids
TraffiGlove Best Sheet Metal/Glass Handling Gloves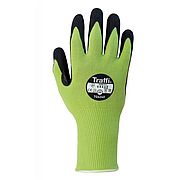 Working with sheet metal or glass involves danger on all fronts - not only do you need protection against lacerations, but protection against burns and extreme temperatures. The TraffiGlove TG6240 LXT Cut Level E Heat-Resistant Grip Gloves are constructed using a triple LXT wrapped core which offers an outstanding Level E resistance to cuts. Designed to provide up to 100°C heat-resistance, the TG6240 are palm-dipped with MicroDex Ultra (offering superb longevity) and are treated with LXT, ensuring imperviousness to water, oil and dirt.
Key Benefits: LXT wrapped core, outstanding Level E cut resistance, 100°C heat-resistance, MicroDex Ultra palm dip, LXT treatment
TraffiGlove Best Window Cleaning Gloves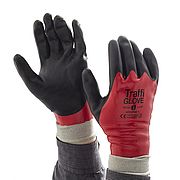 Window cleaning gloves have two requirements: protection against snags and nips on windows and buildings, and protection against water degradation. The TraffiGlove TG1060 Hydric Cut Level 1 Waterproof Gloves offer outstanding abrasion resistance whilst remaining flexible, lightweight and dexterous, important for the finer details of window cleaning. The TG1060 feature a longer cuff which allows for greater protection against water incursion, whilst their thin, grippy material ensures the user total control, even during bad weather conditions.
Key Benefits: Outstanding abrasion resistance, lightweight, dexterous, longer cuff, thin grippy material
TraffiGlove Best Cold Storage Gloves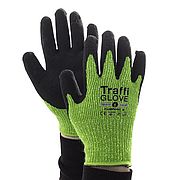 Some jobs require the usage of cold stores and indoor freezers. Handling frozen/extremely cold products requires gloves with both thermal qualities and grippy palms. The TraffiGlove TG5070 Thermic Cut Level 5 Safety Gloves are designed with comfort and security in mind. Featuring an X-Dura coating, the TG5070 allow for superb levels of grip, whilst a brushed acrylic lining provides warmth and insulation. What's surprising is that these gloves are an excellent insurance against a broad range of hazards, scoring Level 5 in cut resistance and a Level 3 in puncture!
Key Benefits: X-Dura coating, superb levels of grip, brushed acrylic lining, warmth and insulation, level 5 cut resistance, level 3 in puncture
TraffiGlove Best Warehouse Gloves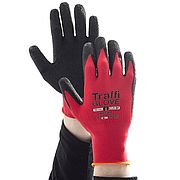 Warehouse workers do lots of heavy lifting and lots of moving around. For these tasks you need gloves that are exceed in several areas, including dexterity, durability, grippage and breathability. Luckily, the TraffiGlove TG1050 Centric Cut Level 1 Safety Gloves meet all these requirements. Constructed from a highly strong ( yet thin) material, the TG1050 allow for breathable action which is reinforced with a flexible layer of rubber. These gloves are also fitted with an X-Dura Latex coating which further enhances their dexterity and durability, no doubt helping score the fantastic EN388 Level 3 ratings in both abrasion and tear.
Key Benefits: X-Dura Latex coating, flexible layer of rubber, grip, Level 3 in abrasion and tear
Do you have any questions about our gloves, or would you like a recommendation? You can get in touch by leaving a comment in the comments section below, or contact our experienced Customer Care Team.