Nitrile vs Latex Coated Gloves
2 Comments
24 May 2018 |
Admin
Choosing between different dipping materials can be difficult, especially as there's little to explain as to why a specific material is better than another. Two of the biggest names in work gloves, nitrile and latex, are often pitted against each other as strong, flexible and versatile materials well suited to almost any scenario. Both are suitable for food use, clinical use, in lightweight and heavyweight applications and even in environments that range from clean and sterile to dirty and wet. So what is the difference between the two heavyweights of glove coats and why should you choose one over the other?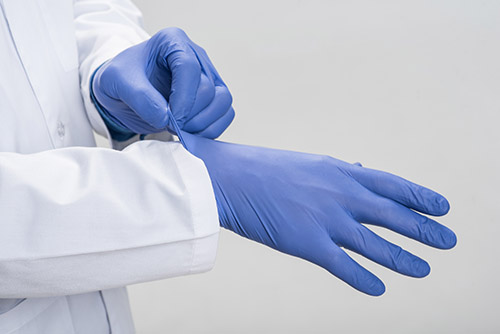 Latex has long been popular but nitrile is on the rise
Natural vs Man Made
Nitrile is a synthetic rubber, designed in labs for specific uses. It is strong, can be turned into a foam, and is highly suitable for use in wet, slippery environments with oil or in hard industrial conditions. Latex on the other hand is completely natural, made from actual rubber, and is well known for its longevity and elasticity. Its usage had declined in recent years but it remains extremely popular in the medical industry.
Latex Coated Gloves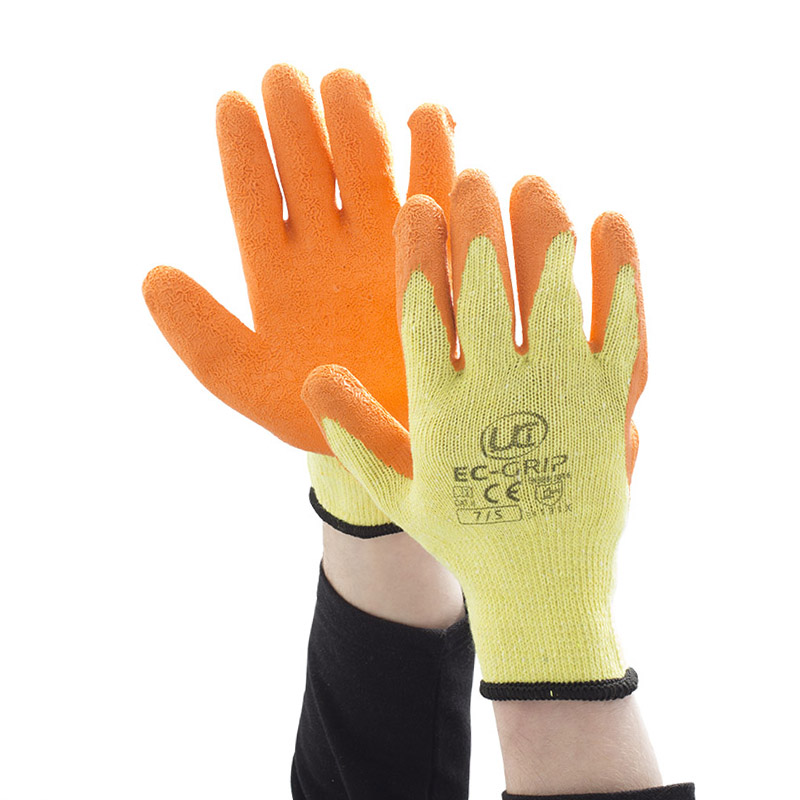 Gloves dipped in latex have high elasticity, superior grip and can withstand heat. Furthermore they are highly tear resistant and can work well with glass. If you want flexibility, comfort and superior grip in dry and wet environments, then latex should be your choice, as its lightweight and naturally dexterous design excels in many applications. A good example is the Acegrip EC-Grip Latex-Coated Grip Gloves, which provide the best that latex has to offer, while being economical, highly grippy, flexible and with good mechanical protection.
Benefits: High elasticity; superior grip; withstand high temperatures; tear resistant; suitable for use with alcohols and ketones; high flexibility, highly comfortable.
Nitrile Coated Gloves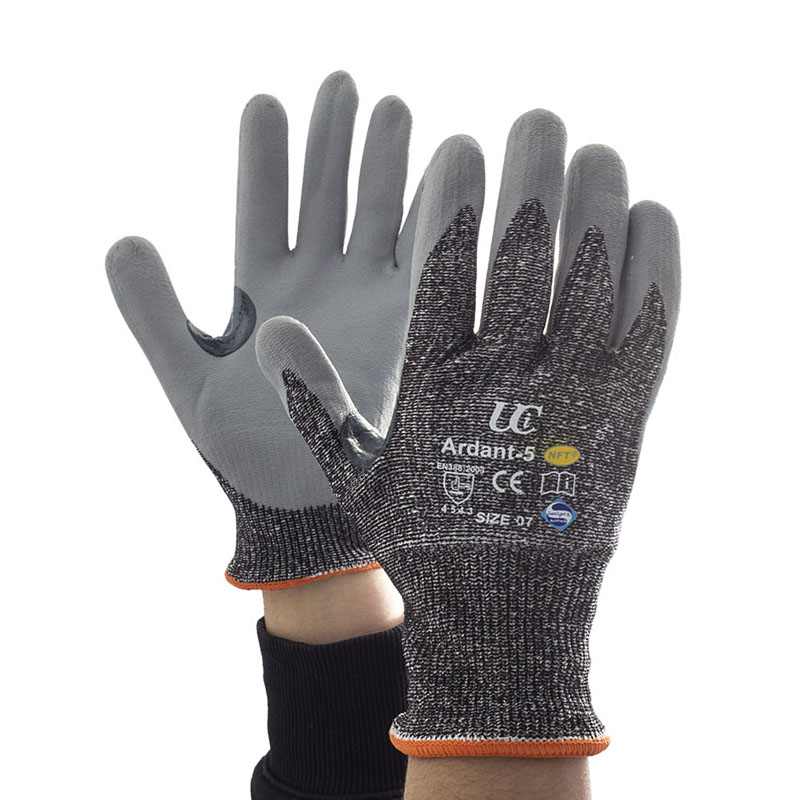 A glove dipped in nitrile on the other hand performs best in strong industrial environments. They are ideal at repelling liquids and oil, can be suitable for use in both cold and hot temperatures and offer exceptional cut and puncture resistance. Furthermore, unlike latex, they don't cause allergies, and are ideal for those with more sensitive skin. The Ardant-5 Cut Resistant Nitrile Coated Gloves exemplify why a nitrile coat is so popular.
Excellent puncture and cut resistance is supported by a nitrile coat that provides grip in wet and oily conditions. This makes the gloves suitable in industries that range from automotive and construction, to outdoor work and maintenance.
Benefits; High cut and puncture resistance; does not cause allergies; resists oils and greases; suitable for use in hot and cold temperatures; suitable for use as a foam to absorb moisture.
What are Our Best Latex and Nitrile Coated Picks?
Without further ado, we will now show our best picks from our Latex Coated Gloves range and our Nitrile Coated Gloves range, with each glove showing why we value latex and nitrile so highly.
Supertouch Heavyweight Latex Gloves 1327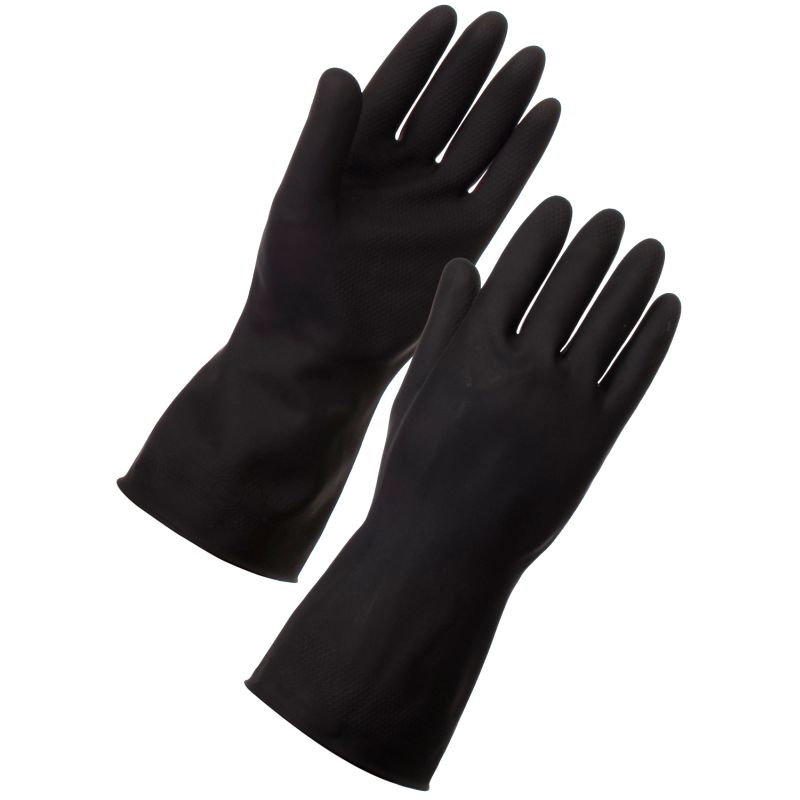 The first of our top pick for latex gloves are the Supertouch Heavyweight Latex Gloves 1327. Ideal for applications such as cleaning, these gloves provide dexterity, comfort and good chemical resistance. Their beaded cuff and textured grip palm ensure the best grip in the most slippery of conditions. Well suited to applications such as industrial cleaning, domestic cleaning and wet handling tasks, these gloves show why latex is considered number one among cleaning products.
Key Features: Mild chemical resistance; suitable in wet conditions; highly flexible; high grip in wet and dry industries; beaded cuff for comfort.
Ejendals Tegera 617 Latex Palm Coated Work Gloves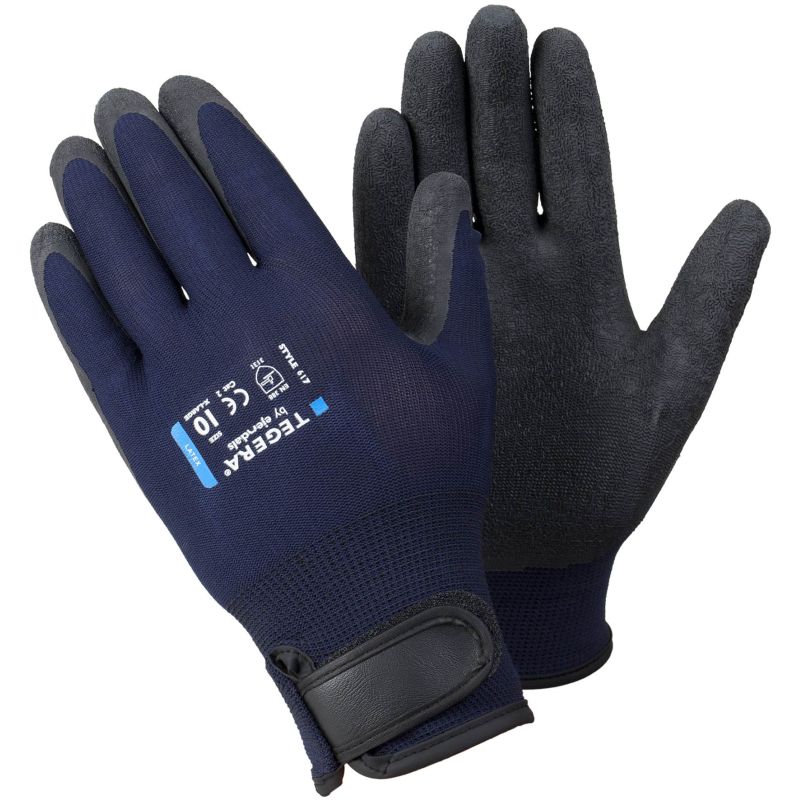 Ideal general purpose gloves for lighter handling applications, the Ejendals Tegera 617 Latex Palm Coated Work Gloves offer flexibility, durability and high grip in dry and wet conditions. Their breathable back ensures comfort while their ergonomic design is ideal for extended wear. Their strong tear resistance makes them highly versatile and suitable for industries that range from assembly, to construction, to utilities.
Key Features: Excellent flexibility, Velcro strap ensures a secure fit; ideal for extended use; excellent grip; features a waterproof palm; breathable and comfortable design.
Nitrile-Coated Nitrilon NCP Gloves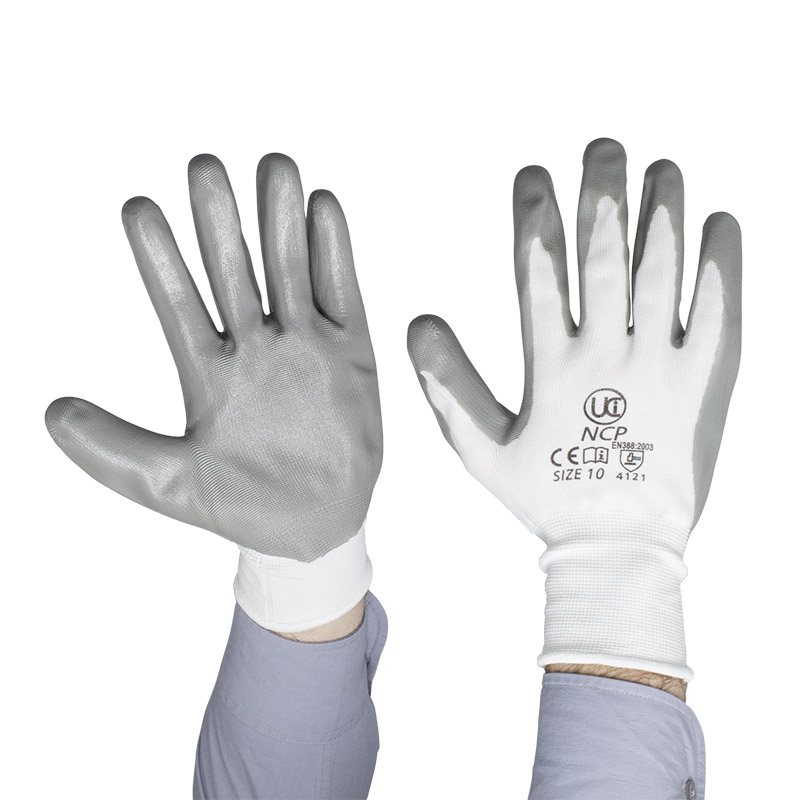 The first of our nitrile coated gloves are a pair that provide exceptional oil, fat and grease resistance, a lightweight design and exceptional abrasion protection. The Nitrile-Coated Nitrilion NCP Gloves are extremely economical, despite offering exceptional mechanical protection and high general handling abilities. Their versatility is their strength, as their nitrile coat makes them suitable for industries that range from assembly and component handling, to maintenance, logistics and packaging.
Key Features: High Grip; impressive dexterity; exceptional abrasion resistance; tough nitrile coating for added resistance; resists oils, greases and fats; suitable for dirty environments.
Polyco Hot Glove Heat Resistant Gloves 90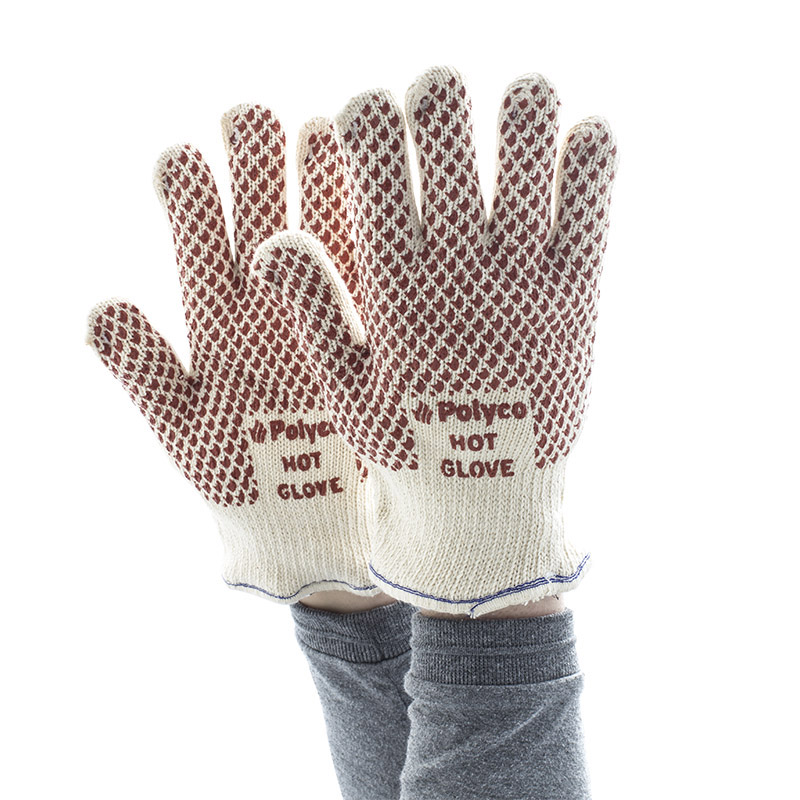 Nitrile is exceptional in many temperatures, as proved by the Polyco Hot Glove Heat Resistant Gloves. Excellent 250°C contact heat resistance, and high dexterity and high grip provided by the nitrile coat, mean that these gloves excel in industries such as panel handling, mouldings and oven use. Their high mechanical protection is typical of nitrile, while their flexible and dexterous design makes them perfect for handling hot materials. Lastly their ambidextrous design enhances their longevity.
Key Features: High 250°C heat resistance; impressive grip provided by nitrile coating; impressive flexibility and dexterity; incredibly comfortable to wear; highly durable.
Choosing between Nitrile Coated Gloves and Latex Coated Gloves can be difficult as both have exceptional benefits, which is why they are considered among the best work gloves out there. If you haven't found what you're looking for or need further advice, don't hesitate to either leave a comment below or call us on 020 7501 0597 where one of our experts will be delighted to help.