Guide to Leather Work Gloves
Monday, 4 June 2018 | Admin
If you're looking for a nice pair of leather work gloves, you'll quickly notice terms such as cowhide, deerskin, oxhide, full grain or split leather thrown around. If you know exactly what you're looking for, our descriptions can be quite useful for helping you find just the right pair of gloves for you, but if you know very little about leather-related terminology, we don't blame you for being confused and in search of some answers.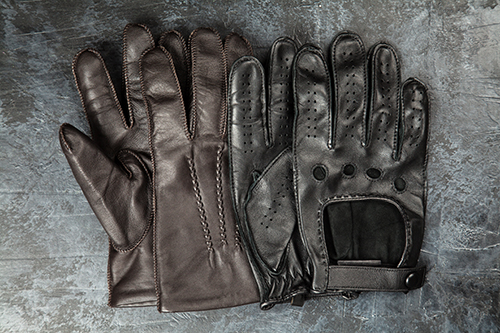 We've put together this Guide to Leather Work Gloves to shed some light on the various types of Leather Work Gloves available here at WorkGloves.co.uk and, hopefully, bring you one step closer to your dream gloves. We lead you through our most popular leather categories, from cowhide to pigskin, and finish off with a useful Glossary of Leather Terms.
Deerskin Leather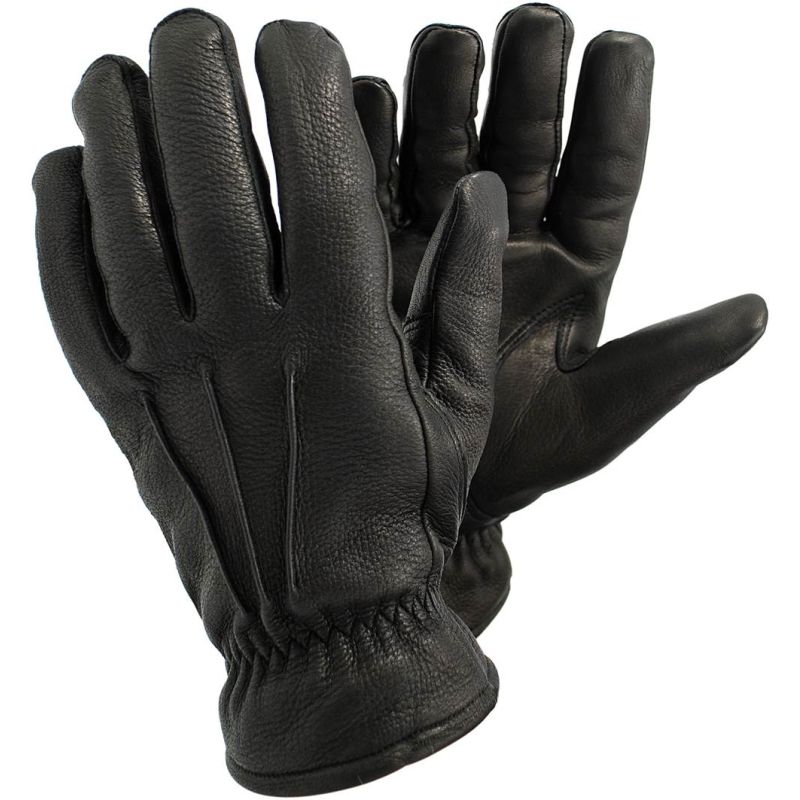 Soft, supple and stretchable, deerskin leather is a favourite choice for clothing, shoes and, of course, gloves. Unlike leather made from cow hides, Deerskin Leather is also breathable and comfortably thin. This, however, doesn't make it weak or fragile. It is, in fact, the third strongest leather available, which means your deerskin leather gloves are not only comfortable, but can last a number of years as well.
Top Pick: The Ejendals Tegera 355 Winter Lined Deerskin Gloves offer the unrivalled combination of comfort, style and protection, as you would expect from high-quality deerskin leather gloves. They feature thermal fleece for extra warmth, good fingertip sensitivity and flexibility, which makes them ideal for police and security work.
Goatskin Leather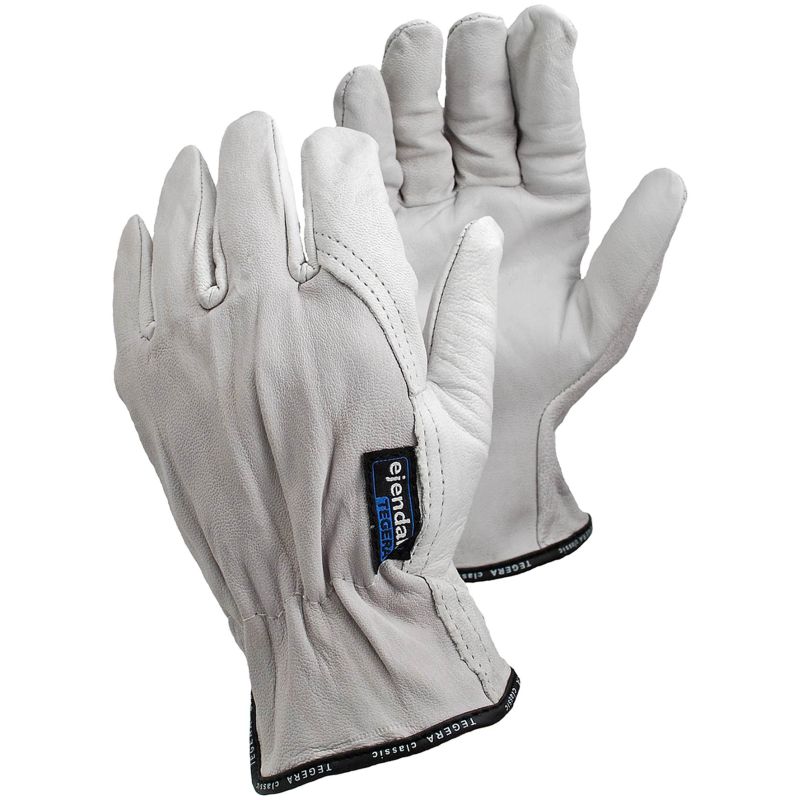 Goatskin Leather is considered extremely durable, which is why it's often used to make rugs and carpet binding. What makes it a popular choice for making gloves is its soft and cosy texture. It provides comfort and warmth, while protecting your hands from scratches, abrasions and tears.
Top Pick: In this case the choice was an easy one. The Ejendals Tegera 640 Leather Work Gloves are made entirely of supple full-grain goatskin, which gives them good resistance against all mechanical risks, as well as excellent fingertip sensitivity and dexterity.
Oxhide Leather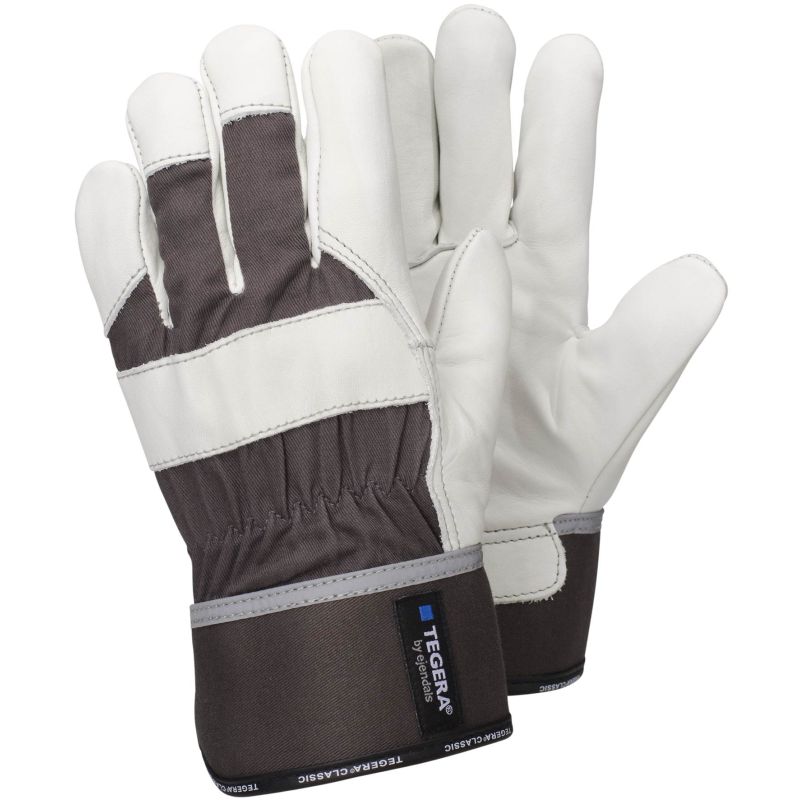 While one of the less frequently used types of leather, Oxhide Leather is the perfect choice if you are looking for exceptionally tough and durable gloves. Its texture and appearance are quite similar to cow leather, only thicker and even more resilient, perfect for gloves made to protect from various mechanical risks.
Top Pick: Our top choice includes a pair of gloves that perfectly showcase the resilient nature of cowhide leather. The Ejendals Tegera 55 Oxhide Rigger Gloves feature a durable, reinforced design that is made to protect your hands when working with heavy materials.
Glossary of Leather Terms
Top Grain Leather is an umbrella term for different types of leather that include the outer layer of the hide, known as the grain, which features finer, more densely packed fibres, resulting in improved strength and durability.
Full Grain Leather is a type of top grain leather that contains the entire grain leather, without any removal of the surface. It is usually considered the highest quality leather.
Split Leather is made from the corium left once the top grain has been separated from the hide. Often a polyurethane or vinyl coating is applied to the surface to give it the appearance of a grain.
Bonded Leather is a material that uses leather scraps that are shredded and bonded together onto a fibre mesh. This type of leather is usually not used for making work gloves.
Synthetic Leather, also known as leatherette, faux leather, vegan leather, PU leather and pleather, is the perfect choice for those who like the look and feel of leather, but refuse to use animal-sourced products. Our range of Synthetic Leather Gloves includes high quality products with many similarities to gloves made of real leather, including their protective qualities and appearance.
Do you have any questions about our gloves, or would you like a recommendation? You can get in touch by leaving a comment in the comments section below, or contacting our experienced Customer Care Team at 020 7501 0597.