Guide to Glove Materials
10 May 2018 | Admin
Selecting the correct work glove can be daunting, as the wide array of possible styles, shapes and designs can leave you feeling confused. The problem is made worse with countless materials at your disposal that all serve a different purpose. Nylon, Kevlar, Dyneema, latex and cotton gloves are just a sample of our wide range of materials on offer, and they all offer unique qualities that range from thermal insulation, to dexterity to cut resistance.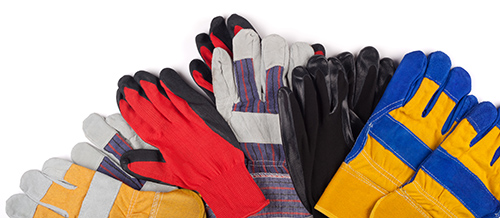 Selecting the correct material for the job can boost your productivity
With thousands of different combinations of coating, liner, style, shape and size available, we've decided to create this guide to glove materials so that you know where to go. We consider the pros and cons of the best selling materials, what they are recommended for, and our top glove pick for each one.
Glove Material Types
There are many different types of glove materials. We've narrowed it down to 7 materials that we think cover everything that you need to consider. These are the most popular materials, and offer things such as dexterity, grip or heat resistance. So without further ado, we begin at the lightweight end of the scale with cotton.
Cotton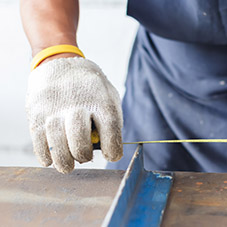 Cotton is highly dexterous, tactile, and flexible. Making the wrong move in a highly tactile application can leave a product damaged or a worker injured. While cotton is not recommended for heavy-duty, high risk applications, it should be your first port of call when it comes to highly sensitive, tricky applications.
Top pick: We recommend the Supertouch Fourchette Cotton Gloves 2550, as they exemplify why cotton is considered ideal for tactile tasks. Lightweight, dexterous, comfortable and economical.
Recommended industries: Agriculture, assembly, general handling, maintenance, warehouse, logistics.
Kevlar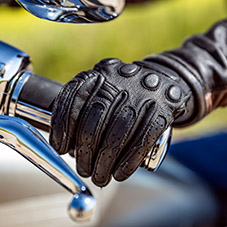 Next up is Kevlar. For all things hot, dirty and industrial, we recommend you browse our wide range of Kevlar Gloves. Heavy-duty with high resistance to heat and cuts, this strong and flexible material is extremely versatile, making it suitable for the very best protection in a wide range of industries.
Top pick: When working with heat, we would recommend the Ejendals Tegera 666 Palm Coated Cut Resistant Work Gloves, that offer level 5 cut resistance, 100°C heat resistance, excellent comfort, and high amounts of grip.
Recommended industries: Fabrication, foundry, glass handling, engineering, manufacturing, metal work, sheet metal.
Leather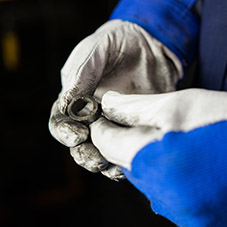 Selecting the correct type of leather is almost as difficult as selecting the correct type of glove! But you should persevere, as each type offers unique and versatile qualities.
Cowhide: Ideal at protecting against mechanical risks cowhide offers strong and flexible protection.
Deerskin: Designed for durability, deerskin promises long-lasting mechanical resistance.
Goatskin: Coarse and heavy duty, goatskin provides comfort and warmth.
Oxhide: If you're looking for tough durability, oxhide should be your choice.
Pigskin: Pigskin offers flexibility, softness and dexterity. Goatskin can also protect against cuts and tears.
Top pick: Our top choice among leather work gloves is the Ejendals Tegera 640 Leather Work Gloves, that offer exceptional mechanical resistance while being durable, strong and flexible.
Recommended industries: Automotive, construction, engineering, gardening, outside work, transport.
Rubber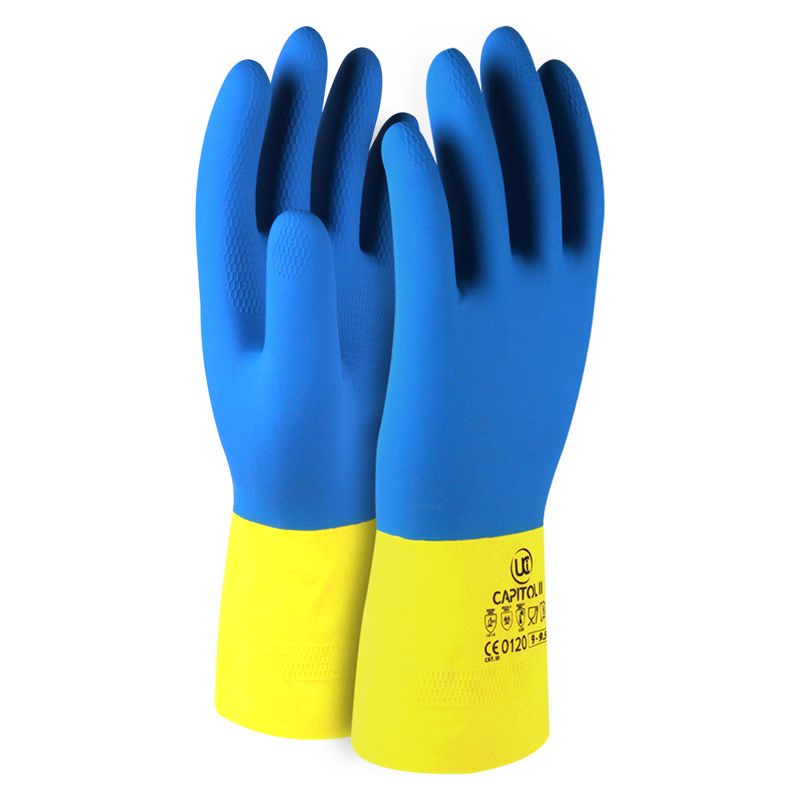 Rubber offers protection against a wide variety of chemicals, cleaning agents and detergents. Often supplied with a long cuff, they can provide exceptional protection against harmful substances. They also offer strong mechanical resistance, but are not recommended for their dexterity.
Top pick: The Capitol II Double-Dipped Rubber Gloves target="_blank"> are outstanding rubber gloves, are their super long cuff protects the user from a wide range of hazardous substances.
Recommended industries: Cleaning, industrial, pharmaceutical, chemistry, oil and gas.
Nitrile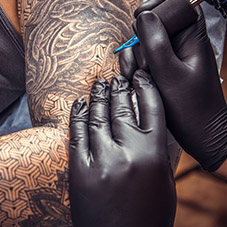 Nitrile is everywhere. It can be used for delicate tasks in the food and medical industries, while also offering outstanding mechanical resistance in more heavy-duty industrial applications. Outstanding for all-round use, nitrile guarantees resistance, flexibility and durability.
Top pick: If a glove sums the benefits of nitrile up, it's the Polyco Matrix F Grip Work Gloves that use a comfortable seamless liner to offer protection from cuts, scratches and abrasion. They are highly tactile, and show how nitrile is excellent at providing dexterity, protection and comfort.
Recommended industries: Food, health, construction, automotive, engineering, industrial, transport, tattoo.
Latex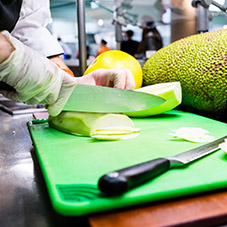 Latex is best at grip, while also providing excellent hygiene qualities. In any situation, latex can be used to provide excellent grip better than any other material. Furthermore, their liquidproof, oil-resistant design makes latex gloves highly suitable for liquid based applications, while their flexible design makes them a highly popular disposable glove.
Top pick: the Polyco Bodyguards GL890 Blue Nitrile Disposable Gloves use latex to provide excellent grip during examination purposes. Lightweight, dexterous, thin and sensitive, these gloves are ideal in applications involving health, inspection and food.
Recommended industries: Care, food, health, inspection, pharmaceutical, medical.
Nylon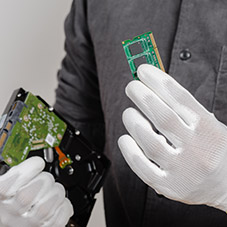 Last but certainly not least, is nylon. Nylon is known for its versatility and elasticity, and is durable, practical and protective, making it suitable for a wide range of industries. While it offers good mechanical protection, the flexibility of nylon makes it highly versatile.
Top pick: A top choice among our range of nylon gloves is the MaxiFlex Ultimate AD-APT Palm-Coated Handling 42-874 Gloves that offer sensitivity, longevity and comfort. They are ideal at general handling applications over periods of extended use.
Recommended industries: Assembly, construction, general handling, industrial, inspection, transport.
Choosing the correct material can be difficult, so we hope that this blog has helped you to narrow down your options to choose the right material for you. For a wider selection of all the materials mentioned here, don't hesitate to follow the link and browse our wide selection of gloves by their material and style. Lastly, if you're really still struggling, please don't hesitate to call 020 7501 0597 or leave a comment below, where one of our experts will be delighted to help.