Discover Sustainable and Carbon-Neutral Safety Gloves by TraffiGlove
Wednesday, 11 May 2022
With sustainability a hot topic in recent years, most businesses and consumers are more environmentally conscious than ever and are looking at ways to reduce their negative impact.
One company that has been leading the way in ensuring profit doesn't come at a cost to our environment is Traffi. They were certified carbon neutral on 20th Sep 2020, and have changed the way the industry looks at PPE by producing safety gloves that protect hands, reduce waste, costs and carbon emissions. Read on to Discover Sustainable and Carbon-Neutral Safety Gloves by TraffiGlove.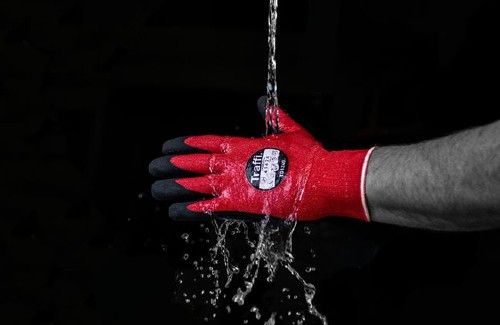 TG1900 - rPET Biodegradable Heat-Resistant Safety Gloves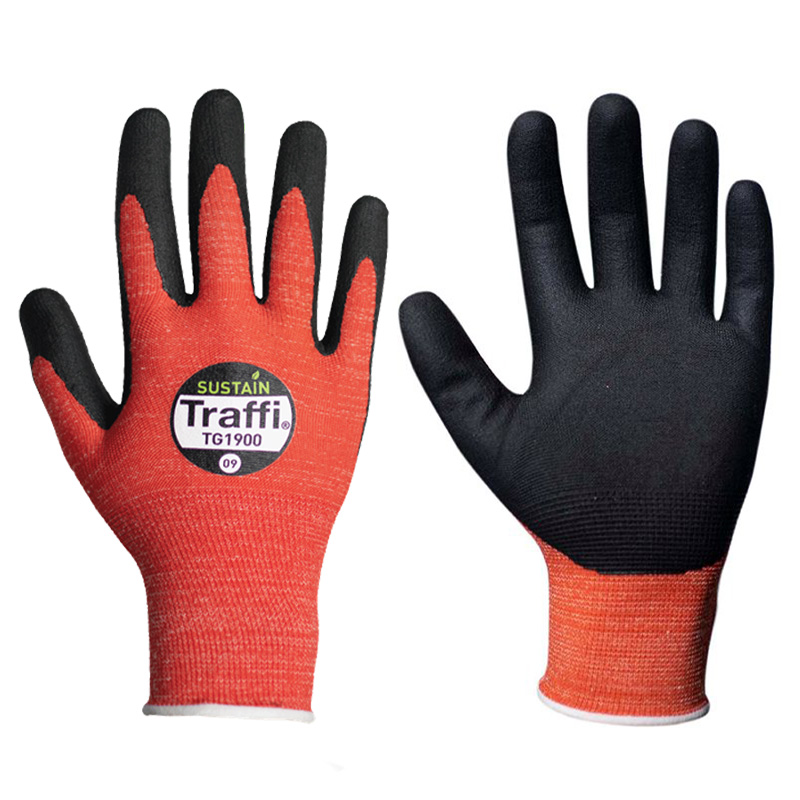 Made from recycled plastic water bottles from the beaches of Sri Lanka, the TG1900 prove that safety and sustainability can go hand in hand. One pair of gloves uses one plastic bottle while the efficient production process saves 5.15 litres of water, 0.387 kWh energy and 227 grams CO2 emission per pair.
Why We Love Them...
✔ They are 37.78% biodegradable in 60 days
✔ Heat resistant to 100°C with EN388 rating of 4121A
✔ No harmful toxic substances that irritate the skin
✔ Soft cotton lining feels like second skin for ultimate comfort
Suitable for: Assembly, Automotive, Logistics, Maintenance, Manufacturing, Transport, Warehouse and Distribution
TD02 - The World's First Carbon Neutral Disposable Gloves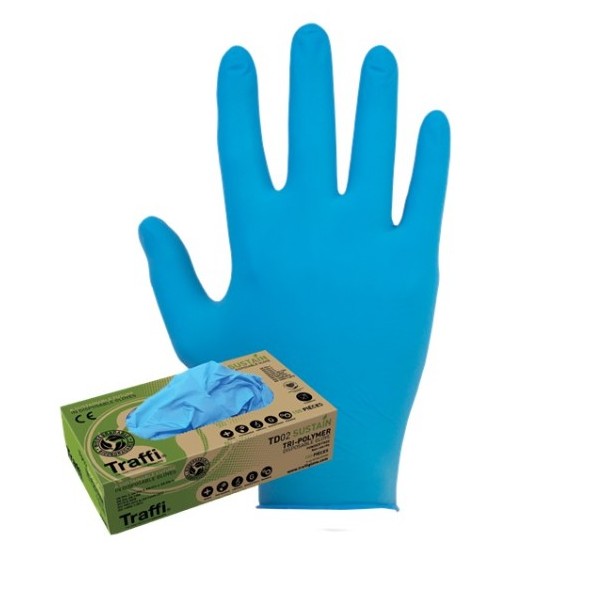 For those occasions when disposable gloves are needed for practicality and convenience, look no further than the TD02 to minimise your carbon footprint. They are the world's first Carbon Neutral disposable gloves and unlike traditional nitrile gloves that take over 100 years to biodegrade in landfills, the TD02 biodegrades by 82% within just 90 days!
Why We Love Them...
✔ Certified as a zero carbon product by The Sustainable Future Group
✔ Require 85% less energy to produce than traditional disposable gloves
✔ Made mostly from natural rubber instead of synthetic rubber, using 3.5 times less oil and petrochemicals
✔ Dermatologically approved by the Skin Health Alliance
Suitable for: Medical, Pharmaceutical, Laboratory, Mechanical, Food Manufacturing, Cleaning and General Purposes
LXT Glove Range - Reusable Carbon-Neutral Safety Gloves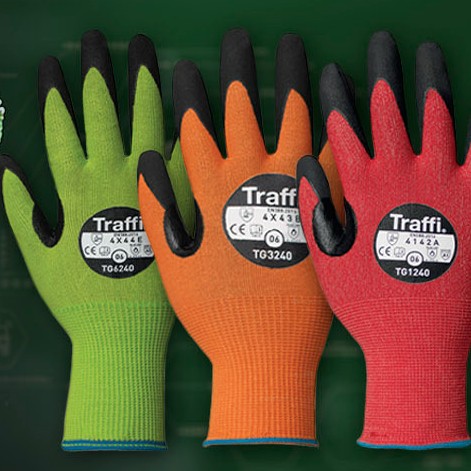 If you want to ensure your safety gloves are carbon neutral with zero negative impact on the environment to the point of delivery, then you'll love Traffi's LXT range. They have four models (see below) with various protection levels indicated by a colour-coded traffic light system according to their performance on the EN 388 cut resistance test.
Why We Love Them...
✔ Certified carbon neutral and verified independently by The Sustainable Future Group
✔ Around 113,000 trees planted to compensate for the emissions caused by LXT gloves production
✔ Oil and water resistant and washable to 30°C
✔ Reduce product carbon footprint to reduce global warming
LXT TG1240 Cut Level A Gloves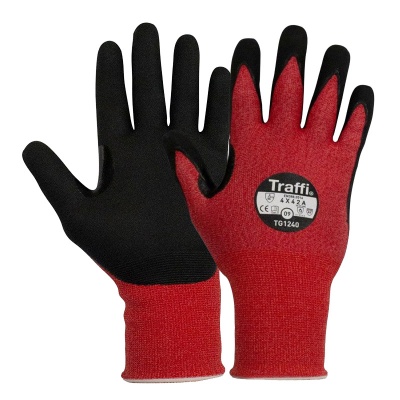 These red gloves have the lowest cut resistance from the LXT range with an EN 388 rating of 4121A but they still provide reliable protection for a range of tasks.
Why They're Great...
✔ One pair of TG1240 equals one box of 50 disposable nitrile gloves!
✔ High tenacity nylon is durable and dexterous
✔ Offers short term heat resistance up to 100°C
✔ LXT treatment for oil, dirt and water resistance
Suitable for: Assembly, Automotive, Construction, Engineering, Manufacturing, Mechanical and Utility
LXT TG3240 Cut Level B Gloves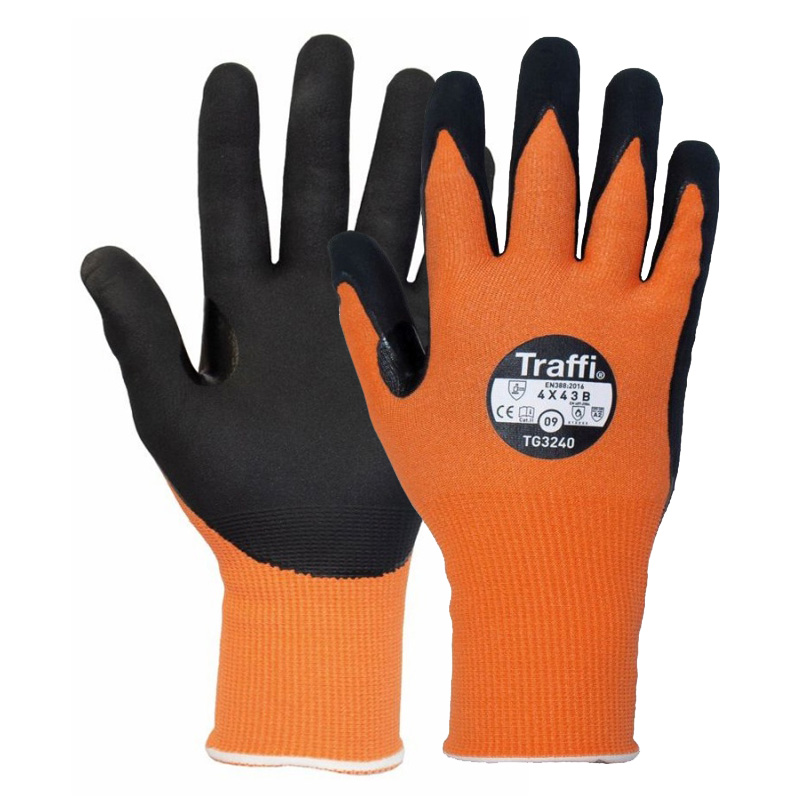 These amber nitrile gloves have an EN 388 rating of 4X43B making them ideal for engineers and mechanics to protect them from burns, cut and scrapes.
Why They're Great...
✔ Attains the highest levels of abrasion and tear resistance
✔ Triple wrapped core for extra cut protection and comfort
✔ Flexible construction helps reduce hand fatigue
✔ Thumb crotch adds protection to vulnerable part of the hand
Suitable for: Automotive, Building, Construction, DIY, Engineering, Manufacturing and Scaffolding
LXT TG5240 Cut Level C Gloves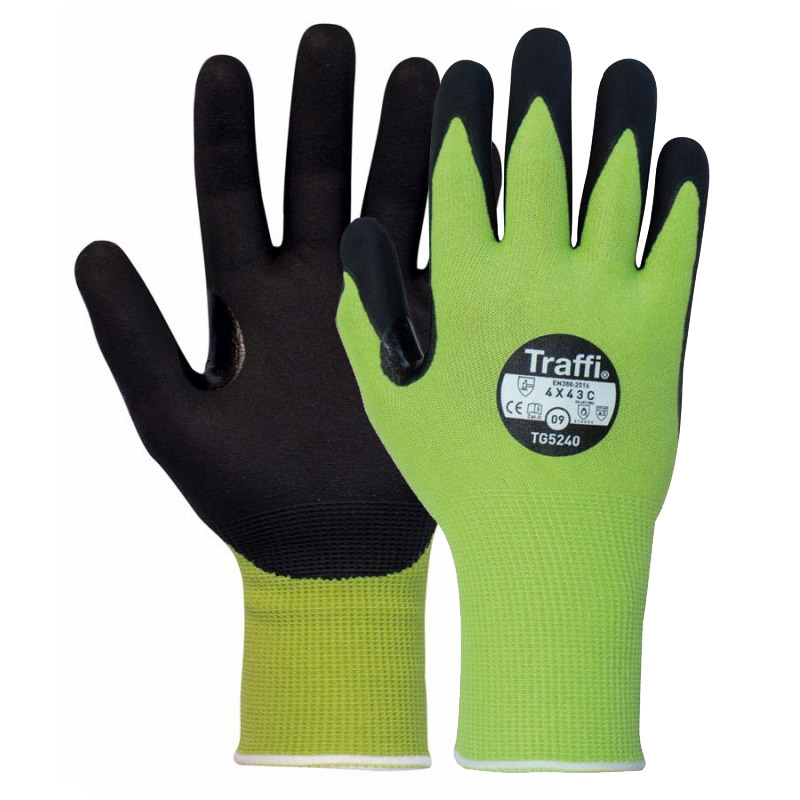 Perfect for high cut risk jobs that require dexterity and grip in wet, dry and oily conditions, these gloves have an EN 388 rating of 4X43C.
Why They're Great...
✔ Excellent protection against abrasion, tear, puncture and cut
✔ LXT treatment repels oil, dirt, water and staining
✔ Breathable material keeps hands cool and comfortable
✔ Hot contact resistance up to 100°C
Suitable for: Automotive, Construction, Engineering, Glass manufacturing, Local authority, Oil and gas
LXT TG6240 Cut Level E Gloves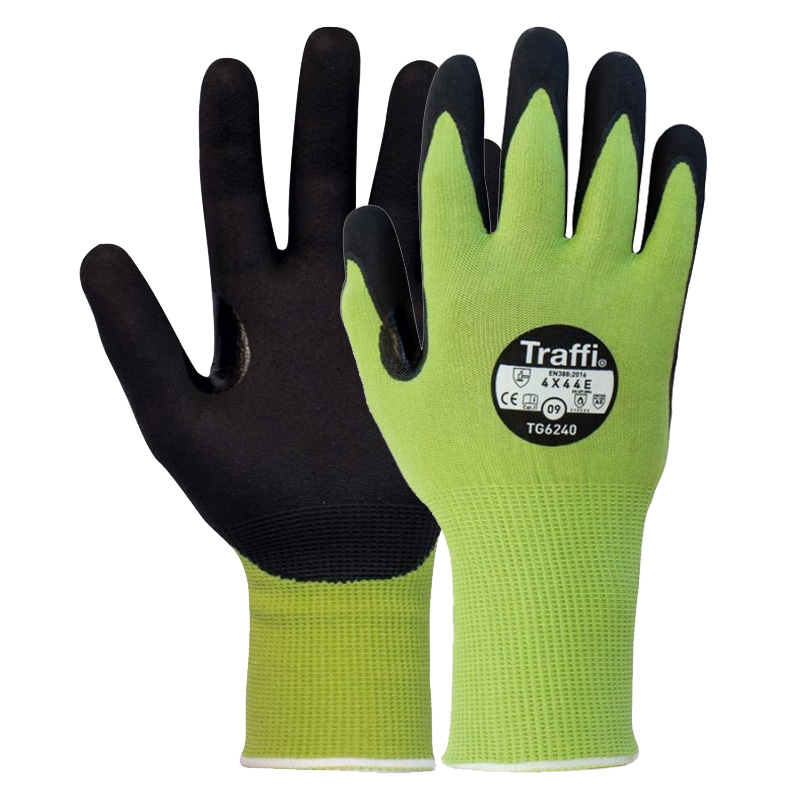 The TG6240 gloves offer unrivalled levels of comfort and dexterity while offering maximum protection against abrasion, cuts, tears and punctures.
Why They're Great...
✔ Ultimate protection against various hazards with an EN rating of 4X44E
✔ Touchscreen compatible making them ideal for the modern workplace
✔ MicroDex ultra coating enhances grip and durability
✔ Dexterous design ensures total control of tasks in a safe manner
Suitable for: Construction, Engineering, Glass handling, Industrial, Logistics, Manufacturing, Recycling and Warehouses
Safety Gloves That Save the Planet
Hopefully you've learnt that you don't need to compromise on your sustainability efforts when it comes to hand protection at work. Traffi have worked tirelessly over the years to produce a range of eco-friendly gloves that are carbon neutral with zero negative impact on the environment so you're bound to find a pair that are perfect for you. Gloves that protect your hands and our planet – what's not to love‽
If you're unable to find something suitable from the sustainable range, then check out the entire selection of Traffi Work Gloves that cover every industry, usage and protection level.
We love to hear from you so please let us know if you found this blog useful or have any comments!