Best Metal Handling Gloves 2022
Monday, 24 May 2021 | Admin
The metal industry is fraught with risks. Your hands can face ferocious heats, super sharp edges and rough, heavy materials while at work, meaning it is imperative you buy the correct gloves. Injuries to the hands in the metal industry can at best cause a loss of productivity and work hours, and at worst cause life-changing impairments.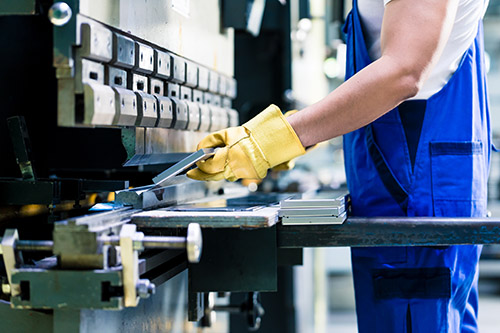 It's important to consider what risks you face before buying your metal handling gloves
Before selecting your metal handling work gloves, it's important to consider the different risks and the workload that they will face throughout the day. Do you just handle sharp metal? Is the metal hot and does it come with hard, rough edges? Do you need extra grip because the sheet metal is slippery? To help, we have decided to create this list of Best Metal Handling Gloves.
We consider all of the risks thrown at metalworkers, taking into account all of the gloves that we sell to decide which gloves we think are best suited to which risks. So dive in, and choose the best, high-quality hand protection that money can buy.
Kutlass Cut Resistant Grey Gloves PU300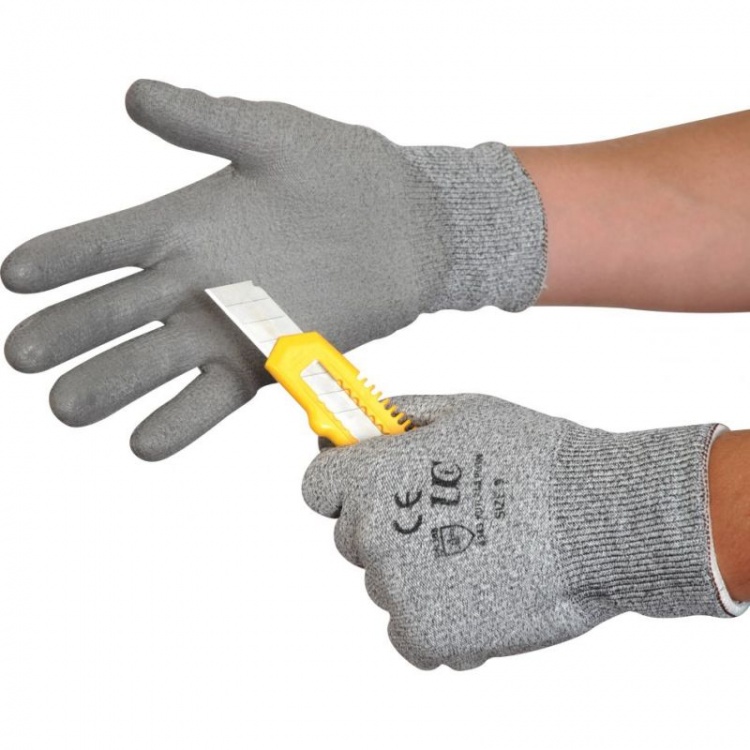 Sheet metal provides a high cut risk because of its super thin and sharp edges. It's always best to choose a lightweight, dexterous pair of gloves for sharp metals as dexterity is essential in handling the metal safely without dropping it. The Kutlass Cut Resistant Grey Gloves PU300 use high performance HPPE fibre to offer economical, but exceptional lightweight cut resistance. Their tight fitting design ensures comfort and sensitivity, two of the things that are crucial when handling tricky, high cut risk materials. Lastly the gloves are featured with a breathable liner and a sanitized hygiene function that repels odour and increases freshness, ideal for extended use throughout the day.
Key Features: Fitted with HPPE fibre that offers exceptional cut resistance; lightweight design ideal for handling; breathable liner keeps hand cool; high mechanical protection; impressive dexterity.
Polyco Nitron Heavy Duty Nitrile Gloves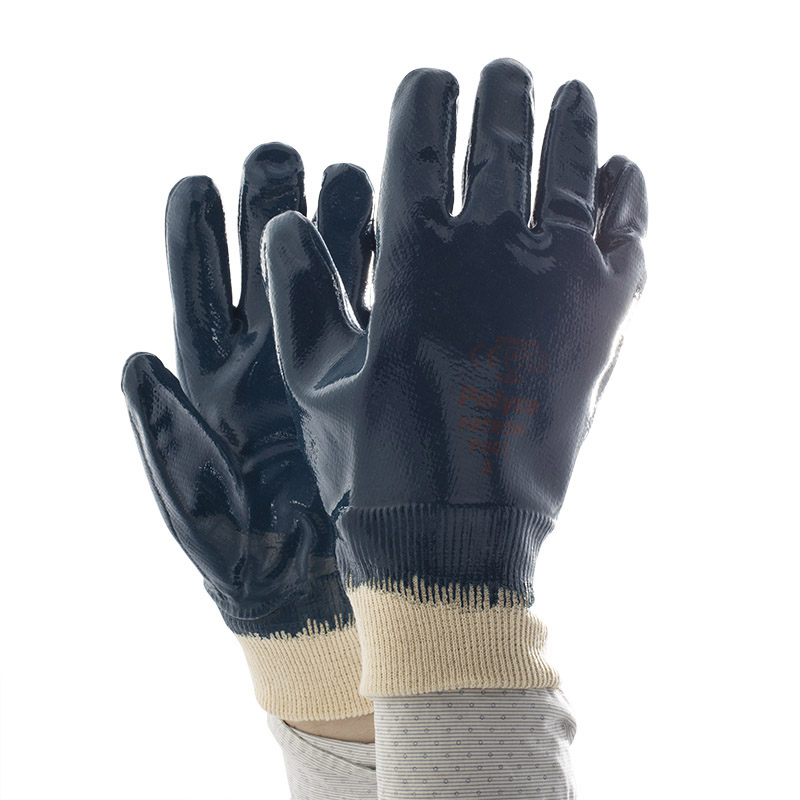 Metal handling can often mean that you'll come into contact with oil and grease, and it can also mean that you'll have to carry heavyweight metal that poses a high abrasion and drop risk. If you have these problems, then the Polyco Nitron Heavy Duty Nitrile Gloves are for you. Offering level 4 abrasion resistance, these gloves have been constructed specifically to carry rough materials. This means that they are highly durable, and can protect the user from abrasive edges.
It doesn't stop there, despite their highly economical price the gloves excel with oil and grease, while their seamless cotton inner liner guarantees comfort. For durable, mechanical strength and a comfortable fit, the Polyco Nitron Gloves are a top pick.
Key Features: Full nitrile coat offering high abrasion resistance; ideal for handling heavy; rough materials; protects against oil and grease; anatomical shape enhances comfort; exceptional levels of grip.
Ejendals Tegera 489 Heat Resistant Magnetic Grip Gauntlets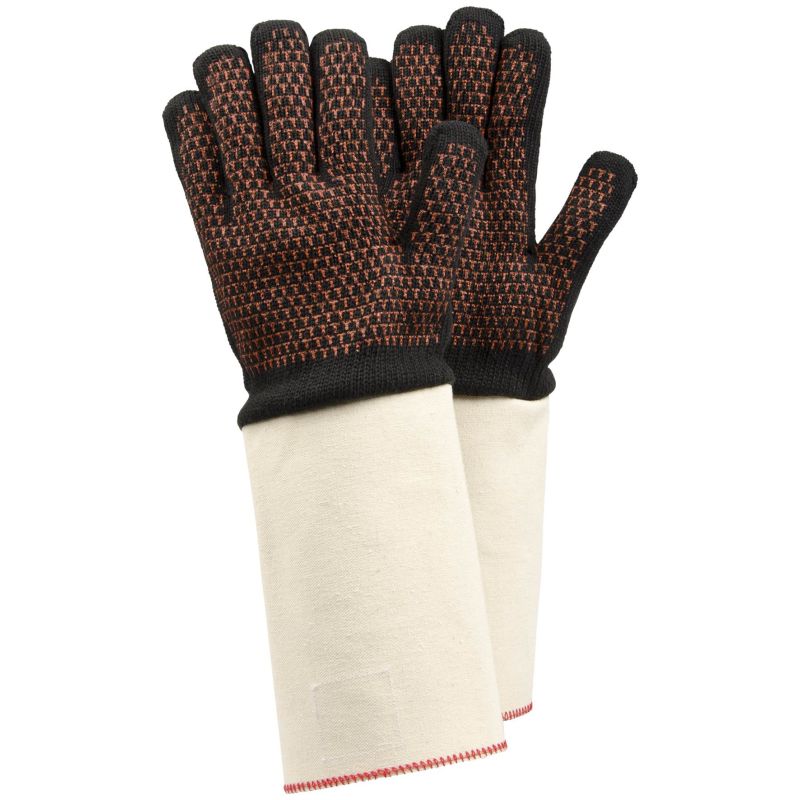 While we're on heavy-duty gloves, we can't forget the Ejendals Tegera 489 Heat Resistant Magnetic Grip Gauntlets, which offer the unique qualities of having a magnetic grip. While this makes the gauntlets ideal for handling small metal components, the impressive 250°C contact heat resistance means that the gauntlets can be used for handling extremely hot metals. They come with a complex construction designed to cope with the highest levels of risk, and, despite their heavy duty, thick appearance, use a nitrile palm dot to offer outstanding grip. With a safety cuff for added protection, we challenge you to find a more versatile, useful and grippy pair of metal handling gauntlets than the Ejendals Tegera 489.
Key Features: Offers heat protection of 250°C; supplied with a magnetic grip for easy handling, nitrile palm dot pattern enhances grip, safety cuff offers protection.
MCR Safety General Purpose GP1002PV PVC Dotted Work Gloves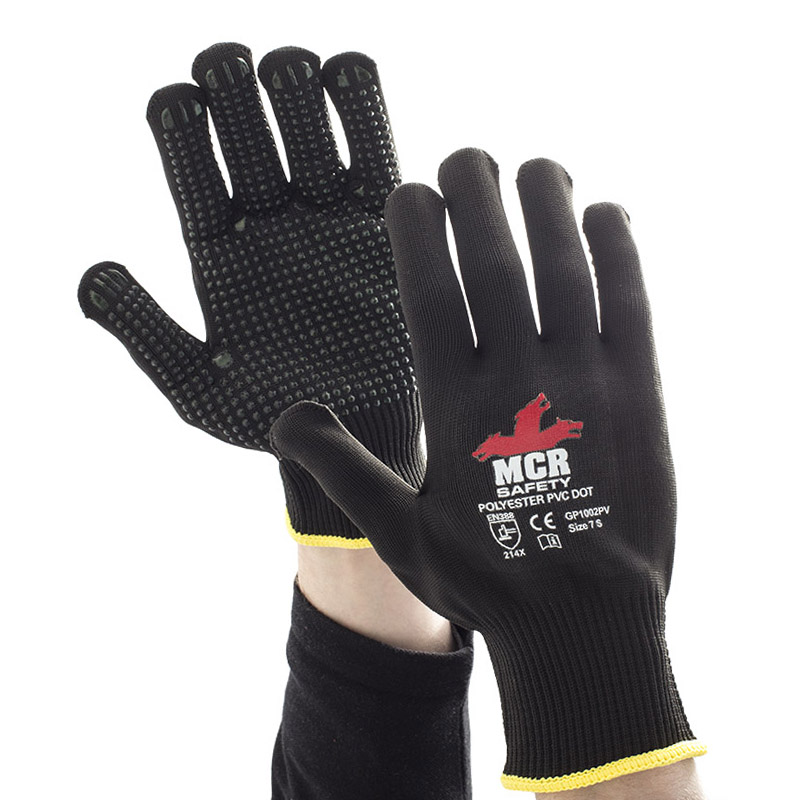 Any handling application demands grip and this is no different with metal handling. If anything, the risk of dropping the item and the risks to yourself are only increased due to the heavy or sharp nature of metal. For grip and strong cut resistance, the MCR Safety General Purpose GP1002PV PVC Dotted Work Gloves perform exceptionally well. A PVC dot coating works well in dry and wet conditions, while their highly flexible and dexterous nature gives the user the tactility needed for handling thin metals.
Key Features: PVC dot coating provides high grip; polyester shell ensures high comfort; lightweight for quick and fast use; high durability aids longevity.
Kutlass Cut Resistant Fingerless Gloves PU300-12-OR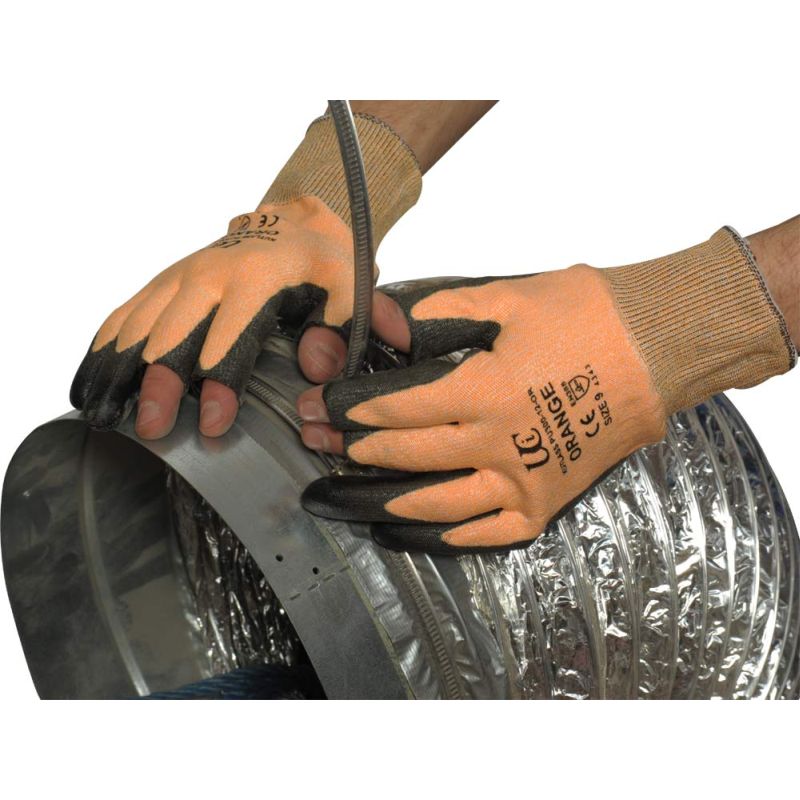 Occasionally you may need so much dexterity that even a super thin glove doesn't quite cut it. The Kutlass Cut Resistant Fingerless Gloves PU300-12-OR use a fingerless design to guarantee the user with the dexterity when they need it most. Exceptional grip and excellent cut resistance supplied by the tough HPPE liner mean that the gloves ensure both protection and a secure hold on metal. Suitable for use in dry, wet and oily conditions these versatile gloves promise to not let you down when handling metal. With a breathable liner and a seamless lightweight design for comfort, these gloves are ideal for extended use during tough, metal handling applications.
Key Features: Fingerless design enhances dexterity; high cut resistance; designed to repel liquids, oil and grease; PU coating enhances grip; impressive abrasion resistance.
Have you found what you are looking for? Remember that while these are some of our top picks for metal handling, you're free to take a look at our wide range of Metal Handling Gloves here. If you're still struggling to find your ideal glove or just want some advice on one of our gloves in this list, don't hesitate to call us on 020 7501 0597 or leave a comment below where one of our team will be delighted to help.