Best Metal Handling Gloves 2023
13 October 2023 | Sharman
When handling metal like jagged pieces, hot debris, or sharp blades, protecting your hands is essential. Without the right pair of gloves, you put yourself at risk of cuts, abrasions, burns and more. The type of gloves you're after will depend on the work you're doing and hazards you're dealing with, so we've gathered some of our bestselling gloves in this Best Metal Handling Gloves 2023 guide, to make your choice a little easier.
What Does This Guide Cover?
Best Overall Metal Handling Gloves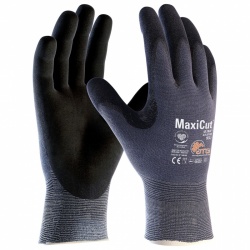 Rounded fingertips for added sensitivity
Ideal for use in dry environments
Palm coated for extra grip
Price shown is per pair of gloves
| | | |
| --- | --- | --- |
| | | In stock now |
Editor's Verdict: With really high levels of cut, abrasion and tear resistance, the MaxiCut Ultra 44-3745 Cut Resistant Grip Gloves offer balanced and robust mechanical protection, perfect for general metal handling. They're also ergonomically shaped to mimic the resting position of your hands to reduce fatigue, while the fingertips are rounded to retain touch sensitivity.
Best Heat-Resistant Metal Handling Gloves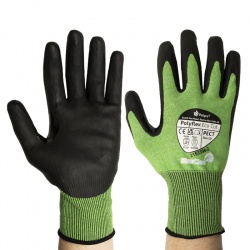 Pair of Level F cut resistant touchscreen safety gloves
Perfect for construction, building and trade professionals
Water repellent outer shell guards against damp and moisture
Eco-friendly plastic-free packaging and recycled plastic foundation
| | | |
| --- | --- | --- |
| | | In stock now |
Editor's Verdict: The Polyco PECT Polyflex Sheet Steel Handling Touchscreen Gloves are graded for contact heat up to 100°C, which combined with their impressive mechanical resistance levels, makes them perfect for handling hot metal. They achieve the highest possible level F cut resistance and the outer shell is water-resistant, making them ideal for working outdoors. If that's not enough, they're also touchscreen compatible, so there's not need to take them off to use your phone or tablet.
Best Impact-Resistant Metal-Handling Gloves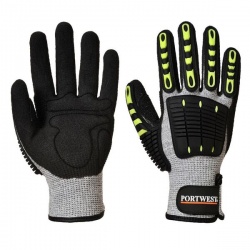 TPR reinforced thumb crotch offers extra protection
PVC pods on the hand absorbs impact
Ideal for heavy-duty environments
Price shown is per pair of gloves
| | | |
| --- | --- | --- |
| | | In stock now |
Editor's Verdict: Boasting seriously high, level E cut resistance, robust resistance to abrasions, tears and punctures, along with impact protection, Portwest Anti-Impact Gloves A722 are an excellent choice for handling heavier metal. They feature impact-absorbing PVC pods and reinforced TPR, but they're ergonomically sewn into the loose-lined fabric to prevent the gloves being too restrictive. They're also secured with a hook and loop strap to give you the best fit, while their nitrile palms help maintain a safe grip.
Best High-Dexterity Metal Handling Gloves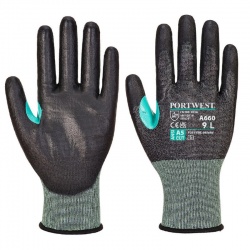 Pair of flexible and highly cut-resistant work gloves
18-gauge liner dexterity and touch sensitivity
Touch-screen compatible for increased versatility
PU coating offers safe, secure grip in wet and oily conditions
| | | |
| --- | --- | --- |
| | | In stock now |
Editor's Verdict: When you're working with small pieces of metal or in fine assembly, you need need a pair of gloves that maximise your dexterity while still protecting your hands. The Portwest A660 CS Cut E18 PU-Coated Gloves are really thin, with an 18-gauge lining that offers flexibility and touch sensitivity. Despite this, they're still extremely protective with huge, level E cut resistance and high levels of abrasion and tear protection. Coated with PU, they also provide a fantastic grip in oily conditions.
Best Thermal Metal-Handling Gloves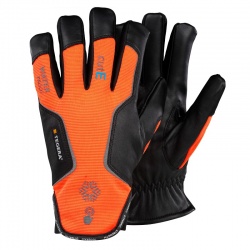 Pair of highly functional touchscreen work safety gloves
Ideal for manual work in the harshest conditions this winter
Incredible Level E cut resistance guarantees protection against hazardous material
Fully waterproof and touchscreen compatible for functional use outdoors
| | | |
| --- | --- | --- |
| | | In stock now |
Editor's Verdict: If you're handling metal in cold weather, particularly outdoors, you need gloves that provide both mechanical and thermal protection. Combining and fleece lining, waterproof and insulating goatskin leather and incredibly tough, stainless steel yarn, the Ejendals Tegera 7799 Thermal Touchscreen Gloves will keep your hands comfortable and protected on the coldest winter days. For added convenience they're touchscreen compatible and supplied in a bright orange hi-vis colour for working in low light conditions.
Test Your Metal!
The gloves in this guide are some of our best-selling metal-handling gloves, sure to protect your hands when dealing with jagged metal, sharp blades and more. But, if you haven't found the pair for you yet, why not have a look at our full range of Metal-Handling Gloves.
Have any questions about our metal-handling gloves, or just something to add? Let us know in the comments below!