Best Gardening Gloves
Tuesday, 3 April 2018
With spring finally taking hold of the UK, many people are starting to turn their attention to their gardens with an eye on getting those tough jobs done before the summer. Garden work can bring with it a fair few dangers, so it's important to make sure you have the right equipment before heading out to battle the weeds. Perhaps the most important piece of equipment for any gardener is a reliable pair of gloves, keeping hands nimble and comfortable to get the job done.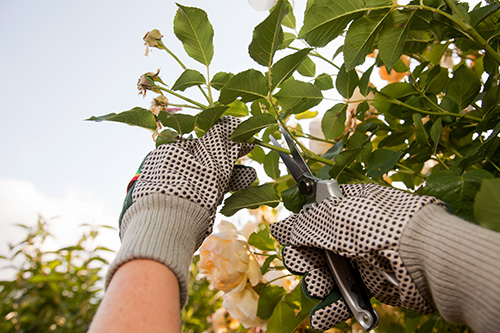 The right gardening gloves will provide comfort and protection in the garden
With thousands of choices, picking that perfect pair of gardening gloves can seem a daunting task. Luckily, you've come to the right place. At WorkGloves.co.uk, we know a thing or two about hand protection, and we've taken the liberty of hand-picking our top five picks of the Best Gardening Gloves around. These gloves provide varying levels of protection, but all five will be a valuable asset in the garden. Read on, and decide which pair is right for you.
HexArmor ThornArmor 3092 Gardening and Landscape Gloves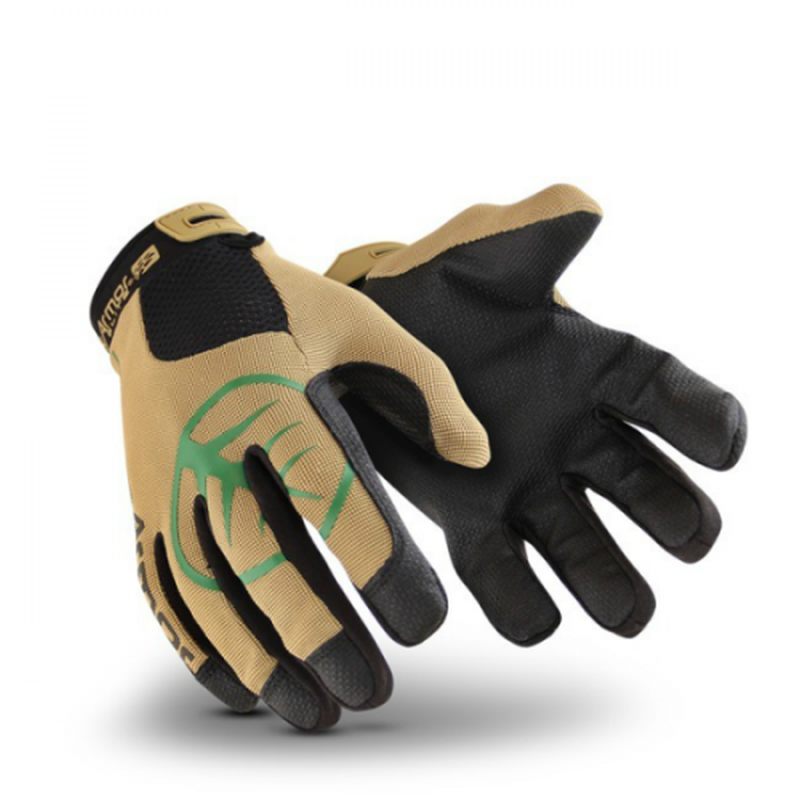 We start off our list strong with a pair of gloves that provides tough protection against thorns and needles while remaining breathable – making them excellent for summer gardening. The HexArmor ThornArmor 3092 Gardening and Landscape Gloves are made with reinforced stitching and offer outstanding cut resistance, making them an excellent choice for those looking for a reliable and long-lasting glove. With Velcro fastening for a perfect fit and a HexVent panel for air circulation, these gloves combine comfort, protection and dexterity.
Key Features: Reinforced stitching with high cut resistance; excellent for handling thorns; ventilated for increased air circulation.
Ejendals Tegera 90050 Ladies' Gardening Gauntlets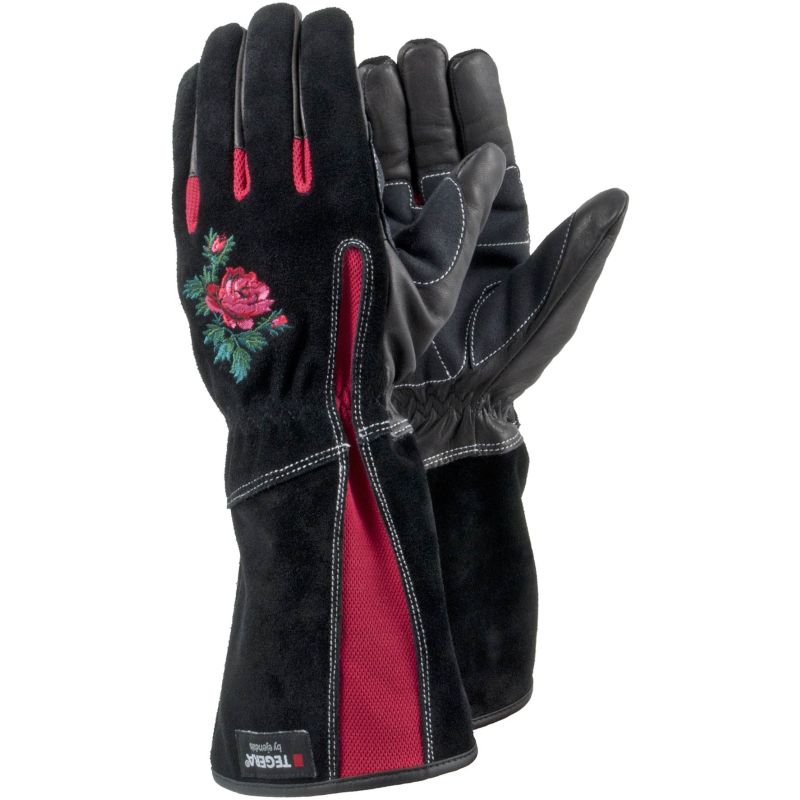 While gardening gloves don't get much tougher than the ThornArmor gloves mentioned above, many gardeners may prefer a more elegant design. The Ejendals Tegera 90050 Ladies' Gardening Gauntlets are a versatile, durable and comfortable pair of gloves that provide forearm protection, great flexibility and reinforced thumbs, making them ideal for light to medium gardening. These gloves guarantee high levels of flexibility and gardening, allowing you all the fine control and comfort you need in garden without sacrificing protection.
Key features: Excellent forearm protection; cowhide leather for great grip; reinforced thumbs and elegant floral design.
WithGarden Foresta 394 Premium Latex Moss Green Gardening Gloves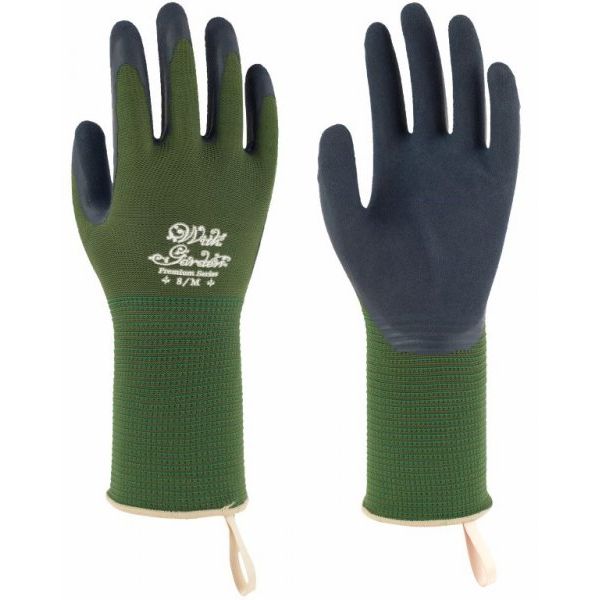 Protection, grip and comfort are all top priorities when looking for an all-round gardening glove, and these gloves provide all in spades. The WithGarden Foresta 394 Premium Latex Moss Green Gardening Gloves are made with MicroFinish technology, providing a strong, sure grip in wet and dry conditions. The seamless 13-guage nylon liner maximises comfort, while the double-coated palms prevent liquid penetration to keep your hands comfortable and nimble in all conditions. Breathable to reduce hand sweat and discomfort, these ergonomic gloves will keep you happy during long hours in the garden.
Key features: Long cuff to protect against dirt and abrasion; strong grip in wet and dry conditions; ergonomic design minimises hand fatigue.
Cutter Goatskin Leather Premium Garden CW900 Gloves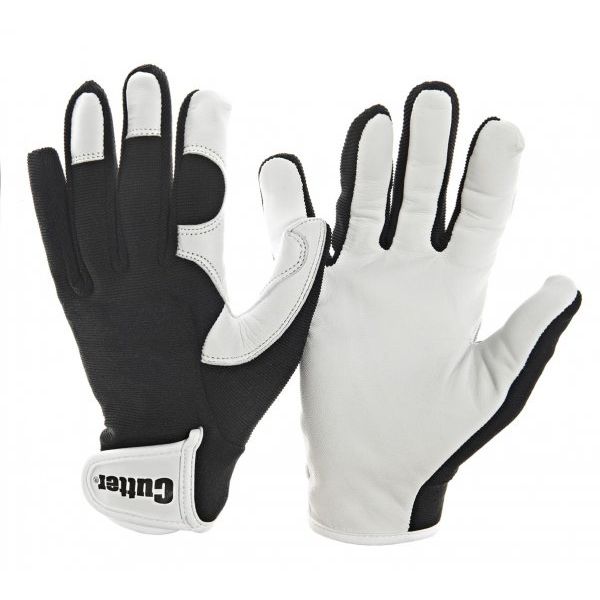 Many jobs in the garden require tough protection from hazards like thorns and debris, but that doesn't mean they can't be comfortable and flexible as well. The Cutter Goatskin Leather Premium Garden CW900 Gloves provide a high level of protection against spikes and thorns, while also allowing plenty of dexterity for fine, detailed work. Designed with reinforced fingertips for extra protection, these tough and versatile gloves provide excellent grip – greatly reducing your chances of injury while carrying heavy objects.
Key features: Heavy duty glove with high dexterity and flexibility; provides great grip in tough conditions; Velcro and Spandex for a comfortable fit.
Ejendals Tegera 295 Thermal Waterproof Work Gloves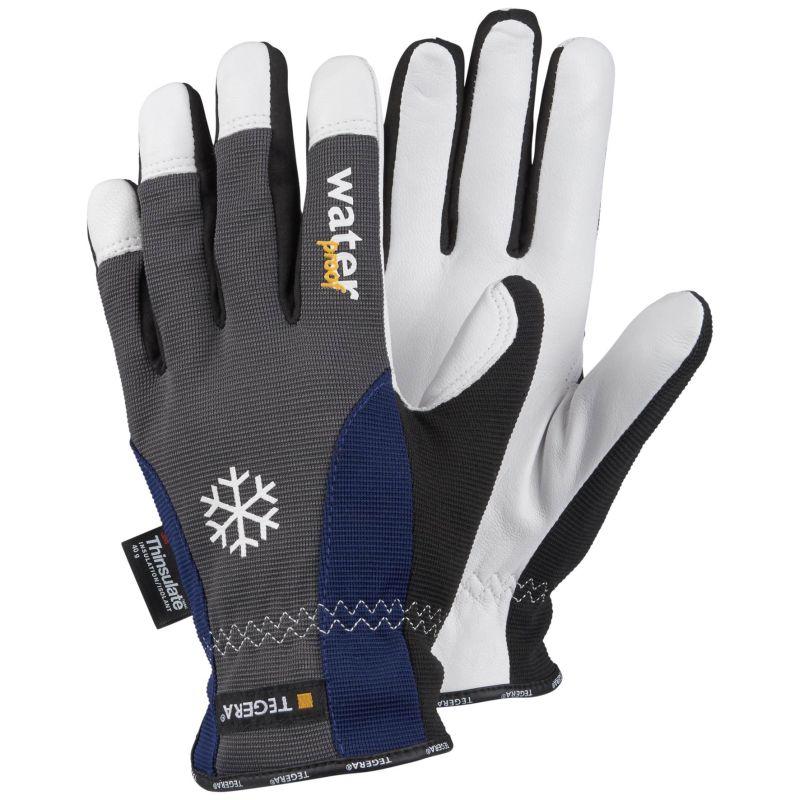 Even when the weather outside is warming up, a long, rainy day in the garden can leave your hands cold, wet and miserable. Ejendals Tegera 295 Thermal Waterproof Work Gloves are for those looking for the utmost in comfort and warmth in the garden, as they are made with waterproof lining and thermal insulation to keep the weather out, and your comfort in. Reinforced at the fingers and thumbs for long-lasting wear, these gloves provide high levels of both dexterity and grip, meaning they will provide all the comfort and protection you need in any conditions.
Key Features: Waterproof and insulated without bulk; great fingertip sensitivity for delicate tasks; elastic closure and 360° design for high comfort levels.
Are you looking for something slightly different to the gloves on our list? While these are some of our favourite gardening gloves, we stock a wide range of alternatives that may be more suited to your gardening needs. To view our entire range of gardening gloves, take a look at our Gardening Work Gloves category.