Best Cotton Work Gloves 2022
Thursday, 17 June 2021 | Eugene
Handling delicate items can be a nerve-wracking experience, as drops or scratches can often result in damage to expensive equipment. That's why it's important to wear the right hand protection – both to protect yourself and the materials you're handling. When it comes to a delicate touch, few materials are gentler than cotton, so cotton gloves are usually the best choice if you're looking to protect your materials and bottom line.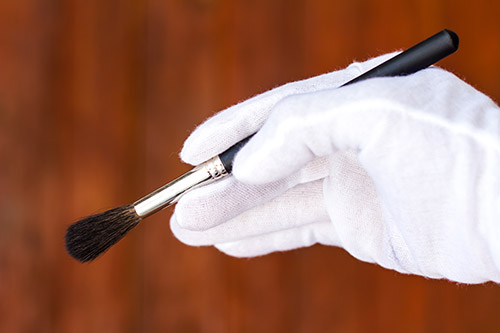 Cotton gloves are ideal for delicate handling tasks
Not all cotton gloves are suitable for all handling tasks though, so it's important that you make the right selection to get the best gear for the job. At WorkGloves.co.uk, we stock a variety of cotton gloves, each with different strengths and weaknesses, and each suited to certain applications more than others. Our glove experts have put together a list of our top 5 cotton gloves – providing you with the light touch, dexterity and grip you need to keep your peace of mind when handling delicate items.
Supertouch Fourchette Cotton Gloves 2550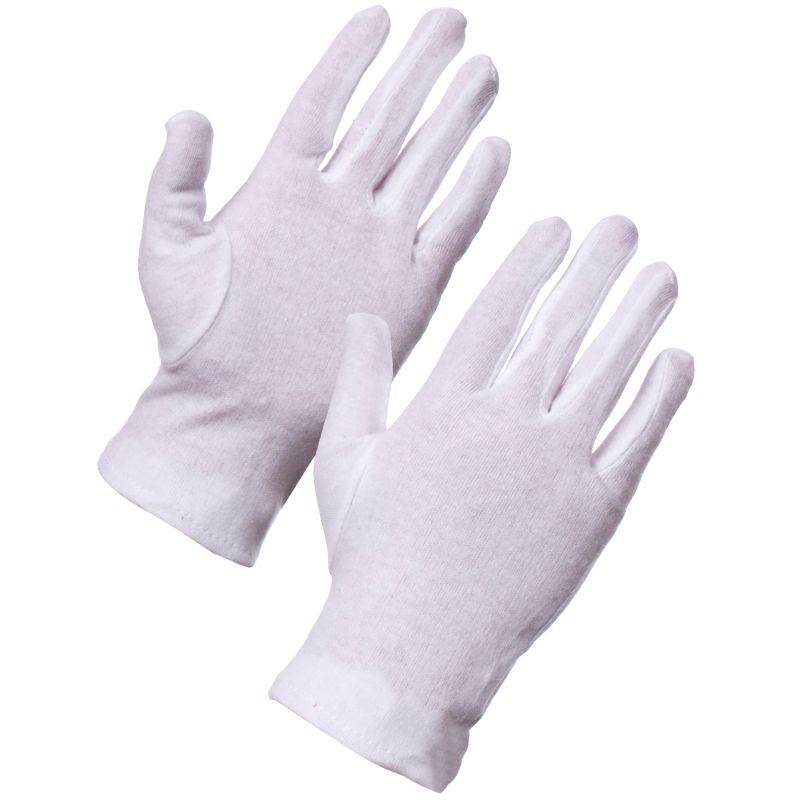 We start our list with a basic cotton glove that is ideal for delicate handling tasks: the Supertouch Fourchette Cotton Gloves 2550. These gloves feature a close-knit design and fourchette fingers, providing excellent tactile sensitivity to ensure every object can be handled with delicate precision. Comfortable, lightweight and cost-effective, these gloves are ideal for light handling tasks like art handling or inspection.
Key features: Close-knit cotton gloves; fourchette fingers for tactile sensitivity; cost-effective for fine handling tasks.
Portwest A080 Microdot Cotton Handling Gloves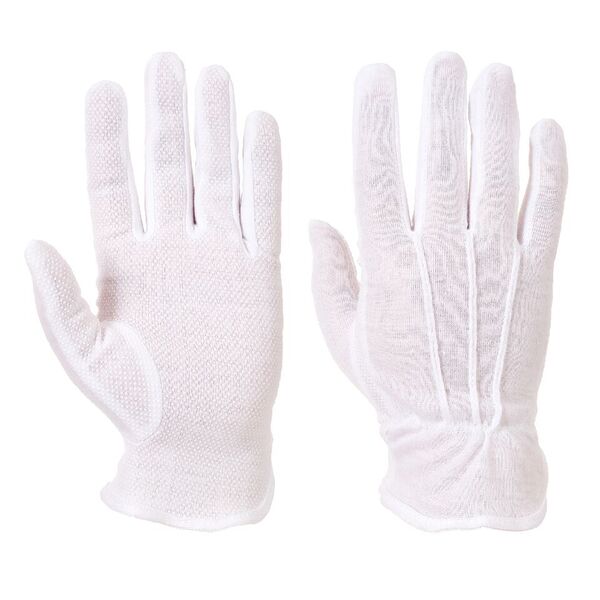 Combining soft cotton material for delicate handling with PVC dots for grip, the Portwest A080 Microdot Cotton Handling Gloves are extremely versatile. These gloves are suitable for everything from warehouse work to light inspection tasks, and provide an excellent amount of dexterity for handling small or complex items. As these gloves are quite thin, they can also be used as glove liners in the food service or production industries.
Key features: PVC dots to enhance grip; soft 100% cotton material to protect items
Supertouch 8oz Cotton Drill Gloves 24003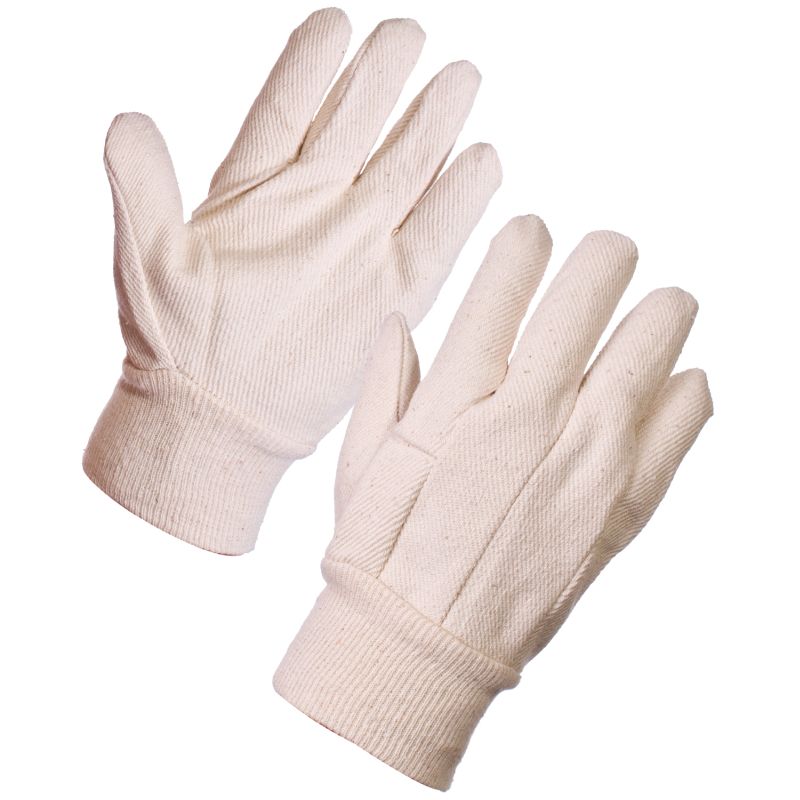 Some delicate handling gloves will require a small amount of protection for the wearer – often in situations where heavier objects are involved, such as art handling. The Supertouch 8oz Cotton Drill Gloves provide a soft surface to protect any delicate items, while also providing protection for the wearer from hazards like blisters or contact with dirt. With an elasticated cuff and excellent dexterity, these are excellent gloves for most light handling tasks.
Key features: Designed for comfort for long hours of wear; comfortable 360° cuff; soft exterior to prevent items.
Ejendals Tegera 4630 PVC Dot Grip Gloves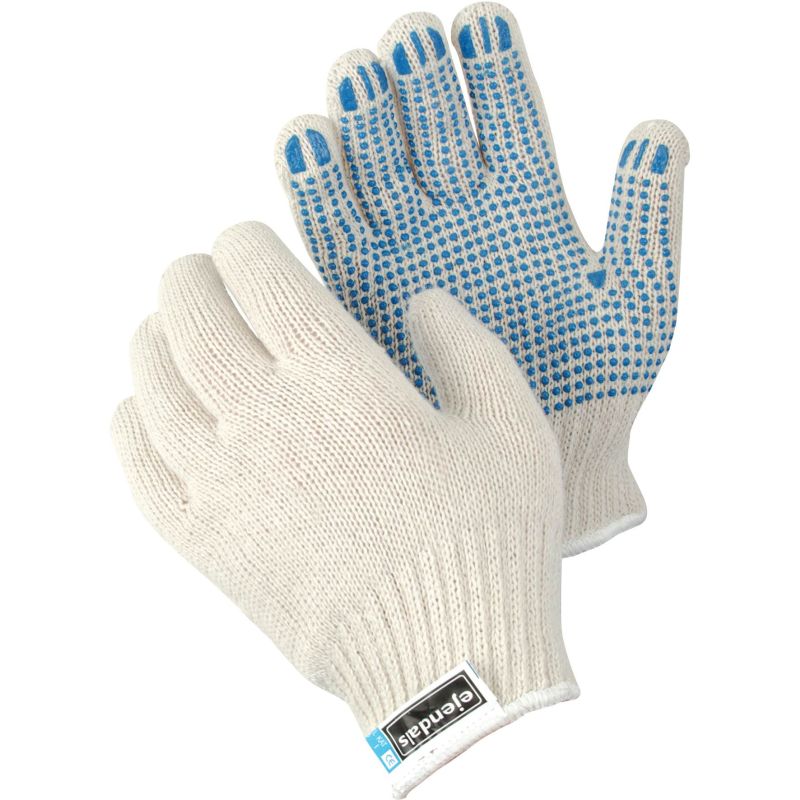 Cotton gloves are excellent for delicate tasks, and when combined with great grip, they can be extremely versatile as well. The Ejendals Tegera 4630 PVC Dot Grip Gloves provide a gentle touch combined with strong grip to make them ideal for all sorts of light handling tasks. The palm dot pattern ensures a sturdy grip on all objects, while the soft cotton materials and breathable design make them extremely comfortable and delicate when handling fragile or sensitive items.
Key features: Soft cotton material with dot pattern for improved grip; breathable and comfortable; protect against blisters and dirt contact.
Supertouch 12oz Cotton Drill Polka Dot Gloves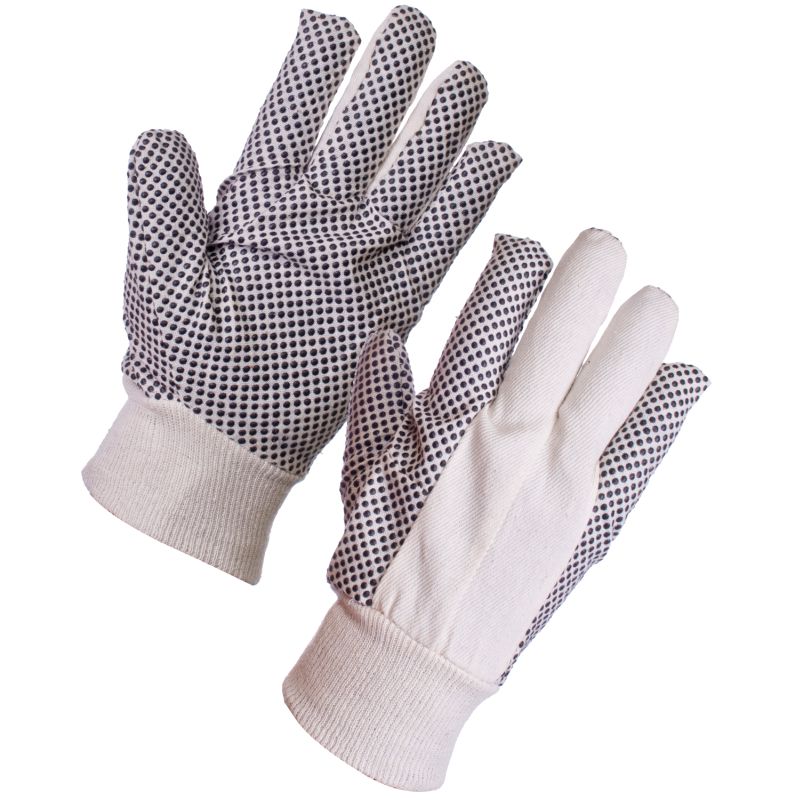 Just because a glove is made of cotton doesn't mean it can't be durable, a point that these next gloves were designed to prove. The Supertouch 12oz Cotton Drill Polka Dot Gloves are made with a seamless design, offering a durable and comfortable fit for general purpose handling. The polka dot grip pattern extends across the majority of the glove surface, providing excellent grip for handling all sorts of items. With a soft knitwritst cuff for improved comfort, these cotton gloves are the toughest and most versatile on our list.
Key Features: Mixed fibre light handling gloves; seamless design for flexibility; knitwrist cuff for comfort; highly durable and flexible.
While these are some of our favourite cotton work gloves, that isn't to say that they're all we have to offer. We stock a wide variety of cotton gloves, suitable for all sorts of applications. To view our entire range of cotton gloves for whatever purpose you have in mind, take a look at our Cotton Work Gloves category.
Do you have any questions about our cotton gloves, or do you use similar gloves in your line of work? Let us know in the comments below!