Best Chemical Resistant Work Gloves 2023
4 October 2023 | Sharman
From chemical plants, to lab work, to sewage treatment and much more, a lot of jobs involve frequent use of chemicals. Their severity can vary from mild irritants to seriously harmful, so wearing the right level of protection, especially on your hands, is vital. All the gloves in this guide are EN 374 (the European standard for chemical work gloves) compliant, for your safety and peace of mind.
It's not just about protection though, so the type of chemical-resistant gloves you need will also depend on the kind of work you're doing. For example if you're working on site you might need gloves with mechanical protection, or if you're working with small parts you might need thin and sensitive gloves. Well, whatever kind of chemical-resistant gloves you're looking for, we're sure our guide to the Best Chemical-Resistant Work Gloves can help!
What Does This Guide Cover?
Best Overall Chemical-Resistant Gloves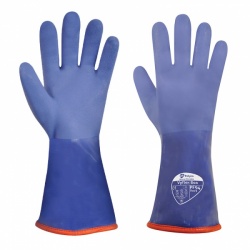 PVC glove that protects against a range of chemicals
BOA liner insulates hand to protect against cold
Latex free construction for reduced irritation
Price shown is per pair of gloves
| | | |
| --- | --- | --- |
| | | In stock now |
Editor's Verdict: The Polyco Vyflex Boa 35cm PVC Chemical Resistant Gloves PF94 are fantastically versatile chemical gloves. On top of their robust chemical resistance - graded against EN 374 - they're also abrasion- and tear-resistant, perfect for dealing with scrapes and general wear. They're also great for cold handling with a BOA lining and resistance to contact cold.
Best Chemical-Resistant Gauntlet Gloves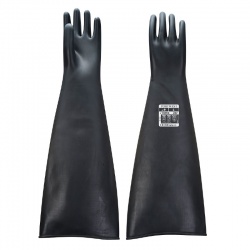 Pair of long black rubber latex gauntlet gloves
Ideal for industrial processes involving high-risk chemicals
Resistant to sulphuric acid, acetic acid, ammonium and more
1.3mm thickness with extensive coverage of the forearms
| | | |
| --- | --- | --- |
| | | In stock now |
Editor's Verdict: When you're working with high-risk chemicals, gauntlet gloves are your best bet for protection, especially when there's a splash risk. The Portwest A803 Chemical-Resistant Rubber Gauntlet Gloves extend protection above your forearms with extremely durable, 1.3mm thick, natural latex. It's resistant to a wide variety of chemicals after 30 minutes of exposure, including sulphuric acid, acetic acid, ammonium hydroxide and microorganisms, for comprehensive lab use. ​
Best Chemical- and Heat-Resistant Gloves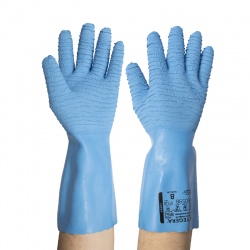 Pair of chemical, mechanical and heat resistant safety gloves
Ideal for food preparation, mechanics and chemical handling
Suitable for contact with up to 250°C temperatures
Repellent against fats, oils and grease
| | | |
| --- | --- | --- |
| | | In stock now |
Editor's Verdict: Combining strong chemical resistance with contact heat resistance up to 250°C, the Ejendals Tegera 8162 Protective Safety Gloves are great for handling hot chemicals in an industrial setting. Made of thick latex, they're extremely durable, as well as being resistant to oil and dirt. They also feature pre-curved fingers for greater dexterity and to reduce hand fatigue, while the heavily ribbed surface of the gloves provides a secure grip, even in wet conditions.
Best Cut-Resistant Chemical Gloves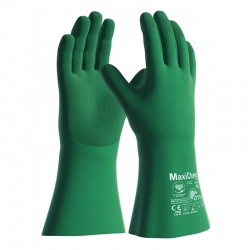 Pair of chemical and mechanical resistant safety gauntlets
Essential wear for chemical handling and industrial cleaning
Extended protection reaches the wrist and lower forearm
30% lighter than your standard rubber gloves
| | | |
| --- | --- | --- |
| | | In stock now |
Editor's Verdict: When using chemicals in places like farms and building sites, you may need work gloves with both chemical and mechanical protection. The ATG MaxiChem 76-833 Gauntlet Gloves use CUTtech fibres to offer strong resistance against cuts and and abrasions, as well as limited puncture and tear protection. This is great for using tools and equipment, without compromising the chemical barrier of the gloves. The nitrile rubber material is also non-absorbent, pushing liquid off the surface, instead of holding on to it.
Best Disposable Chemical-Resistant Gloves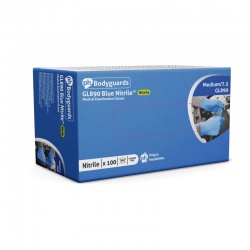 High quality nitrile protects against a range of chemicals
Material is soft and flexible, ideal for inspection work
Gloves are resilient making them long-lasting and durable
Price shown is box containing 100 gloves
| | | |
| --- | --- | --- |
| | | In stock now |
Editor's Verdict: If you're doing precise and fiddly jobs in a lab setting, the Polyco Bodyguards GL890 Blue Nitrile Disposable Gloves are your best bet. The synthetic rubber is flexible, close-fitting and really thin at only 0.11mm, while the fingertips are textured for a great grip. They're also disposable gloves, which are really convenient and help reduce the chances of cross-contamination. Despite this, they're still tough, standing up to decent wear before being replaced.
Essential Chemical Protection!
Looking for something a little different that we haven't included in our list? We stock a wide range of chemical resistant gloves, each suitable for a range of different applications and chemicals. Why not take a look at our full Chemical Resistant Work Gloves range.
Have any questions about our chemical-resistant gloves, or just something to say? Let us know in the comments below.