ATG: Intelligent Work Gloves
Thursday, 3 May 2018 | Admin
When it comes to designing and developing hand protection solutions, the experts at ATG focus on producing gloves that meet the needs of their customers – both in terms of comfort and performance. In order to provide comprehensive protection, ATG has created a number of ranges that are tailored for specific environments, or to protect against certain hazards. As a result, you'll find that no matter your profession, ATG has a hand protection solution for you. Here's what you can expect from ATG Work Gloves:
Specialised Performance Platforms
ATG has developed performance platforms to deliver safety solutions for specific hazards. These technologies include CUTtech, LIQUItech, DURAtech, THERMtech and GRIPtech. As the names suggest, CUTtech provides cut-resistant protection; GRIPtech enhances your gripping ability; LIQUItech provides liquid-proof protection against liquids, oils and chemicals; THERMtech protects against hot and/or cold; and DURAtech technology makes the gloves last for longer.
Intelligent Cooling Technologies
Some ATG Gloves feature AIRtech, a network of bubbles in the nitrile foam coating that eliminates heat to keep hands cool and comfortable for longer. In addition, a number of ATG gloves feature AD-APT technology, which releases a natural cooling agent when the temperature inside the gloves rises to prevent your hands from overheating. This technology is designed to last for as long as the gloves do, so that you can rely on this cooling function time and time again.
Engineered for Comfort
ATG strives to make their gloves as comfortable as possible, concentrating on maximising the form, fit and feel of their gloves for a superior experience. This includes creating ergonomic designs that minimise hand fatigue, developing unique liners for each range and ensuring that the coating does not penetrate and stiffen the soft fibres on the inside of the gloves during manufacture.
In addition, ATG has partnered with the Skin Health Alliance to ensure that their gloves are skin-friendly, and each pair is free from SVHCs (Substances of Very High Concern) and "post washed" prior to packaging to make them safe for contact with skin.
ATG Work Gloves at WorkGloves.co.uk
At WorkGloves.co.uk, we stock a wide range of ATG Work Gloves, with something for just about every application imaginable. Here are just a few of our favourites:
MaxiDry 3/4 Coated Oil Repellent 56-425 Gloves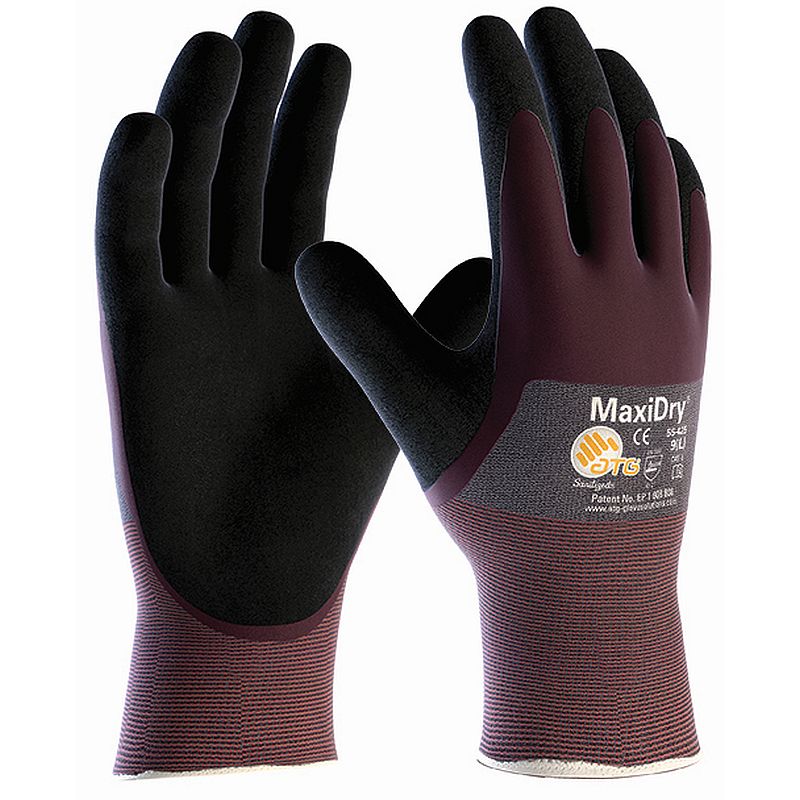 Constructed from a stretchy nylon liner that provides excellent dexterity, and three-quarter coated with nitrile for grip and protection against water, oil and dirt, the MaxiDry 3/4 Coated Oil Repellent 56-425 Gloves are ideal for precise handling tasks in dry, wet, dirty or oily environments. Lightweight and thin, these gloves offer a high level of comfort, with minimal risk of hand fatigue.
MaxiFlex Cut Lightweight Palm-Coated 34-8743 Gloves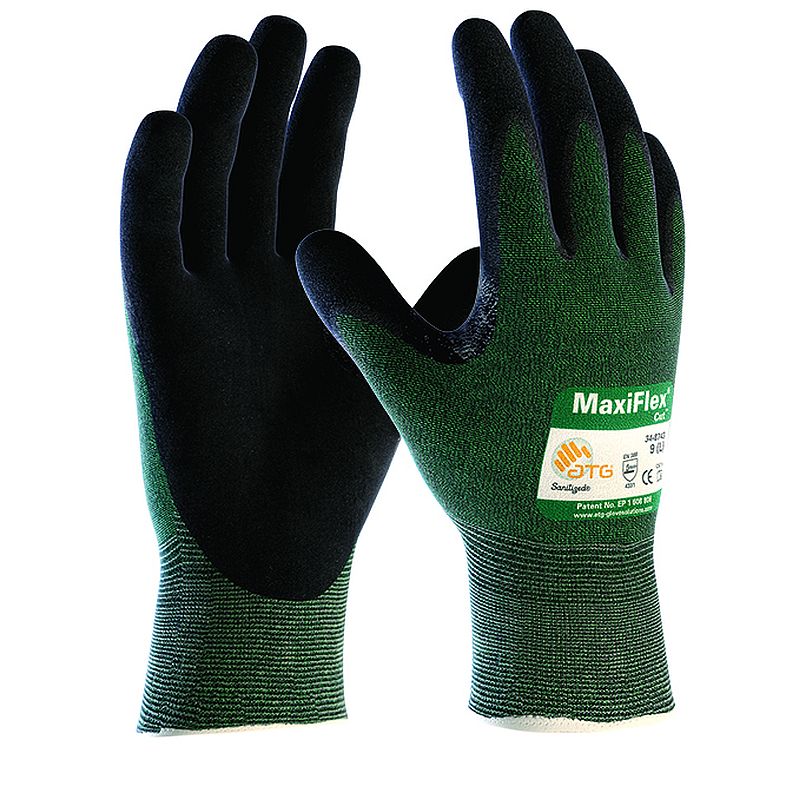 One of the thinnest gloves on the market and highly-flexible, the MaxiFlex Cut Lightweight Palm-Coated 34-8743 Gloves provide exceptional dexterity and tactile sensitivity. This, along with an ergonomic design for increased comfort and coated palms for enhanced grip, makes these gloves a superior choice for precision handling tasks.
MaxiCut Palm-Coated Oil Resistant Grip 34-504 Gloves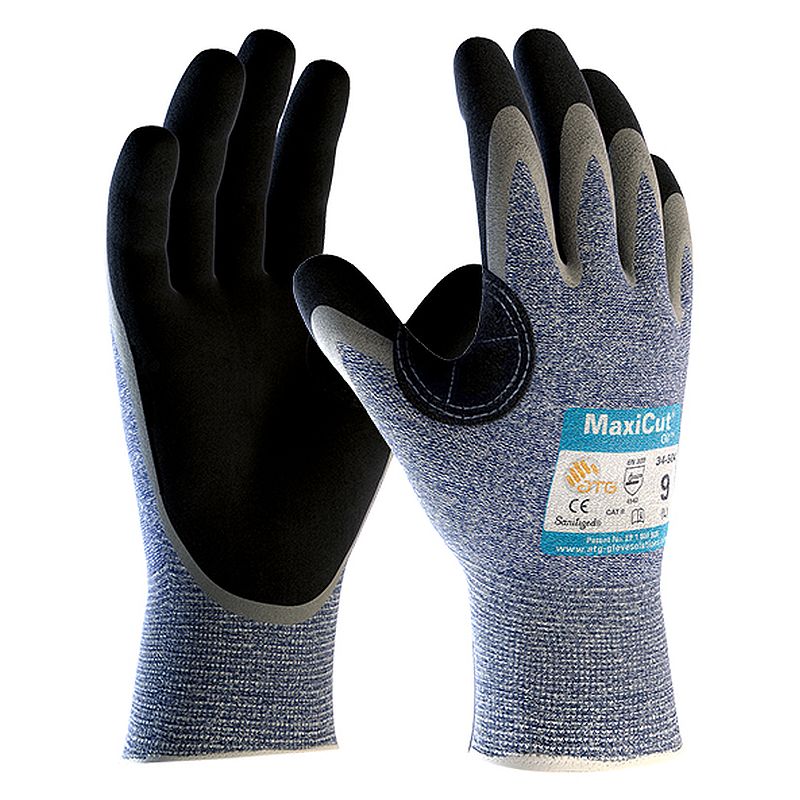 The MaxiCut Palm-Coated Oil Resistant Grip 34-504 Gloves offer outstanding resistance against abrasion, cut and tear, while remaining thin and flexible for optimal dexterity and comfort. With an EN 388 cut resistance rating of Level 5 and a liquid-repellent palm coating that enables good grip – even in wet or oily environments – the MaxiCut 34-504 Gloves have a remarkable number of uses, from automotive work and equipment maintenance to metal and glass handling.
MaxiChem Cut Coated Chemical Resistant 56-633 Gauntlets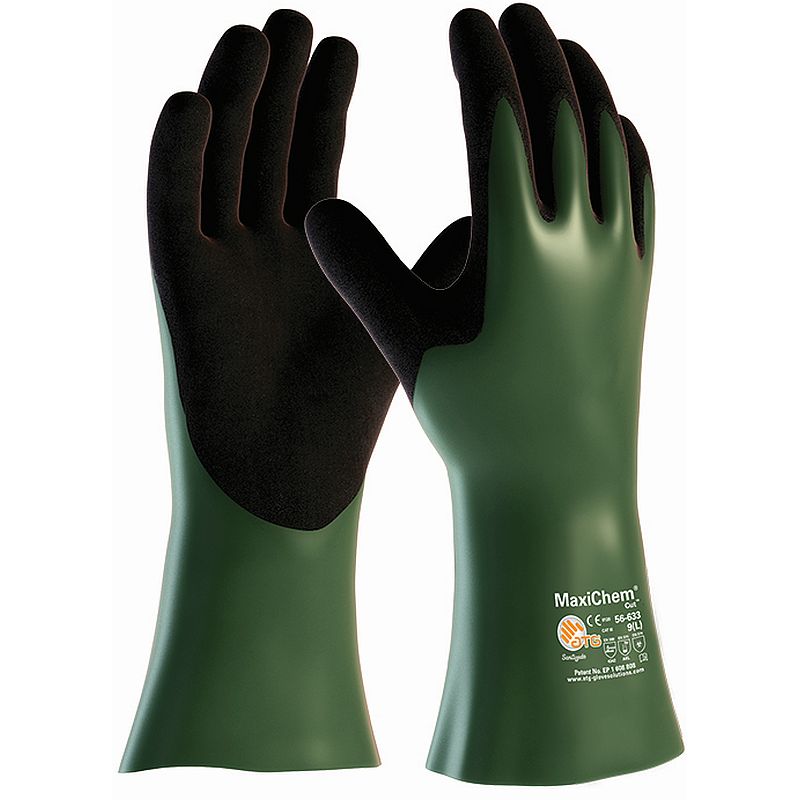 The MaxiChem Cut Coated Chemical Resistant 56-633 Gauntlets are lightweight and highly flexible nitrile-coated gloves with a cut-resistant liner and non-slip finish for good grip in oily, wet and dirty environments. Providing protection against a number of low-risk chemicals, as well as mechanical hazards, these gauntlet-style gloves are suitable for an array of tasks, including maintenance work, assembly, automotive repair, construction and wet work.
While we could only include a limited number of gloves in this list, we stock a wide range of ATG Gloves. If you would like to see our full range, check out our ATG Work Gloves page.