Thermal Fingerless Work Gloves
When you're working in cold environments, picking the thickest gloves you can find is almost instinctual. However, if you require dexterity in your job, these gloves tend to be detrimental to your work performance. The Thermal Fingerless Work Gloves are designed to trap heat while also providing you with the dexterity required to properly perform your job.
As a result of their fingerless design, the gloves can be used with touchscreens so you remain warm whatever you do. If you'd like more information or a tailored recommendation, please contact our customer care team on 020 7501 0597 or on helpdesk@workgloves.co.uk.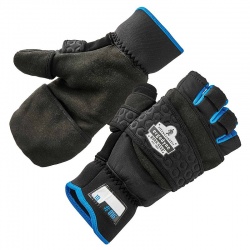 Thermal fingerless winter work flip top mittens
Ideal for freezing outdoor work that requires dexterous action
Convert to half-finger gloves while offering warmth for detail work
Rugged synthetic leather palm maintains flexibility in cold temperatures
| | | |
| --- | --- | --- |
| | | Currently unavailable due to COVID-19 supply chain delays. Please check back soon |
---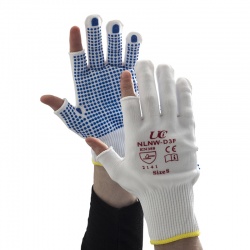 Low-linting to reduce product contamination
Suitable for delicate handling applications
Partially fingerless for improved dexterity
Price shown is per pair of gloves
| | | |
| --- | --- | --- |
| | | In stock now |
---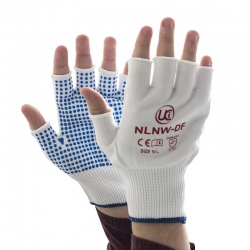 Low-linting to reduce product contamination
Suitable for light handling applications
Fingerless for improved dexterity
Price shown is per pair of gloves
| | | |
| --- | --- | --- |
| | | In stock now |
---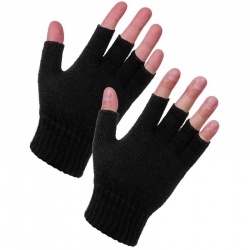 Ambidextrous design ensures easy fitting
Easily washable for easy maintenance
Supplied in a discreet, unisex black design
Price shown is per pair of gloves
| | | |
| --- | --- | --- |
| | | This product has been discontinued. Please contact our team for details of the latest release. |
---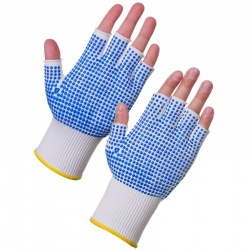 Lint-free construction ensures no lint remains on products
Feature PVC dots on the palm and back for enhanced grip
Fingerless design ensures optimal fingertip sensitivity
Price shown is per pair of gloves
| | | |
| --- | --- | --- |
| | | In stock now |
---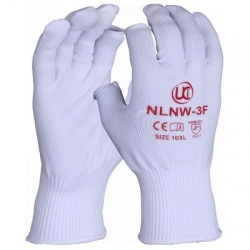 Low-linting gloves to reduce contamination
Partially fingerless for improved dexterity
Suitable for light handling applications
Price shown is per pair of gloves
| | | |
| --- | --- | --- |
| | | In stock now |
---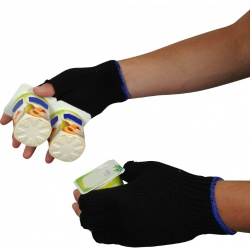 Ideal for low temperature or outdoor work
Seamless construction for added comfort
Gloves combine warmth with dexterity
Price shown is per pair of gloves
| | | |
| --- | --- | --- |
| | | In stock now |
---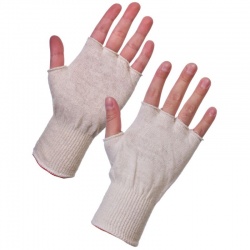 Fingerless glove liners
Soft cotton stockinette for comfort
Fully breathable design
Price shown is per pair of gloves
| | | |
| --- | --- | --- |
| | | In stock now |
---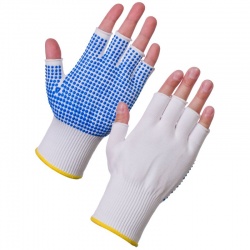 Lint-free construction ensures no lint remains on products
Feature PVC dots on the palm for enhanced grip
Fingerless design ensures optimal fingertip sensitivity
Price shown is per pair of gloves
| | | |
| --- | --- | --- |
| | | In stock now |
---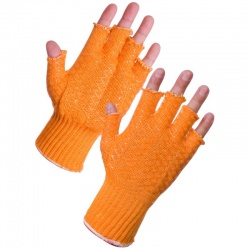 Tough general handling gloves
Fingerless design for maximum tactile sensitivity
PVC criss-cross pattern for excellent grip
Price shown is per pair of gloves
| | | |
| --- | --- | --- |
| | | In stock now |