Silverline Gloves: Quality You Can Rely On
Thursday, 26 April 2018 | Admin
Silverline has been supplying the world with affordable tools and protective work gear since 1978. As an ISO 9001 accredited company, Silverline takes quality very seriously and has become known throughout the UK and Europe for supplying reliable products at competitive prices. Read on to learn more about this top-notch brand and what their gloves can do for you.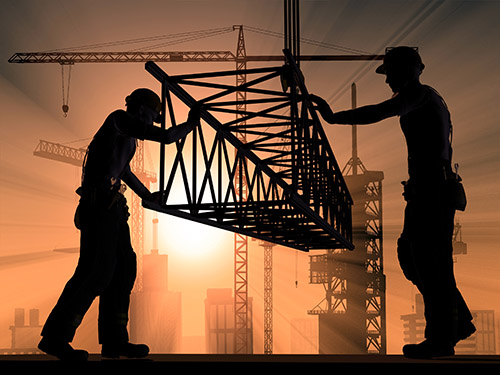 Reliable Protection
Silverline Gloves are constructed from high-quality materials – including leather and Kevlar – to ensure that you receive tough protection for tough jobs. Many of their gloves are coated with either nitrile or latex for increased durability and enhanced mechanical resistance, or are reinforced with synthetic suede or leather panels to ensure certain areas of the hands are adequately shielded from harm.
Many of our Silverline Gloves at WorkGloves.co.uk have been tested to European Standard EN 388 to determine their resistance to mechanical hazards, and have been rated according to their resistance to abrasion, cut, tear and puncture. This helps you to make an informed decision when buying Silverline Gloves.
Superior Design
Silverline Work Gloves are designed to provide the highest level of comfort possible. Many of the brand's work gloves feature an ergonomic design to decrease hand fatigue, have a lightweight construction and snug fit for maximum dexterity, and are breathable to keep your hard-working hands cool and dry. In addition, many of Silverline's knitted gloves are seamless in order to reduce the chance of skin irritation.
Our Top Picks
To give you just a taste of what this top-quality brand has to offer, here's our pick of the best Silverline Gloves for the toughest manual applications:
Silverline Nitrile Coated Kevlar Gloves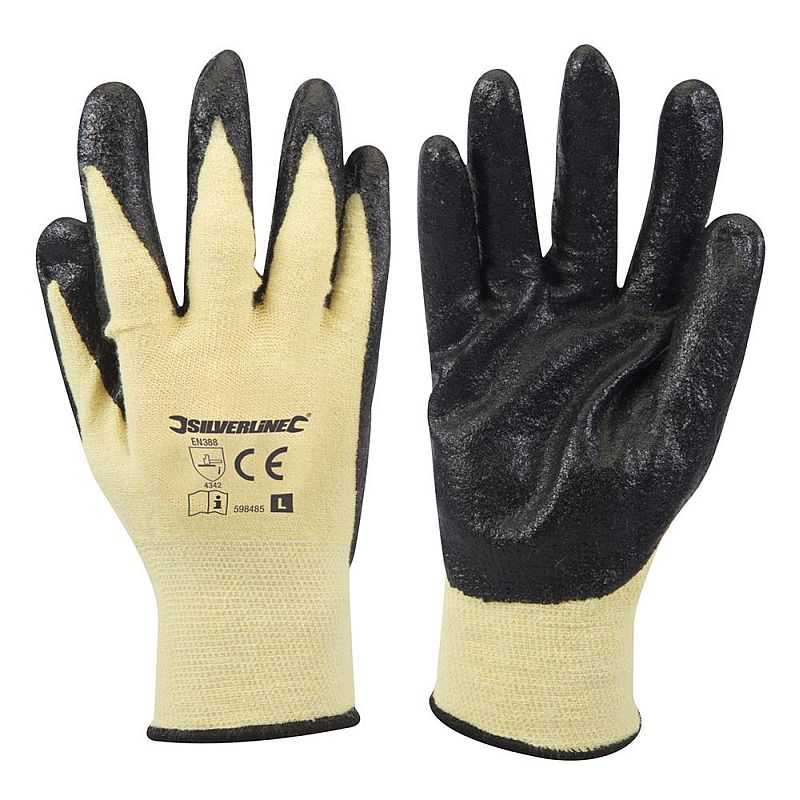 Constructed from a lightweight Kevlar shell with a textured nitrile-coated palm, the Silverline Nitrile Coated Kevlar Gloves provide exceptional protection against mechanical hazards with high levels of grip and dexterity for safer handling and decreased hand fatigue. With an EN 388:2003 rating of 4342, these gloves are ideal for jobs that are hard on the hands, including assembly, cargo handling, construction, installation, panel handling and warehousing.
Key Features: Excellent mechanical resistance, textured palm for increased grip.
Silverline Orange Hi-Vis Builders Gloves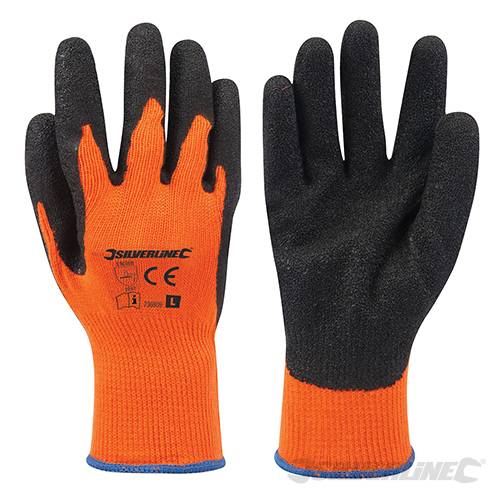 The Silverline Orange Hi-Vis Builders Gloves have been designed specifically for use by builders, but offer dependable protection for a multitude of other manual applications, including recycling, furniture handling, automotive work, warehousing and packing. Fluorescent orange in colour, these latex-dipped knitted gloves increase safety when worn in environments with poor lighting.
Key Features: High-visibility colour for increased safety in dim conditions, seamless knit for enhanced comfort.
Silverline Foam Nitrile Dipped Work Gloves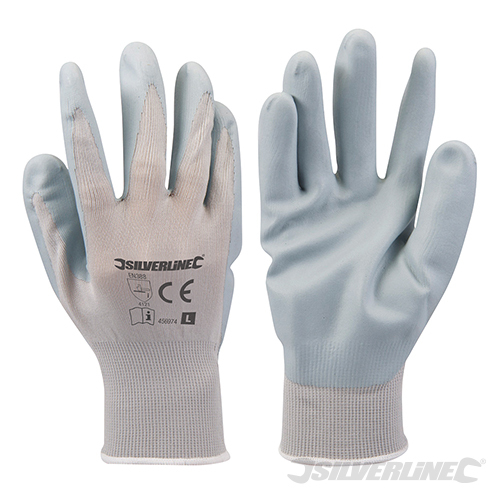 Constructed from a knitted liner with nitrile-dipped palms, the Silverline Foam Nitrile Dipped Work Gloves are perfect as protection for manual tasks in oily and greasy environments. These abrasion-resistant gloves are ideal for preventing cuts, lacerations and direct contact with oil/grease during automotive repair and maintenance work.
Key Features: Grease- and oil-repellent palms, seamless liner for improved comfort.
Silverline Gel Palm Anti-Vibration Gloves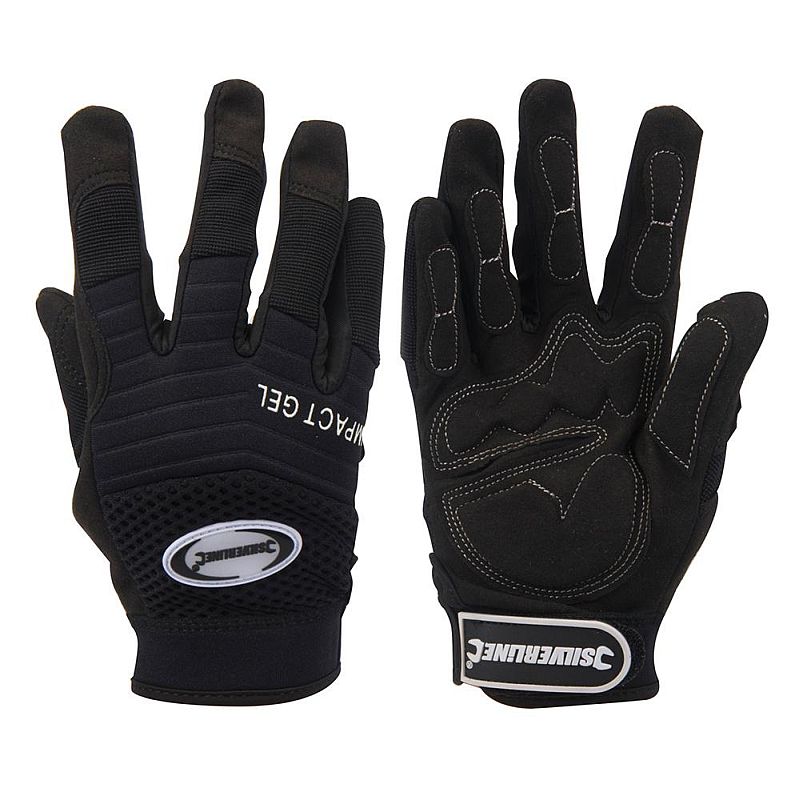 Designed to prevent impact-related injuries, the Silverline Gel Palm Anti-Vibration Gloves are fitted with gel inserts that absorb shock during machinery and tool operation. These pads are thick enough to reduce vibration effectively, but thin enough that they do not inhibit dexterity or cause hand fatigue. These gel inserts are covered with synthetic suede patches to maintain the integrity of these pads, while neoprene knuckle guards enhance the level of protection provided to the wearer.
Key Features: Gel palm inserts to absorb shock, neoprene knuckle guards for enhanced protection.
Silverline Pigskin Rigger Gloves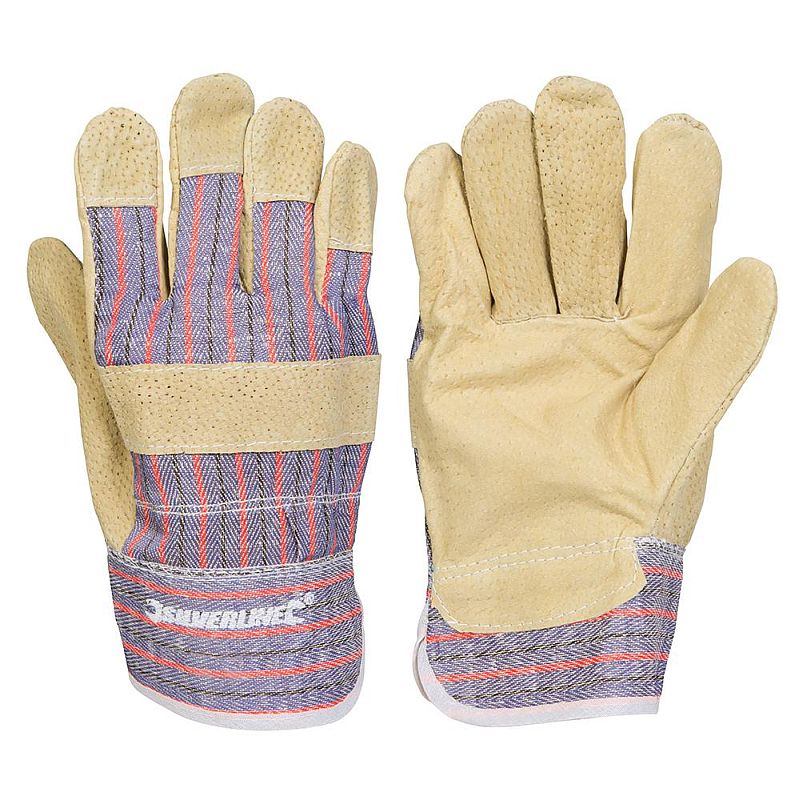 The Silverline Pigskin Rigger Gloves are breathable work gloves with pigskin leather reinforcement on the knuckles, fingertips and palms. Providing good protection against abrasion and small cuts, and featuring safety cuffs that prevent dirt from getting inside the gloves, the Silverline Pigskin Riggers are ideal for an array of manual tasks, including furniture handling, maintenance, construction, home improvement and rigging.
Key Features: Safety cuffs to keep dirt out of the gloves, reinforced panels for enhanced protection.
If you'd like to see more of our Silverline Gloves, take a look at our Silverline Work Gloves category.