Gloves for People with Latex Allergies
Tuesday, 24 April 2018 | Admin
Latex allergies became increasingly common in the 1980s and 1990s, and today approximately one percent of the UK population is said to be suffering from a latex allergy or intolerance. While symptoms of Type IV latex allergy include itchy rashes, Type I is associated with swelling, difficulty breathing, asthma, nausea and other symptoms that can potentially be even life threatening.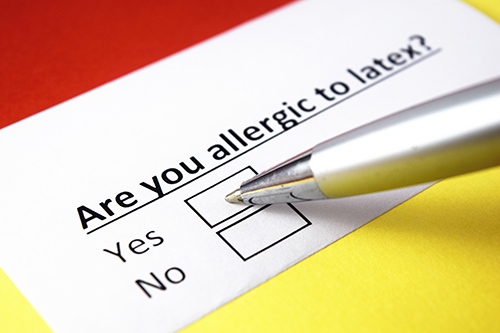 If you are part of the one percent suffering from a latex allergy, you know the best way to stay safe is to avoid products made with latex altogether. Unfortunately, disposable gloves are one of the items most often associated with an allergic reaction, so it is especially important to always double-check if they are truly latex-free. Here at WorkGloves.co.uk we've already done our share of research, so we can safely advise which pair of Latex-Free Gloves is the best choice if you are trying to steer clear of latex in all forms.
Ansell Microflex 93-833 Disposable Powder-Free Ergonomic Nitrile Gloves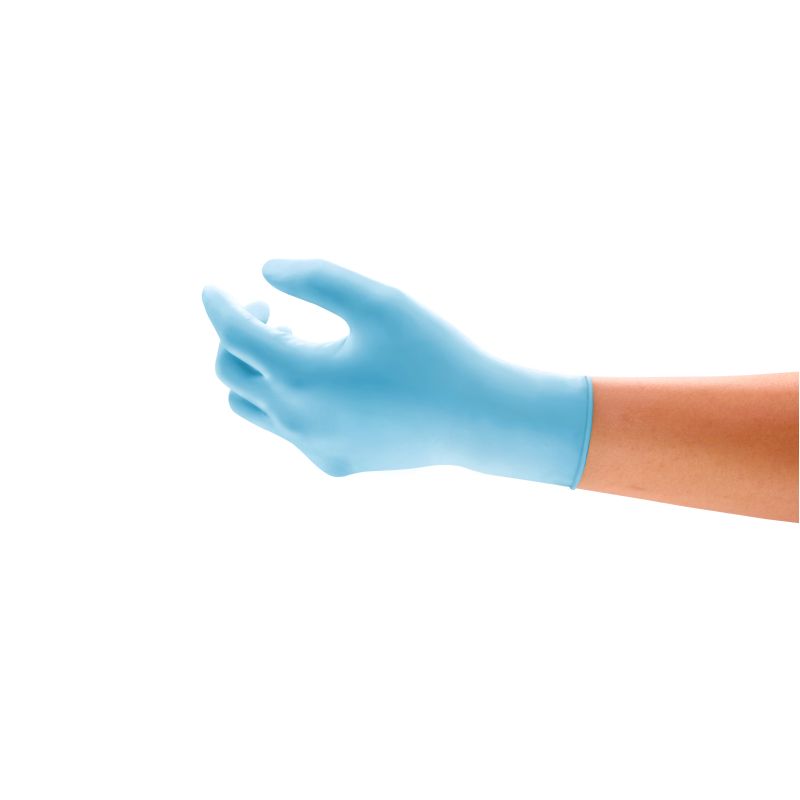 If you have sensitive skin, your best bet is to use gloves that are not only 100% free of latex, but powder-free as well, for minimal irritation and dryness. The Ansell Microflex 93-833 Disposable Gloves are made entirely from nitrile and designed to reduce hand fatigue, which means they can safely be worn for longer periods. Lightweight, thin and resistant to a number of chemicals, these gloves are perfect if you work in pharmaceutical industry, healthcare or biotechnologies.
Key Features: Ergonomic design, comfortable, 60% stronger than leading nitrile brands, powder and latex free, resistant to chemicals
Bastion BNG38 Vinyl Powder-Free Gloves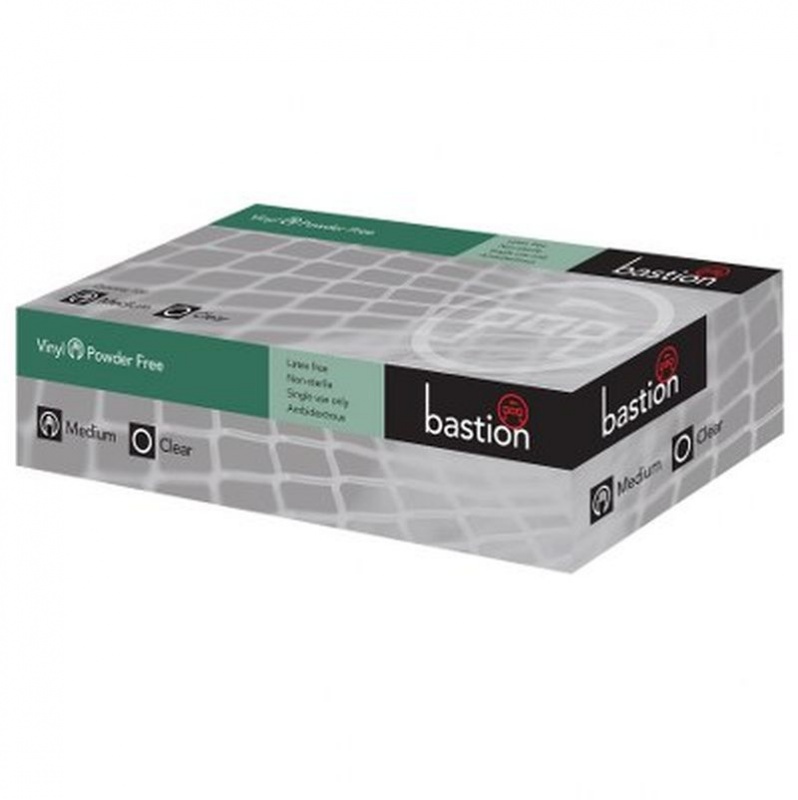 While they are free from both latex and powder, just as the gloves mentioned above, the Bastion BNG38 Vinyl Powder-Free Gloves are made entirely with vinyl, ensuring not only their resistance to chemicals, but abrasion injuries as well. Their ambidextrous design ensures quick and easy donning, while the beaded cuff prevents liquid from rolling off, offering extra protection. These disposable vinyl gloves serve as a great temporary barrier against biological contaminants, which makes them ideal for lab work or painting, while their durable construction and affordable price make them a great choice even for ordinary household cleaning.
Key Features: Ambidextrous design, beaded cuff, abrasion resistant, thick and durable, powder and latex free
Readigloves Vinoguard Premium Disposable Vinyl Gloves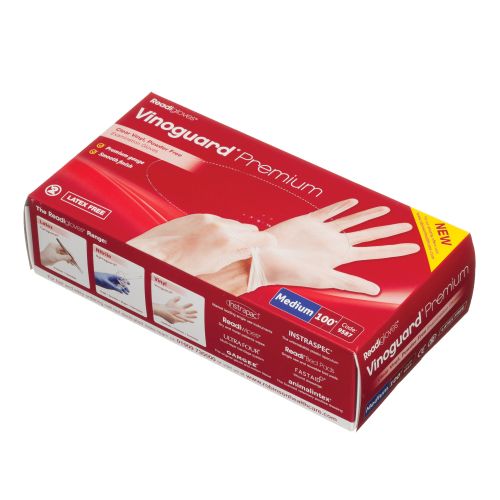 With a heavier gauge PVC construction for excellent durability, the Readigloves Vinoguard Premium Disposable Vinyl Gloves are suitable for low-risk applications that don't require high levels of sensitivity, comfort or protection, such as routine patient care, hygiene and food handling. Their smooth finish is ideal for handling of frail skin or hair, which, combined with their powder-free and latex-free construction, makes them perfect for work with people with allergies, sensitive or irritated skin.
Key Features: Heavier gauge, extremely durable, smooth finish, ideal for care home work and routine patient care
Black Mamba Torque Grip Tough Disposable Nitrile Gloves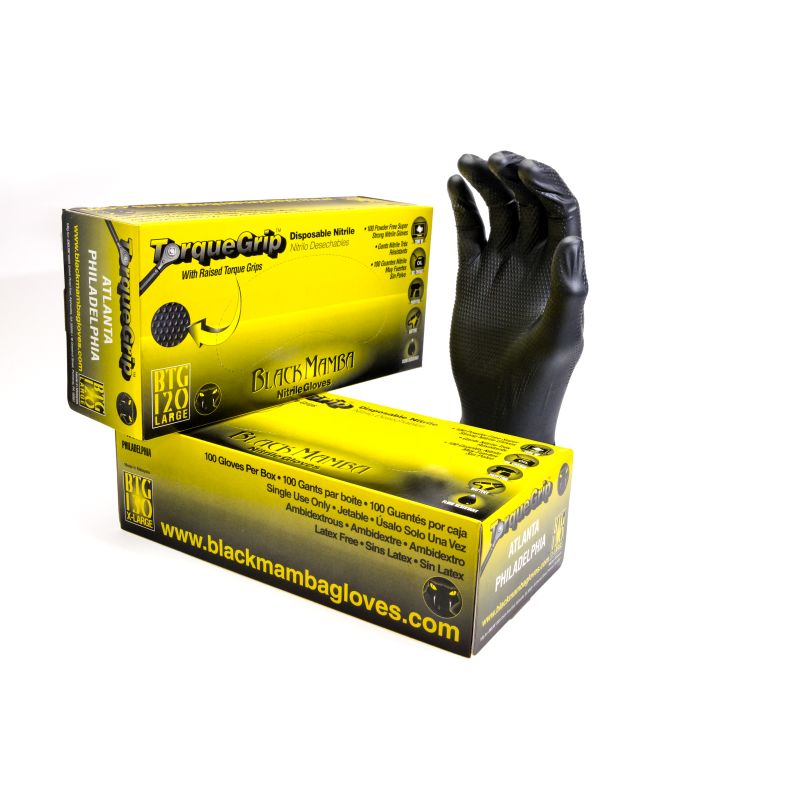 If you think all powder-free disposable gloves are pretty much the same, you haven't yet seen the Black Mamba Torque Grip Tough Disposable Nitrile Gloves. With their ultra-touch construction and a unique torque pattern over the entire hand area, these gloves offer superb grip at all times, making them perfect for automotive assembly and mechanical work. Made entirely from nitrile and free from powder, these disposable gloves are suitable for use by anyone with allergies, latex intolerance or simply sensitive skin.
Key Features: Extra-strong construction, raised torque grip pattern, ideal for automotive, plumbing and maintenance work, attractive black design
Ansell VersaTouch 92-220 Ultra-Thin Disposable Nitrile Food Use Gloves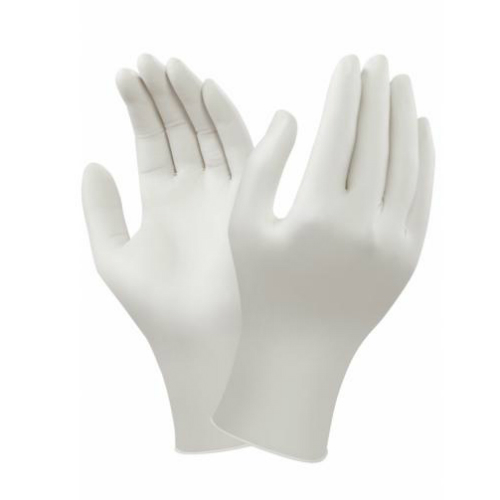 While all of the gloves mentioned above are suitable for food handling, that is not their primary purpose. The Ansell VersaTouch 92-220 Food Use Gloves, on the other hand, have been designed specifically for working with food, including fatty foods. They are ideal for preventing contamination during work with food, and feature ultra thin formulation that provides excellent sensitivity, ergonomic design for precise handling and textured fingertips for excellent grip in wet, dry and fatty conditions.
Key Features: Made for food handling, suitable for work with fatty foods, ultra thin design, textured fingertips, ergonomic, dexterous design
We realise that latex allergies are a very serious problem, and finding the right pair of latex-free gloves is of utmost importance to your overall health, comfort and productivity. This list of latex-free gloves includes only five pairs, so if you haven't found quite what you've had in mind, please visit our full range of Latex-Free Gloves are choose from hundreds of other allergy-friendly gloves.